Two Roads 20-Ton Barleywine
1 22 oz bottle, $12.99++, 12% ABV
Purchased at Harvest Country Store, West Hartford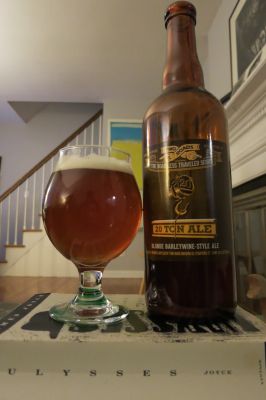 Okay y'all, here's the deal. I've come around to Two Roads and if anyone thinks I have some sort of "thing" against them, you are wrong. I like them. I like them a lot. I like how giant they are. I like that they have a good, mixed portfolio of beers. I like that they do those micro-releases of sours and wilds that I have no chance of getting.
And mostly, I like that they sort of changed their whole way of thinking with regards to how transparent they want to be. For their first year or so, they tried to "hide" all the contracting they did. I have no idea why they did this, but whatever.
Now, with the Internet, access to state records, and people finally noticing "Stratford, CT" on their beer labels all over the country, this has changed. (But really, it was most likely the agreement with Sean Lawson to brew Sip of Sunshine that did this – Two Roads finally realized that hey, people like that we brew some top-rated beers and even though they're not ours, they like us for having the space, time, and acumen to do these beers.)
I also very much like everyone I've ever met from Two Roads, or who has represented Two Roads over the years.
Which leaves us to only worry about their beer from here on out. Agreed? Good.
Well, maybe not so good when I don't particularly like a beer. Such was the case with this one, a 12% ABV monster of a "blonde barleywine." I feel the need to put quotes around "blonde barleywine" everytime, because what the hell is a "blonde barleywine?"
Two Roads Says:
A blonde barleywine- aggressively hopped and made with heirloom malts. Named for our 20 Ton crane that adorns the middle of our 100-year-old building.
Well, that doesn't help me too much. Beer Street Journal adds a bit more:
A behemoth of a beer, it's brewed with Golden Promise (known for its distinct vanilla biscuit character) malt and generously hopped with a blend of both cutting-edge and classic hop varieties. The result is a decidedly fruity and piney heavyweight brew clocking in at 12% alcohol and loaded with plenty of hop character that makes it enjoyable upon release or after aging in a cool cellar.
Well, I didn't age this thing a minute. Perhaps those of you who did, or who still are – or who buy this in the future as I still see it on the shelves of my local stores many months after its release – will have a different experience. But I don't know, since barleywines tend to get sweeter with age, although it's a different type of sweetness I guess.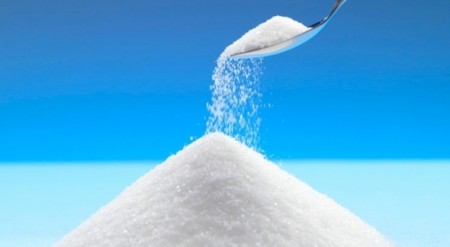 For me, this beer was pretty terrible. I know, I know… Untappd and Beer Advocate love it. But sweet baby Jesus this is a sweet, sugary, over-the-top beer. Speaking of Sweet Baby Jesus, this beer is sweeter than DuClaw's Sweet Baby Jesus.
Jesus.
I detected zero "piney hops," or really, any hops at all to cut the sweet, sweet candy sugar of the malts. Yes, the beer has a cool story with the old crane and all. The label, as all Two Roads labels tend to be, is great. The idea is interesting to say the least. The execution was probably exactly as Two Roads wanted it to be. It was as smooth as an overly sweet beer could be. I can see why people enjoy it.
But it just wasn't for me. Perhaps because I'm just a bitter old man, I don't know.
PS. I tend to think Sip of Sunshine is too sweet too. So there you go.
PPS. I took the picture of the beer at top on top of my copy of Ulysses and thought that, as a "20-ton" book, I was being clever. As you can see, I totally didn't even notice that until after I published this page sooooo, yeah, not so clever after all.
Overall Rating: D+
Rating vs. Similar style: n/a
Two Roads Brewing Company
Back to CTMQ's Reviews of Two Roads beers
Back to CTMQ's Connecticut Beer Page
Back to CT Breweries page