Three BAD SONS Beer Company's Beers
Purchased at the Brewery, Derby
January 2018
In an effort to make our collective lives easier, I'm going to start bundling beer reviews. Especially tap room offerings like this. We'll see how it goes.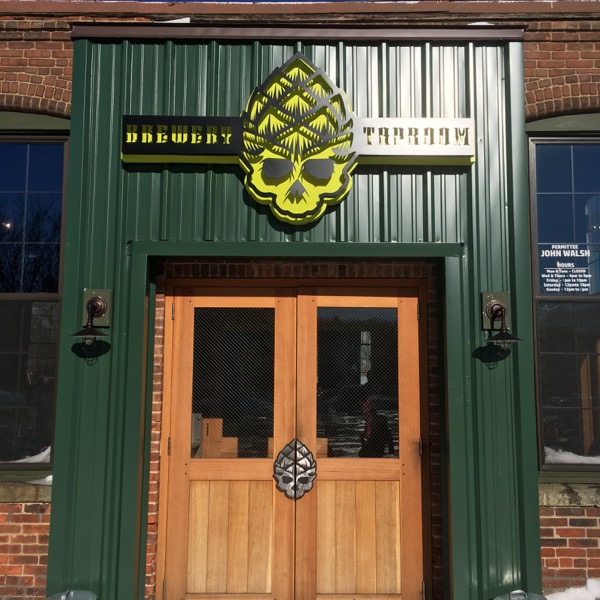 GHOSTED White IPA
16 oz, $6, 5.6% ABV
GHOSTED is in all caps like BAD SONS is in all caps because for some unknown reason, the marketing minds behind BAD SONS thinks it's cool or EDGY. (Actually, the menu was simply printed this way, so it's not really fair of me to say that they really and truly mean for their menu to shout at their customers, but hey, their menu was shouting at me.
I chose this beer as my very first BAD SONS beer for two reasons: One, because it was on their "charity tap line" which gives a dollar from each purchase to a chosen local charity. Cool.
Two, because this was a test. Back when the owner and former(?) brewer were over at SBC, they bottled a beer called Hydroponic White Ale. It was horrendous swill. And while the white ale was a different beast than this white IPA, I still figured it was a good place to start.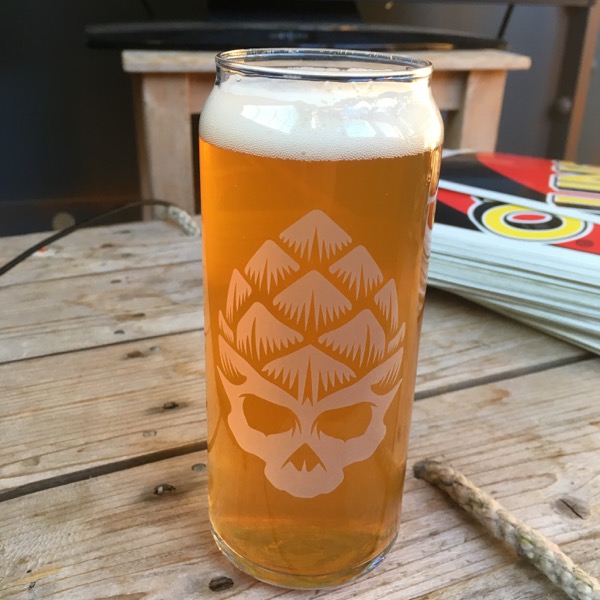 I'm happy to report that the GHOSTED was not horrendous. It wasn't a beer that I will ever feel the need to purchase again, but it wasn't bad by any means. But as a so-called "white IPA" …
BAD SONS says:
A white IPA with a subtle blend of smooth German Hallertau Blanc hope and fruity bomb of American Mosaic.
I'm missing something. As an IPA with Hallertau and Mosaic, it was rather underwhelming. Nowhere near a "fruity bomb" as it's generally accepted today. But white IPA's are supposed to have some wit characteristics, right?
Spice and haze or something? I got none of that here. But at least I gave a buck to someone who needs it more than I do.
Overall Rating: C+
Rating vs. Similar style: D-

FLIGHT RISK Session IPA
8 oz, $3, 4.5% ABV
Ah, this is better. And while "session IPA" means as much to me as "white IPA," I can get behind this beer.
If the GHOSTED allowed me to begin to move past the detestable white ale from SBC days of yore and separate BAD SONS from their previous venture, the FLIGHT RISK fully moved me forward into 2018.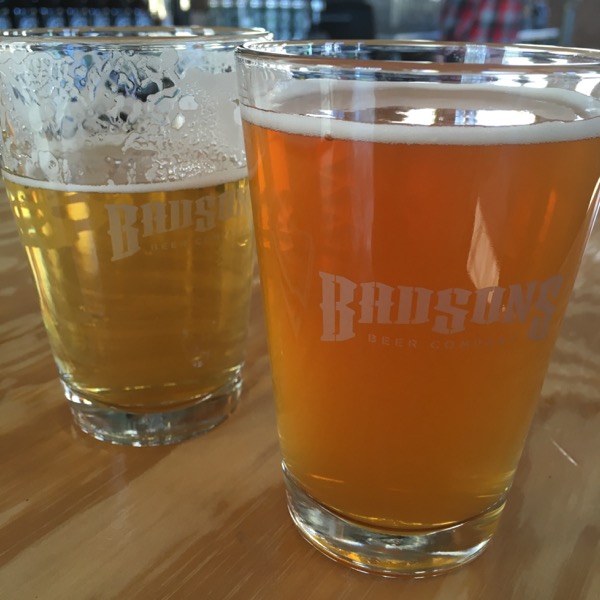 This is one of the most flavorful < 5% IPA's I think I've ever had. Is it the use of a sweet honey malt that does the trick? The "enormous dry hopping?" Whichever, man, other breweries who keep trying to make good session IPA's, take note – this works.


BAD SONS says:
Harnesses the Falconer's Flight hop blend – added only in the whirlpool and then enormously dry hopped in the fermenter. A sweet honey malt combines with tropical juice and bright lemon flavors to pack a big layered flavor profile into a very session-able beer.
The FLIGHT RISK had more "fruit bomb" flavor than the "fruit bomb" GHOSTED. And granted, the 1.1% ABV difference is so small as to be silly, but whatever, I liked this beer very much.
I should say that like pretty much every new brewery in every state in 2017, BAD SONS mostly plays up their "real" IPA and NEIPA and DIPA portfolio. We've all had enough of those styles to last us for eternity, so I skipped them all during my visit.
So there. I'm EDGY. So EDGY that I'm going to use all caps from here on out.
Overall Rating: B+
Rating vs. Similar style: A+

LIGHT RIDER LAGER
8 OZ, $4, 5.7% ABV
WHAT CAN BE EDGIER THAN A LAGER. A STRAIGHT UP LAGER LAGER THE WAY LAGERS ARE MEANT TO BE?
(THAT'S AN HONEST QUESTION IN 2018. AND I THINK THE HONEST ANSWER IS "NOTHING.")
EVERYONE'S FIRST BEER IS AN ADJUNCT LAGER. EVERYONE READING THIS "KNOWS" THEY ARE TERRIBLE. BUT WHAT ABOUT "CRAFT LAGERS?" LET'S ASK THIS GUY:

OH. I SEE. SO AN AMERICAN LAGER MADE WITH TWO TRADITIONAL NOBLE HOPS TASTES LIKE A "GLORIFIED BUD LIGHT?" (ACTUALLY, HE'S RIGHT. I'M REALLY NOT MAKING FUN OF THIS GUY BECAUSE I CAN'T.)
BAD SONS SAYS:
AN AMERICAN LAGER CRAFTED WITH TWO TRADITIONAL GERMAN 'NOBLE' HOPS TO GIVE IT A HOP CHARACTER THAT IS CRISP, LIGHT, AND REFRESHING."
ALL OF THAT IS TRUE! I REALLY RATHER LIKED THE BAD SONS LAGER! IT'S INTERESTING TO ME THAT THE LAGER WAS MORE EXPENSIVE THAN THE SESSION IPA. MOST PEOPLE WOULD ARGUE THAT, BUT REALLY, THAT'S HOW IT SHOULD BE. I THINK.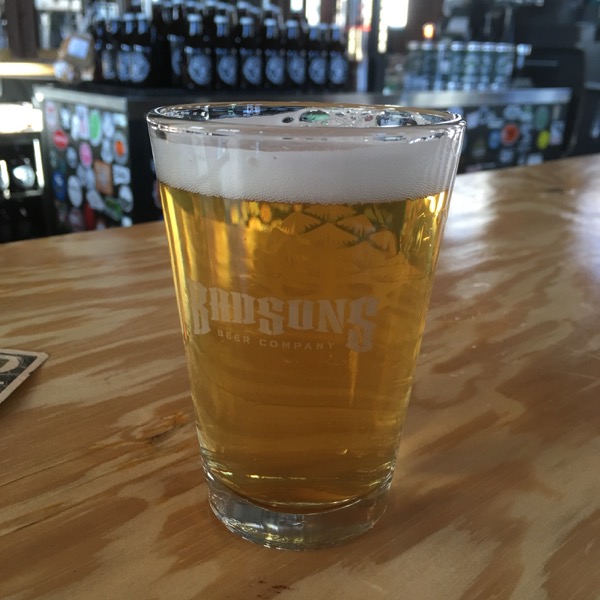 LAGERING TAKES TIME, AND TIME = MONEY, RIGHT? BE IT A CRAFT LAGER OR A MACRO LAGER, THOSE BRITE TANKS ARE FILLED WITH BEER JUST SITTING THERE. TANKS THAT COULD BE USED FOR OPAQUE NEIPAS THAT COST TWICE AS MUCH TO MAKE AND SELL FOR THREE TIMES AS MUCH.
SO HATS OFF TO BAD SONS FOR STICKING TO THE ROOTS OF BREWING AND PUTTING OUT A PRETTY DECENT LAGER – ALBEIT A GLORIFIED BUD LIGHT.
Overall Rating: A-
Rating vs. Similar style: A-
BAD SONS Beer Company
CTMQ's Reviews of BAD SONS beers
CTMQ's Connecticut Beer Page
CTMQ's CT Breweries page