Hartford Better Beer Co. Arch Ultimatum
12 oz bottle, $? 9.4% ABV
CBC, West Hartford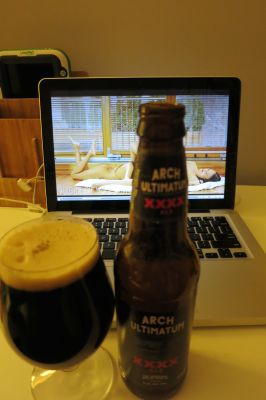 In 2014, I got bored and did a two-part Connecticut brewery-by-brewery wrap-up. Part One was TL, but people DR it, and encouraged an even more thorough Part Two… which turned out to be TL;DR… except again, people actually read the dang thing.
Yes, I did touch on our contract brewers, even the ones like The Hartford Better Beer Company who brew out of state. (In this case, in Maine.) They were on the verge of releasing this 9.4% monster. I wrote:
Also, I just learned this contract label is still going and is even rolling out something called Arch Ultimatum about which they warn us, "Be prepared before the undertaking." Yeah. Ok. I've actually had all of their beers and a better slogan would be, "Be prepared before the underwhelming."
Cheap shot. When looking ahead to 2015 for the label, I predicted:
2015 Outlook: The world won't be prepared for the undertaking and we're all gonna die.
Well, we're now deep into 2015 and I don't know about you, but I'm still alive and kicking… and from what I gather, so is Hartford Better Beer Company. Good for them, as it's gotta be tough these days to keep a contract label with ho-hum beers afloat. At least with their name, they are able to get unresearched localvores to buy their stuff.
(For the record, I couldn't care less about such things… as the owners of Hartford Better Beer are Nutmeggers through and through, so it all depends on how you look at such things. Make good beer on the Moon and I'll buy your stuff.)
Hartford Better Beer Company says:
Be prepared before the undertaking. ARCH ULTIMATUM is brewed with Pale, Crystal, and Chocolate Barley malts, complemented by Malted Wheat. Hopped with Summit, Cascade, and Willamette hops to an Original Gravity of 1.095, 9.4% ABV. A breath-taking accompaniment to all food, just as satisfying as a nightcap. Not an everyday beer, lay it down in your cellar for a special occasion. ARCH ULTIMATUM should beneficially mature for many years. Best after bottling date, best before Armageddon.
Wow. Invoking Armageddon? How's that for fear-vertising?
But I have a question: What style of beer is this? I see it listed as a barleywine on the rating sites, but this isn't a barleywine. (And the label has four X's, not three… so when I took the picture at the top while enjoying researching XXX movies featuring lovely young women enjoying researching each other's bodies, I was going for a XXX thing. Sorry, I was distracted by something…)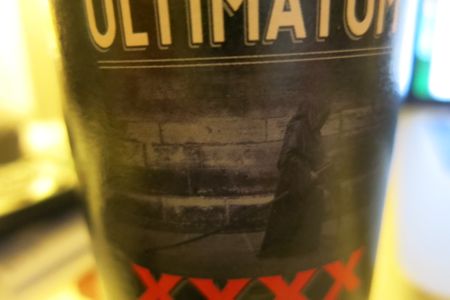 Anyway, the Arch Ultimatum – or should I say, the ARCH ULTIMATUM is pretty tasty. It's more of a strong ale/stout I'd say. The malts and chocolates of a good stout are present, but the high-octane ABV gives it a decent little charge not often found in straight up stouts. It had none of the sweetness that comes with barleywines though.
But really, who cares. This beer is decidedly different than HBC's other, less-than-stellar line up – and that's a good thing.
And I'm glad I got to enjoy it (and some porn) before the Grim Reaper featured on the bottle got to me.
Actually, I have another question: Why feature the personification of Death on your beer label? Seems kind of Debbie Downer to me.
Overall Rating: B+
Rating vs. Similar style: B
Hartford Better Beer Company
Back to CTMQ's Reviews of Hartford Better Beer Company's beers
Back to CTMQ's Connecticut Beer Page