Black Hog Brewing: 5 Disco Pigs
Fancy bottles, variable pricing/ABV
All Purchased at brewery, Oxford
As I write this, Black Hog is nearing their 4th birthday in 2018. They've released a slew of beers over those years and have pretty much covered the gamut of styles. The standard stuff goes to stores and bars, the slightly non-standard stuff finds its way to some bars, and the wacky stuff remains at the brewery.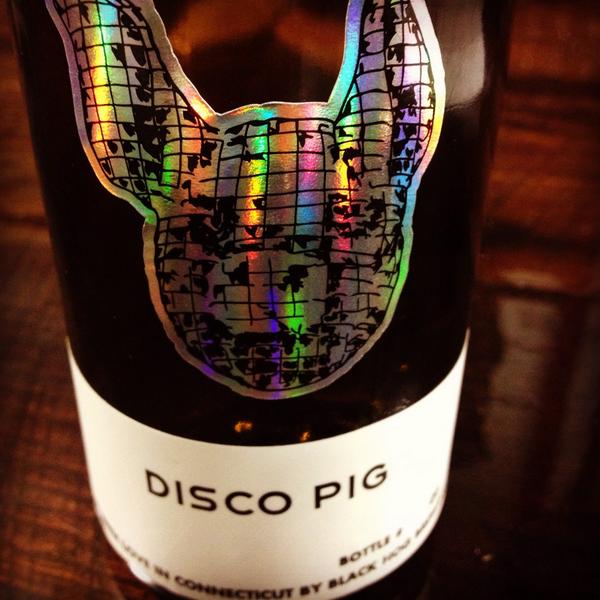 The Disco Pig series stays at the brewery.
We found a fermentation tank in a parking lot, fixed it up and started brewing beers with a bit of funk in them. We age them in barrels or dump nontraditional ingredients into them. They're bottled by hand, waxed dipped and stamped & hand labelled and numbered. Limited and Brewery only. Move your body and ask what Disco Pig we're gettin' down with now.
Shout out to whomever handwrites the labels – they have a lovely script.
I've had four of these bottles and one on draft over the years. Let's dive in…

Disco Pig #1: Brett Brown Braggot
Bomber, $?, 6% ABV
December 2015
Black Hog released their first Disco Pig just a few months after opening. The disco ball pig head on the label was awesome, but I must admit, the style didn't exactly cause me to rush out to Oxford.
The funny thing about this – and all the Disco Pigs – is that Black Hog is a hop, skip, and a jump from OEC Brewing. (Or a walk, cycle, gallop on the Larkin trail, which is an interesting thing about these two nearby breweries.) OEC pretty much only does weird and wacky beers. And does them really, really well.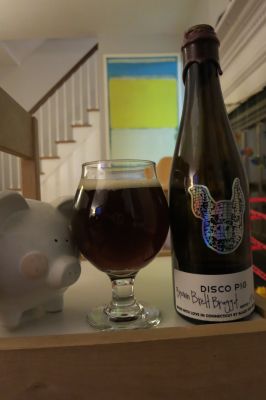 So when this one was announced and released, I kind of felt bad for Black Hog. Really? A Brown ale with some honey and Brett in it? When I can get a blue granite aged half-mead, half-sherry barrel aged sour ale aged on smurfberries with yeast from a 2,000 year old cheese cave in Sardinia over at OEC?
Damn OEC.
This beer started its life as a brown ale that just wanted to be a bit more. Our farmer Rally, who picks up spent grains also happens to have a pretty thriving bee business. He transports his hives from state to state pollinating large crops for farms as far south as Georgia peach orchards and up north to Maine for Blueberry fields. Having just returned from a blueberry pollination in Maine and looking to sell off some of his honey we jumped on close to 200 lbs of this liquid gold and added it to the brown ale during secondary fermentation. Also added to the Disco funk tank was a blend of yeast, one a Belgian Saison Yeast and the other, our buddy Brettanomyces (aka Brett). This wild yeast strain adds that slight Belgian Funk to our tank and gets the disco party started.
That's a nice story, but this beer did nothing for me. It's Honey Brown Ale with some brett – which no one needs in a honey brown ale.
Overall Rating: C
Rating vs. Similar style: n/a

Disco Pig #2: Brett Golden Sour
Bomber, $?, 6.5% ABV
December 2015
More Brett, more sour. More better. The Brett makes much more sense here in my opinion and the style was aping a more traditional Belgian style. But Black Hog merely kettle soured this beer over just a few days, so no, this beer didn't make anyone give up on true Belgian sours or anything, but it wasn't a terrible effort.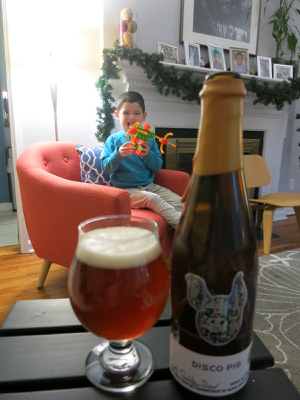 This beer had a long weekend in our brew kettle allowing beer bugs (Pediococcus and Latcobacillus) to get down get down and do their sour thang. While yeast strains eat sugar and produce alcohol beer bugs eat sugar and produce acids. This gives sour beers their puckering power. After letting the bugs play in the sweet wort pool we boil the beer and add a touch of earthy hops. Disco Pig #2 Brett Golden Sour is 100% Brett fermented to replicate as closely as possible what a traditional Belgian wild fermented sour beer should be!
I give them props for honesty here, and I also give them props for the branding on the wax tops.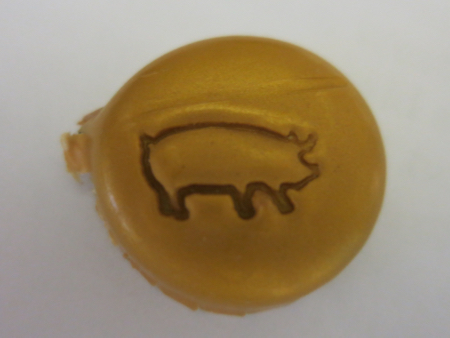 As I've written a few times about Black Hog, they do a lot of things really well when it comes to marketing and branding. And these little touches matter – to me, anyway. It doesn't always allow me to overlook flawed beers, but it certainly makes me appreciate all the efforts that go into a professional operation.
This beer was alright.
Overall Rating: C+
Rating vs. Similar style: C-

Disco Pig #4: Lime Maguey
Bomber, $?, 6.5% ABV
December 2015
I missed Disco Pig # 3, which is ironic since it was one that inspired me to run into the brewery one day in 2015 to pick up Disco bottles. It was a Flanders Red, which is my favorite style of beer, and was a collaboration with Oxbow Brewing in Maine. DP's 1, 2, 4, and 5 were available, and I bought them all, which is… boring, but that's how and why this page exists.
So… the Lime Maguey. What the hell is a maguey? It's an agave plant, especially one of a type used to make alcoholic drinks. Okay. Cool. So, does this beer have maguey in it?
Lime Maguey – Saison made with Brett, Lime Peel, Lime Juice, and Lemon Drop Hops
I have no idea! Black Hog apparently got tired of long, narrative explanations of their beers after the first three Disco Pigs and the above is all we've got. With no mention of agave or maguey.
That was confusion number one. Confusion number two was the slurry that receded to the bottom of my glass. What the heck, man, should a saison look like the above picture? Ever?
Probably not, and the taste didn't make me forget the appearance either. This beer was all wrong. Brett and citrus just doesn't really work for me and the dance between the two competing flavors here was akin to me in 7th grade with Amy Leibowitz. I was tall, skinny, and gawky. She was short, not skinny, and confident. It was a mess. A maguey, if you will.
This beer was a mess.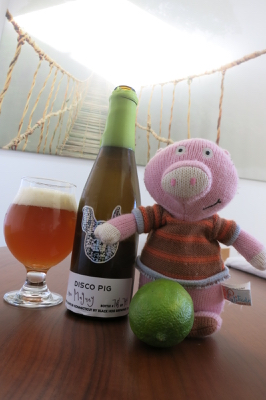 Then this happened – version 3.1:
Brett saison with lime peel, lime juice, and lemon drop hops. Aged 6 months in second use cabernet franc barrels with mezcal soaked oak spirals.
Why? Did the alien atmosphere from OEC over the hill waft down to Black Hog or something? I never tasted this variant, but I would guess that it was horrible. A tart lime saison with oak, tannins, and tequila? I get the idea here for half of it, but why the red wine barrel aging?
WHHHHYYYYyyyyyyyyyy. Let's move on.
Damn OEC.
Overall Rating: D
Rating vs. Similar style: n/a

Disco Pig #5: Kyuri Saki Biru
Bomber, $?, 6% ABV
December 2015 & March 2018
We've arrived at my final Disco Pig bottle. The brewery has gone on to do several more since. So if you're into interesting beers but not totally off the wall beers and you find yourself in Oxford someday, stop in to Black Hog and try some Disco Pigs. They usually have a couple on tap so you can try them before you spring for a bottle.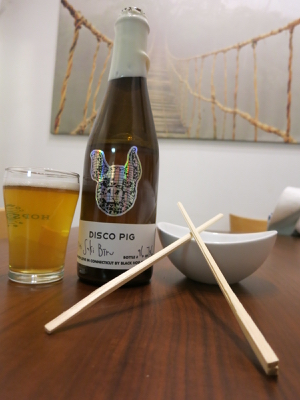 True story: I visited Black Hog in March of 2018 and this beer was still available. I don't know if that means it never sold or if it sells well so they've made more. Let's land on the latter and give them the benefit of the doubt. (Though the website says it has been retired.)
Especially since… it's really good!
You weren't expecting that, were you? Especially from a:
Cucumber rice ale fermented with sake yeast
I liked it in 2015 and I liked it more in 2018. Light, refreshing, and unexpected.
Kyuri is a Japanese cucumber and of course "biru" is "beer." Saki is sake. Sake is a fermented beverage, by the way. I mention that because I believe many people view it as more of a distilled liquor than a fermented beer. But it's more of a beer than a liquor.
Anyway, they should unretired this beer. Unless, of course, the pour I had in 2018 was from the 2015 batch that never sold because that was around the time the bros were starting to dictate market forces and the idea of drinking a like rice cucumber ale is anathema to them.
Whatever. I quite liked it.
Overall Rating: A-
Rating vs. Similar style: n/a

Disco Pig #8.1: Barrel Aged Oud Bruin
Taster, $?, 6% ABV
March 2018
A Flanders brown ale aged in a red wine barrel? I can get on board with this. I had a little sampler of it while visiting the brewery and it was good.
While I was there, my brother texted me that he was at Wicked Weed and was going to Burial Brewing. He asked if I wanted anything and we went back and forth on barrel aged stuff. I was trying to get a few bottles for a friend of mine who loves BA stuff.
As I sipped my very good Black Hog BA Oud Bruin and asked my brother to pick up some North Carolina BA stuff, I asked him if he wanted any OEC bottles since I was so close. He responded in the affirmative.
And you know what's funny? And a little sad? It never crossed my mind to buy a bottle of the decent Black Hog BA beer I was enjoying at that very moment. Why not, I wonder? Was I simply trying to impress my brother with $14 bottles of OEC weirdness vs. the more modestly priced Black Hog BA beer?
Would my friend who likes BA beers have enjoyed a bottle of the BA Oud Bruin from Black Hog as much as some BA whatever from Wicked Weed?
This ends my reviews of Black Hog beers and I think it is an excellent place to end. Black Hog is "fine." They make a bunch of good to really good beers and I appreciate their more adventurous efforts. But, for me, they just kind of "are" and I never think about them too much.
Even as I was drinking one of their beers at their table at their brewery.
I left upon finishing, got in my car, drove for 5 minutes to OEC, and bought two bottles there.
Damn OEC.
Addendum: My reasons for ending my beer reviews are many. Black Hog just today gave me another.
Overall Rating: A-
Rating vs. Similar style: n/a

Black Hog Brewing Company
CTMQ's Reviews of Black Hog beers
CTMQ's Connecticut Beer Page
CTMQ's CT Breweries page