Kent Falls Alternate World Gose
16.9 oz bottle, $9.50, 4.6% ABV
Purchased at CBC, West Hartford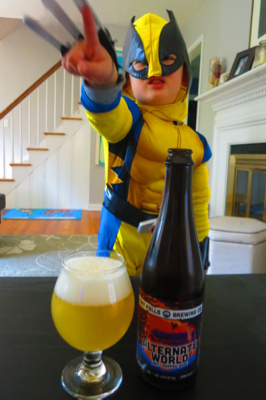 Whoa, slow down there Baby Wolverine. Or is that Millenial Visions Wolverine? Vampire Wolverine?
I could go on and on, for as everyone knows, the Marvel Universe is made up of (seemingly) infinite Alternate Worlds.
X-Babies? Real. Vampire Wolverine? Of course.
My favorite Alternate World, though, has to be Earth X, especially when Logan (Wolverine) is an old, fat, drunken bum married to Jean Grey.
Actually, that kind of upsets me, because I don't know how Famke Janssen Jean Grey can become this version of Jean Grey.
Oh I know, I can't mix Cinematic Alternate World with Earth-X Alternate World. I'm just being silly now.
And this is a serious beer and certainly deserves to be discussed seriously. For this version (October 2015, bottles) of Alternate World is a real, legit aged sour gose. This was not kettle-soured.
This is worth a read on the subject of kettle vs. aged sours – no matter where you fall in the "argument." To my knowledge, excepting the spacemen at OEC, no one else in Connecticut has made an aged sour of any sort.
So put on some classic prog rock, get lost in some Roger Dean art, and let's hear what Kent Falls has to say about this one:
Out of a marriage of our love for things sour and hoppy, comes Alternate World! A 4.6% dry hopped gose.

A fermentation with our house brettanomyces strain and souring cultures creates succulent, tart and fruity flavors, balanced by a hint of salt and big American hops to pucker your cheeks and leave with you with a cleansed palate awaiting the next sip. The modest alcohol content allows all of the flavors to shine and remain in balance for a super sessionable thirst quenching beer bound to refresh in the hot summer weather.
Is there a difference in taste of an aged sour vs. a kettle sour? If someone makes a perfect kettle sour, I say no. The problem with them, in my mind, is that lots of two-bit clowns are trying to do them over a long weekend and releasing awful "Berlinner Weiss" beers and pretending they know how to do sour beers. With an aged sour, the brewer really does need to know what he's doing and has invested much, much more in the final product, so you know they care much more about what that is.
Kent Falls has clearly shown over their first year that they really care.
But this beer actually just misses the mark for me. It is sour. Which is actually fine, as it is deliciously sour. But the Alternate World is touted as being "dry-hopped". The sourness just crushes whateverthehell else is going on with this beer.
Update a week after writing the above: I had another bottle. The dry-hopping was definitely present on the palate and definitely added a delcious and unexpected component to this beer. It's not "too sour," and is, in fact, rather great. But the following paragraph is still apt.
It's also called a gose, and for me, I like my goses a bit more balanced with the salt, sour, and whatever else is in there. (See: Kent Falls' Shower Beer.)
This is a grown-up sour gose. You have to know what you're doing with this one; which stands to reason, since Kent Falls knew what they were doing making a real aged sour.
Again, I rather liked this beer, but if you aren't prepared for the tartness, you may be seeing an Alternate World yourself as you recover from your first sip.
Overall Rating: A+
Rating vs. Similar style: A+
Kent Falls Brewing
Back to CTMQ's Reviews of Kent Falls beers
Back to CTMQ's Connecticut Beer Page
Back to CT Breweries page