Kent Falls Brewing Anachronism Grodziskie
16.9 oz bottle, $8.50, 5% ABV
Purchased at CBC, West Hartford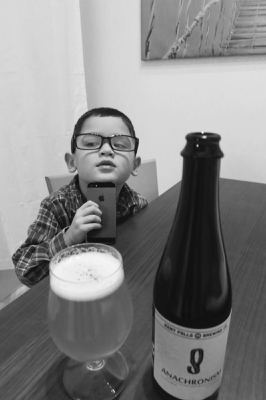 There is a fifth dimension beyond that which is known to man. It is a dimension as vast as space and as timeless as infinity. It is the middle ground between light and shadow, between science and superstition, and it lies between the pit of man's fears and the summit of his knowledge. This is the dimension of imagination. It is an area which we call untappd.com.
Herein is the tale of a young man, living in Levittown; father drives his brand new Ford Falcon to work at the Rheingold Brewing office in the city.
The young man's name is Calvin, and his concerns centered around Superman, Davey Crockett, and that icky girl down the street named Madison.
Madison? "That's the road in the City where Mommy gets to go shopping one time every year, that's not a girl name!" Calvin would lament.
And he was right. In 1955, no one named their daughters "Madison."
Calvin liked Madison alright, but there was just someting about her. She used words that none of the other kids understood. Words like "insta" and "lulz." She had toys that no one else had, and never shared. For these reasons, kids didn't play with Madison.
But Calvin's mother pushed the issue one day, and Madison accepted a playdate. Calvin was determined to get Madison to share some of her neato toys.
All he had to do was ask. Madison let Calvin play with something called the iPhone 5; "my daddy was all done with it," she said. Calvin pushed buttons and it was magic.
"A tiny TV! In color!"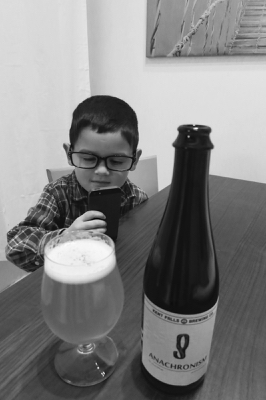 He was enthralled. "Where did you get this toy?!"
Madison was coy. For the truth would be too much for young Calvin, or so her Daddy said. "I don't know, Calvin, but be careful."
"Careful? Why?"
No answer. But then the reason became clear. Calvin hit a small square that took him to something called untappd.
Calvin knew beer. It's what his daddy did. Being of Polish descent, he'd been trying to convince his American brewery bosses to make a Grodziskie, so Calvin tried to find one.
And he did, from Kent Falls Brewing, who say:
This mildly smoked wheat beer is amply hopped with German Tettnanger, creating an old world ale that is crisp, piney, and earthy.
This beer would be right up Calvin's daddy's alley. Made the right way, with oak smoked wheat malt, clean, almost lager like… a pleasing smoke and really soft delicate earthy German hops. Yes, Calvin could talk just like the people who actually make the beer.
Then he looked at this untappd thing.

Huh? Meat? Ok, sure, a proper Grodziskie has a touch of smoke to it, but Kent Falls' had a lovely delicate touch with the smoke. Untappd was beginning to make young Calvin's head hurt.

Huh? This guy liked this beer? Does he think butts are smooth and tasty? Untappd was making Calvin hate this new toy.

This guy also seemed to like it well enough with three and a half caps, but "tire shine and dick?" To Calvin, a "dick" was a private detective, so this just made his brain melt.
Calvin threw the scary toy down and screamed, "Get this thing away from me and why can't we just play with Tinker Toys and Silly Putty or Cowboys and Indians!?"
Madison collected the glowing rectangle from Calvin's shaking hands, smiled, and said, "Calvin, Cowboys and Indians is a grossly racist, colonialist microaggression against native peoples wherein the caucasian conquerors are portrayed as 'good' and the native Americans are 'bad,' when in fact, the imperialist colonial invaders were vile imperialist mysoginistic thugs who brought disease, death, rape, and slavery to this new land."
Calvin wept for the future.
Postscript
Calvin never saw Madison again. He wasn't even sure she was real. Then, one morning, Calvin's dad found a bottle of Kent Falls Anachronism on his front stoop. Calvin looked at the bottle.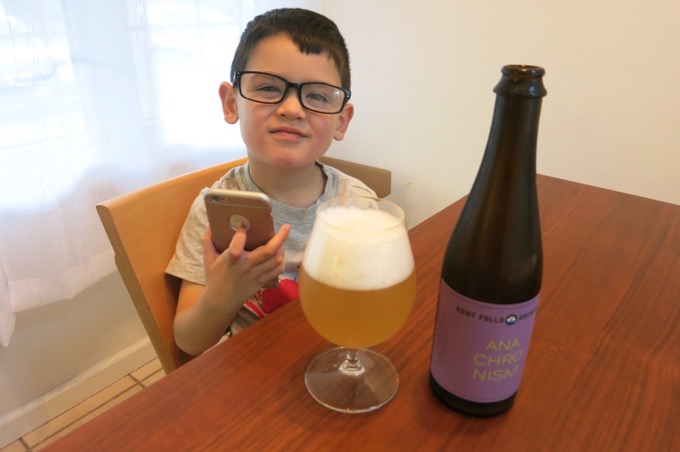 It was different. It was purple. He rubbed his eyes and saw his mom reading her iPhone. His dad started his car from his keyfob. Calvin just stared.
His dad had never heard of Kent Falls Brewing, but it was a Grodziskie, so he tried it.
He didn't get much pine, if any at all, but this was a delicious beer. A bite of bitter and smooth as silk, but that smoky flavor was controlled by a precise and skilled brewer. This was as good as a Grodziskie could be.
"Kent Falls, eh? I'll have to find these guys. They know what they're doing."
Calvin's dad was excited for the future while fondly remembering the past.
Overall Rating: A
Rating vs. Similar style: A-
Kent Falls Brewing
Back to CTMQ's Reviews of Kent Falls beers
Back to CTMQ's Connecticut Beer Page
Back to CT Breweries page