Apple Pie Moonshine, Connecticut Style
Hickory Ledges Distillery/Hastings Farm Dairy Farm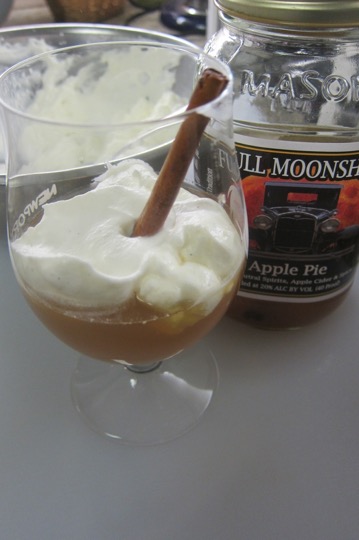 I had totally forgotten about this drink, but it was one that made my wife quite happy last winter. But it's not just a cold-weather drink at all. Something tells me she'd drink this in the middle of July if it was available.
I pretty much made this one up, but it's not exactly inventive or difficult.
If you're not familiar with Hickory Ledges in Canton, get familiar. They opened for tastings in 2015 and I found myself there after several fall hikes in Simsbury with my sons. We'd all get a round of delicious homemade, unpasteurized apple cider and then I'd buy a gallon of the stuff.
But yes, they are also Connecticut's oldest licensed distillery. You can find their 'shines in the stores. At least the apple and maple variants anyway.
Here's the simple and delicious drink recipe:
However much 80-proof Hickory Ledges Apple Pie Moonshine you want to drink
A dollop of fresh-made lightly sweetened whipped cream (do this yourself too, and if you use Suffield's excellent Hasting's Farm cream, you're even better. But you have to go to Suffield to get it. While you're there, get some of their greek yoghurt too; the lemon is out of this world.)
~ A cinnamon stick
And there you are. Delicious.