Top Shelf Around the Clock IPA
1 12 oz can, 4.8% ABV, $2.09
Purchased at Manchester Wine & Liquors
This page is nothing more than OCD fulfillment. It's absurd. It's asinine. And it's stupid. Spending some time – if only a fe minutes – typing words on this page simply because I spent two bucks on some forgettable "session IPA" from a brewery that no longer exists as it did when I drank this beer.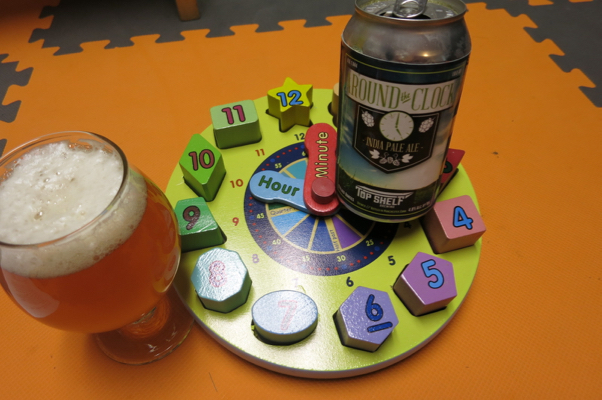 Oh look! I even took the time to set up a picture of the "Around the Clock" on a child's clock toy thing.
Aren't I precious.
This is my last "original Top Shelf" review. After I bought this, they shut down operations at the Hilliard Street dump and took a LONG time to reopen across town. But reopen they did! And not only that, the original owners/brewers left Top Shelf! A new owner came in! He hired a new brewer (Jon Peterson formerly of Steady Habit)! So yeah… it's a wholly different brewery.
Anyway, old Top Shelf said:
Well balanced session IPA with hints of grapefruit, citrus, and pine. This beer was brewed with excessive amounts of finishing hops for bitterness and aroma. Five different malts along with Cascade, Chinook, and Mosaic hops give this beer a smooth refreshing taste.
Can't be bad, can it?
I don't know. I don't even care. I rated it a C+ and have no desire to go find my notes. I'm sure it was just weak on the flavor and the pine and the bitter and whatever, like all session IPA's that have no reason to exist.
I have no idea if the new Top Shelf will even be called Top Shelf and/or if they will brew this particular beer again, let alone can it. I won't even tweet this "review" so I doubt a single human will ever read it. I won't even upload a second picture like I always do.
And now I'll end this useless review.
OCD Level: Satisfied.
Overall Rating: C+
Rating vs. Similar style: C-
Top Shelf Brewing Company
CTMQ's Reviews of Top Shelf beers
CTMQ's Connecticut Beer Page
CT Breweries page