This is Part 1 of a series of Connecticut beer "reviews" wherein I explain my decision to end my beer reviews. Just the reviews will cease… I'll certainly still stay on top of the breweries, news, and stuff.
Hello friends. I hope you are well. I suggest you sit down for this. Get comfortable. Perhaps get a nice fire going. Gather your loved ones around.
All set? Good.
Okay then. *Exhale*
*Clear Throat*
Let's do this.
I began writing CTMQ in 2006. It was only about museums at first, then quickly expanded to include many other places and things around Connecticut. After a year or so, in late 2007, I added our state's wineries to my list of things to go to and write about. At the time, Connecticut only had a handful of breweries: Olde Burnside, Cottrell, Hooker, and New England. Burnside was brewing two or three beers. Hooker was probably up to eight or so. Cottrell? Probably two or three. NEBCO? Maybe three or four.
That was it. I had been to Hooker a handful of times, and regularly drank Olde Burnsides' Ten Penny Ale. I scoffed at the industry. Neither NEBCO nor Cottrell was even available in Hartford County, and neither made anything exciting at the time – no one did, really. Ten Penny was the undisputed king of Connecticut Beer.
This situation remained unchanged through 2008 for the most part. Matt Westfall began interning at NEBCO in late 2007, but didn't brew beer on his own until 2009, with Alpha Weizen and Gandhi-Bot. It was in 2008 when I began taking notice of the miniscule industry in the state and added the breweries to my list of places to visit and write about. Cottrell in Stonington was the first brewery I visited for the purposes of CTMQ. (Hooker was the first I'd visited by several years, but that's neither here nor there.)
2010 saw the addition of Cavalry Brewing. (They didn't last too long.)
2011 came and went with no new breweries.
Having visited all of our wineries at the time, and liking beer probably more than I should, it dawned on me that it would be fun to write about Connecticut's beers in addition to its breweries. Heck, I could "review" literally ever Connecticut beer! Easily!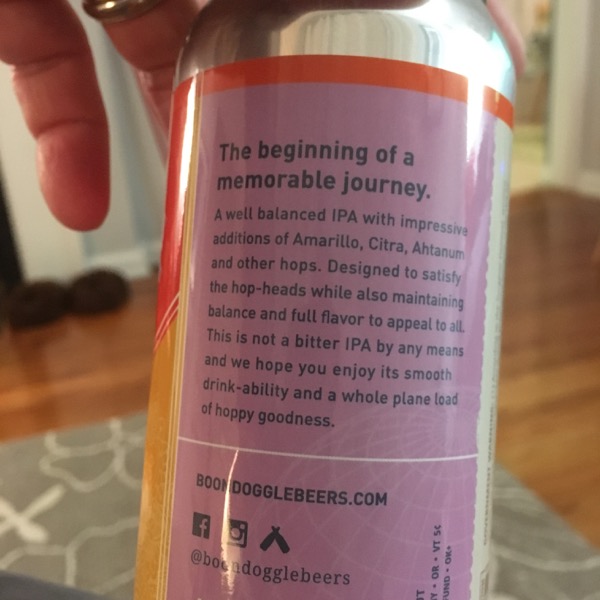 So that's exactly what I did. Between the five breweries in 2011, there were maybe 30 or 40 beers.
I wasn't remotely qualified to write real reviews of beer. I've never brewed a drop. I've never cared to. I approached the beer reviews on CTMQ as creative writing exercises. They have always been fun to do and I could be as goofy as I wanted to be. No one was reading them anyway. Regardless, this was my Arrival on the nascent scene.

Boondoggle Beers' Arrival IPA
1 16 oz can, $3.24 7.2% ABV
Purchased at Manchester Wine & Liquor (January 2018)
Boondoggle Beers began as a contract label at Shebeen in mid-2017. There are plans to open a brick and mortar brewery in Hartford someday. Owner Micah is a hustler, man.
He announced his "arrival" by showing up everywhere, all the time. Events, bars, brewfests, package stores. No one can say he hasn't done all he can do to get his brand out there. I even met him once, at a fundraiser at Hanging Hills, when he was just walking around being friendly with everyone.
Since I'm not very friendly with people I don't know who are overtly trying to be friendly with me, I didn't really talk to him much. I knew who he was, and I knew what he was doing, and I appreciated it all… but… yeah, man. Chill.
(Note: he can't chill. He's the owner of a new beer label at a time when he's in competition with 50 billion others. His beer has been on tap at some very impressive beer bars, so what he's doing is working. He should not listen to an old curmudgeon like me.)
Boondoggle says:
A well balanced IPA with impressive late hop additions of Amarillo and Citra hops. Designed to satisfy the hop heads while also maintaining balance and full flavor to appeal to all.
Personally, I'm not impressed with late hop additions anymore. Everyone's doing them. Literally everyone.
But if I'm to believe what I've heard about a certain Boondoggle methodology, I'm super "impressed." I have been told secondhand that a trick they use is to reintroduce flocculated yeast to the beer after it has dropped out. The purpose to this is to achieve that hazy haze that IPA's in New England apparently need to sell.
If true, and I believe it probably is… that's just dumb. And sad. Sad that a new brewer needs to undo something that brewers have counted on (clearing up of the beer) for centuries. Sure, pushing the envelope is cool, and this doesn't affect the taste of the beer or anything. But I'm sorry, it's still dumb.
I should clarify – it's dumb that this works on the current consumer. Not so dumb that Boondoggle (allegedly) does this.
Repeat after me: A good beer is good and doesn't need to look like murky swampwater.
Overall Rating: B
Rating vs. Similar style: B-
Rating of Appearance: F

In 2012, with far more friendly new state legislation, Relic opened. And Back East. Thimble Island, Beer'd, Half Full…
No problem. I could still drink every beer produced and write about them.
2013 saw several more breweries open. I started to waver. I certainly couldn't have all the brewery-only beers anymore, but distributed beers? Doable.
2014? 2015? We reached 40 breweries or so and my original mission became impossible. But I shifted gears and focused on distributed beers. I gave up on the "every beer" thing and made changes on this website.
Still, the growing industry was a great thing. I met so many wonderful people through Connecticut beer. Dozens and dozens of people whom I count as friends today. By this point, people actually did read my beer reviews. Industry people. I came to realize my most loyal beer review readership was the brewers, brewery owners, bartenders, and beer buyers for restaurants and such.
We put on our first successful Hops for Hope Brewfest. Everything was awesome.
Boondoggle Beers' Layover Double Honey DIPA
1 14 oz pour, $7, 9.19% ABV
Purchased at Bobby V's, Windsor Locks (November 2017)
We'd reached the sweet spot of Connecticut beer. 2016. 40+ breweries, many of them fantastic. Almost all of them pretty good. It was fun! The "scene" was still mostly kumbaya and brewers were helping brewers. The black market existed, but it wasn't all-consuming. Line culture was still something to make fun of, not to celebrate.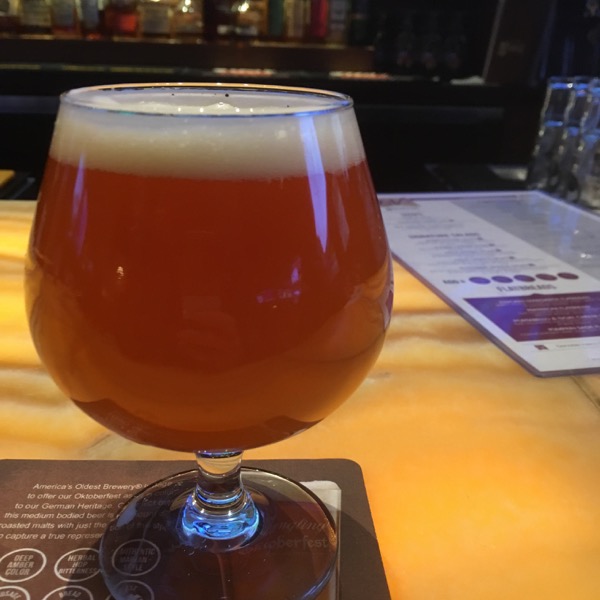 While I could no longer "review every Connecticut beer," I could still stay on top of things and was fortunate that many people in the industry came to trust me. In an odd turn of events I still don't fully understand, people would tell me stuff – rumors, scuttlebutt, reasons for this or that, etc. Me! The guy who writes more than anyone about the industry!
I think I have always been pretty good about knowing how much to spill and what to keep private. I hope. (And man, the things I've heard over the years…)
Boondoggle says:
This big double was designed with an incredible amount of floral hops and brewed with 80 pounds of Connecticut Honey. It's is loaded with complex flavors while remaining light in the mouth. Aptly named Layover, be careful to not miss your flight by underestimating it, because it packs a punch without much booziness. This beer is what we live for.
This beer is "what we live for?" Really? Okay. My favorite thing about Layover is that it is "9.19% ABV." That level of specificity really sells it. Not 9.2% or ever just 9%, but 9.19%.
The beer is good! The honey is present on the palate, but certainly not overwhelming. Perhaps it's that sweetness that cuts the higher ABV. I had a pint of this at that Hanging Hills event I mentioned and it was pretty bad. So I'm happy to report it got much better in the intervening months.
Until beer went insane in late 2017/2018, you wouldn't necessarily find honey in a DIPA. (Now, of course, you're likely to find all sorts of nonsense in DIPAs. Nonsense that doesn't belong in DIPAs. Or any beer for that matter. But that's probably a topic for a future essay.)
Overall Rating: A-
Rating vs. Similar style: A-

Boondoggle Beers' Departure APA
1 16 oz can, $3.24 6.2% ABV
Purchased at Manchester Wine & Liquor (January 2018)
Like I've said, 2016 was great. Then 2017 happened and now… 2018. I'm done. There, I've said it. Just… done.
It's not you, it's me. The reasons are many, and the decision was not easy. It all came to a head in mid-December of 2017. This page you're reading is only the first of what will ultimately (probably) be ten (shorter) essays on the state of Connecticut craft beer and my thoughts upon it.
It has become overwhelming; not just in volume, but in what I call "noise." I still love good beer, and I will remain lifelong friends with all of those I've met within this little world. Honestly, some of the best people I've met. You all know who you are. (If you've read down to this point, there's a good chance you're one of them.)
To be clear, I'm not necessarily "done" with beer or Connecticut beer. And certainly not done with patronizing our breweries. I've just reached a point, after seven years of writing beer reviews, where I see the end of the road. As much as I don't like to admit it, I've been a fairly big part of the scene from its beginnings in 2009.
And that culture has passed me by; pushed me aside and blown by me. I realize that 90% of Connecticut craft consumers are normal people. Many simply go to their local brewery and pick up some beers and are happy about that. But the vocal denizens of this world have become too much for me.
The Fear of Missing Outness of it all. The brand disloyalty. The shocking anger that comes from some corners when a brewery cans this and not that. The untappification of things. The market-driven need for many small breweries to RELEASE NEW! RELEASE NEW! I just can't keep up anymore; and as a completist (see: this entire website), the best thing for me is to just step away. Slowly, sure, but step away…
Boondoggle says:
A modern pale ale with generous Citra late hopping that is both refreshing and intoxicating in its aroma. A versatile ale which uses biscuit malt to add a little character to the lite malt backing and a generous Citra late hop/dry hopping brings citrus flavors forward with some piney and fruity accents.
It wouldn't be a CTMQ beer review if I didn't mention that it's not the aroma that's intoxicating, it's actually the 6.2% of the ethanol by volume that's intoxicating. I'm here to help.
So here we are. There are now about 60 breweries in Connecticut depending on how you count. There are 40 more that have said at one time or another that they plan on opening. Can we support 100 breweries?
Probably. Will that happen? Probably not. We may really see a slow down around 80, and then start losing a few as we gain a few more. But who knows, I've been woefully wrong on this sort of prediction before.
Even at 60 breweries, with the way the consumer market is now, there are fewer and fewer flagships. Breweries must pump out NEW! every other week. (Or, at the least, new labels every other week. Jokes on you, IPA consumer.)
Everything not new, by decree of the vocal scene, "sucks." (This will be a future topic in this series as well.) Every brewery who makes old school styles, by decree of the vocal scene, "sucks." I suck. My friends suck. CTMQ sucks. This essay sucks.
And that's fine. Boondoggle is plugging along, contracting at Shebeen while trying to find a spot and funding for a brick and mortar in Hartford. Shebeen has lost Pioneer, Greater Good, and Fat Orange Cat as contracts in the last year. They've picked up Boondoggle and Massachusetts outfit Shakesbeer. They still make cannoli beer, which is nowhere near the stupidest beer on offer in Connecticut anymore. Heck, if they had waited to put that beer out until 2018, it would just be another beer now.
And that's where we are and where I am. Drinking a decidedly non-pale pale ale with the requisite 3.9 cap rating on untappd with tropical hops. It's good. But it's no different than the 750 other non-pale pale ales with the requisite 3.9 cap rating on untappd with tropical hops.
I just wanted to write this first piece now so everything anyone reads down the road will have more context. I have many reviews to still write, and – just to be clear – many more great Connecticut beers to drink.
But the end is nigh. Thanks for your understanding.

This is Part 1 of a series of "reviews" wherein I explain my decision to end my beer reviews.
Overall Rating: A-
Rating vs. Similar style: A-
Boondoggle Beers
CTMQ's Connecticut Beer Page
CTMQ's CT Breweries page