Artista Zynergia: Gosatequin
750 ml bottle, $12, 5% ABV
Purchased at the brewery, Oxford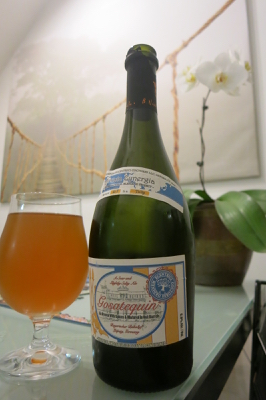 We agree: I write far too many words in these beer reviews. Sometimes it works and sometimes it doesn't.
When it comes to OEC, however, it's impossible to keep these things brief. Nothing about OEC can be captured in a sentence or two. Everything they do is complex – often to the point of absurdity. Some say they are just "confusing," or "ridiculous," or "elitist to the point of parody."
All of that is probably true to an extent, but here's the thing: OEC doesn't give a crap about any of that. OEC's overlord, B. United, really doesn't care. OEC makes (some of) the crazy beer they (sort of) make, they attach the crazy names they attach, and they sell them to people (like me) for whatever crazy price they want to.
Ahhhh, OEC.
The beautiful, shiny, classy, expensive, unique gem of Oxford, CT. Instead of trying to explain their "Artista Zynergia" (and "Zymatore") series of beer on each Artista Zynergia (and Zymatore) review, I will refer you back to the main OEC beer page.
So here, read all about OEC's Artista Zynergia series of beers.
(if you chose not to do that, I'll summarize: They use the word "complex" a lot. This series uses beer brewed abroad at fancy B. United breweries all around the world which is then blended with some OEC brewed beer, at which point OEC releases some "local" wild yeast strains (or from a Zymatore project, of course), and then sometimes these Artista Zynergia beers are/will be aged in Zymatore project barrels from some other B. United spirits maker. Or something like that.)
Now that we know that, let's see how OEC explains the Gosatequin:
Gosatequin is a blended new age Gose style ale produced in cooperation with Gosebrauerei Bayerischer Bahnhof (Leipzig, Germany). It is spiced with coriander, pink peppercorns and a touch of salt. It is a blend of 40% 1 year old oak aged ale in Pinot Noir/Gin barrels, Tequila barrels and 60% young sour ale lagered in oak barrels.
(I have this vision of the expressions on the faces right now on those of you who are not hip to OEC. And it's pretty funny.)
So… yeah. Welcome to OEC! The "Order of Eccentric Brewers!"
Go read that description again and try to sort it out in your brain.
So you have the the classic gose stuff with the coriander and the salt. And I'm 100% confident Gosebrauerei Bayerischer Bahnhof could nail a classic gose with ease. Hell, they probably invented it 500 years ago or something.
But then OEC got their hands on the base gose, and OEC'd it up. Some oak, some pinot, some gin, some tequila, some sour ale that spent some time in some oak and… is this still a gose?
Yes, but it's a gOsEC.
See what I did there?
And a gOsEC is good, but it's… perhap a bit much for many. For me, there was too much oak on the palate. I've never been an oak fan, and in a gose, I don't want any oak. The beer was also a bit too flat; I like my gose's to pop! Whiz-bang in my mouth with a clean, vibrant snap. The Gosatequin didn't quite do that.
And yet… and yet it was still delicious and interesting and I still want you to get some. Speaking of "getting some," OEC's distribution is as wird as their beers… Check their bended stuff on the rating sites and you'll see it pop up in Illinois. Or New Mexico. Or wherever.
B. United can do that. And OEC can make gOsECs and I'll keep buying them and trying to take artistic pictures with fragile and complex orchids that my wife grows because she's awesome and happens to love OEC as much as anyone so there.
Overall Rating: B+
Rating vs. Similar style: B+
OEC Brewing
CTMQ's Reviews of OEC Brewing beers
CTMQ's Connecticut Beer Page
CTMQ's CT Breweries page