Kent Falls Brewing Awkward Hug IPA
14 oz pour, $8.50, 7% ABV
McLadden's, West Hartford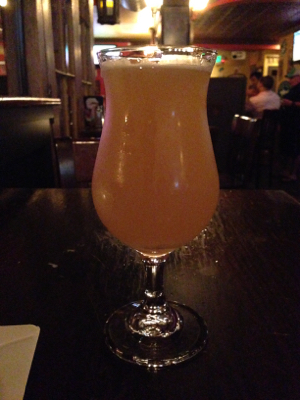 "Bro."
"BRO!"
"Brooooo"
Now what? Handshake, sure, but bro-hug? I'm 43. Back in the day when I'd call friends "bro" or "bro"-equivalents, there was no such thing as the bro-hug. At least in the middle-class white guy world anyway.
I'm not sure when that all started, but now, in 2015, it's almost required.
Irony: close friends never bro-hug. It's that next-level friend that always wants to do it, y'know? This isn't a "Me" thing, I bet this is de rigueur across all y'all.
Is it craft beer? Is that what makes us awkwardly bro-hug each other now? A couple pops in you, you're feeling a little friendlier and sentimental… bro-hug. It's as good of a theory as any.
For the rest of this page, I want to focus on the Kent Falls Awkward Hug IPA. And really, I feel like simply copy/pasting/referring you to head-brewer Derek's words about the beer.
Derek wrote not so much about the Awkward Hug, but more about Kent Falls' foray into the world of IPA's. Awkward Hug was the first "clean" IPA from Kent Falls. (I think the Waymaker was first, but that was a Brett IPA.)
I'm even going to steal Kent Falls' picture of an awkward hug. It's not like I'll get a better picture of such a thing.
Here are a few introductory words about the beer. This doesn't really sound like it was a big deal for the boys in Kent, but it sort of was.
For one thing, this may have been the first (and not the last, by the way) Kent Falls beer purposely named simply for laughs.
As in, bartender: "What can I get you?"
"I'd like an Awkward Hug please!"
Major points for making that conversation happen across New York, Connecticut, and Massachusetts.
But this beer was kind of a big deal for other reasons. Up until this point, we knew (and loved) Kent Falls for their saisons and sours and their whole farmhouse thing. I think I had had the Waymaker Brett IPA before the Awkward Hug. That was good, but it was still a "farmhouse" IPA.
I distinctly recall going to McLadden's specifically to walk in there and have this beer. I distinctly recall paying like 10 bucks (including tip) and saying to myself, "Goddamnit, this is why I never go to freaking McLadden's).
And I remember completely forgetting about the asinine price and the hassle of parking in my hometown and the North Faced bro-mosphere of McLaddens as soon as I took my first sip of this beer.
The Awkward Hug immediately elevated Kent Falls from "Awesome niche brewery in the hinterlands of Kent doing some really great saisons and sours" to "One of the best breweries in New England who are doing world-class saisons and sours… and New England style-ish IPA's too, so screw everybody and I can't imagine what life is going to be like for residents of Camps Road when these guys open up a tasting room and for the love of god people, do NOT drive fast on the roads out there."
Awkward Hug was perfect. Despite its slight turbidity, it was as clean as any IPA on the market. It was full of citrus and perhaps some melon and yet still had a bit of softer feel to it. This beer was the first of what turned out to be a steady stream of unique Kent Falls IPA's throughout 2015.
Actually, now I get it. I would totally awkwardly bro-hug Derek and Barry for their take on the IPA. People would have said it would have been impossible to redefine what an IPA could be these days, as every brewery on earth is trying to bang out every kind of IPA and IPA-like beer they can.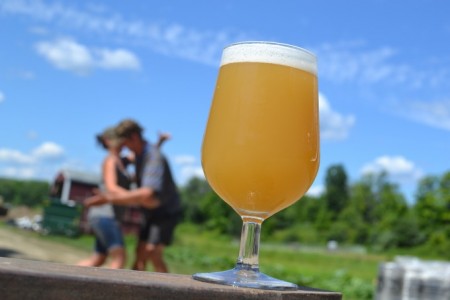 But dammit if Derek didn't do it. (And continued to do it over and over.)
You may not know this, but Derek not only brews beer better than almost anyone, he writes about it almost better than anyone too. His essay on "There are Too Many IPA's in the Market, So Here's a New One" is excellent.
I highly encourage you to read it, for several reasons. I agree with everything he says in it, and I think much of it is "important" (relative to this completely unimportant world of craft beer).
The bakery comparison is on point. (And the critique of American bakeries is also on point. The US has caught up to, and surpassed, 95% of European breweries. But I can promise you that our best bakeries, like our top .01%, are still only as good as the little dingy corner shops on every block of some tiny French town you've never heard of. There's a reason French people can just eat a baguette with brie for breakfast. Because it's that freaking good.
So yes, thank you Barry and thank you Derek. Thank you so much for expanding out into the saturated IPA market. Thank you for showing me and the world that despite the 50-billion IPA's available to us all, a skilled brewer can still bring something different, delicious, and unique to the market in 2015.
Hell, this beer was so good, I'll officially move you both into Westfall territory… that is, real (sober) hugs.
Overall Rating: A+
Rating vs. Similar style: A+
Kent Falls Brewing
Back to CTMQ's Reviews of Kent Falls beers
Back to CTMQ's Connecticut Beer Page
Back to CT Breweries page