3 Black Hog Beers That Probably Shouldn't Exist*
Bear's Rub Saison, Rosemary Dunkelweizen, Plum Gose
*Actually, one of them was alright.
Black Hog is an interesting brewery for several reasons. For me, they occupy this weird space between "everyman" brewery and "WTF brewery." Not too much excited me for their first few years of existence, but 'round about 2017, they seemed to sort some issues out – notably that their IPAs and the like were rather bland.
But while they were producing pedestrian and bland beers, they were also putting out some wacky stuff. Sure, there's the whole Disco Pig series of weirdness, but then there are the "not good enough to be Disco Pigs, and definitely not normal" beers.
Let's discuss a few of them.

Bear's Rub/Red Saison
One draft, $5, 6.5% ABV
At Bear's, Hartford
Collaboration beers always seem so silly to me. I get their point, and I love the camaraderie amongst the brewing brethren, but as we move forward, so many of them just smack of nothing more than marketing.
If I see one more Monkish (southern CA) "collab" with darling breweries 3,500 miles away on the east coast, I'm going to scream.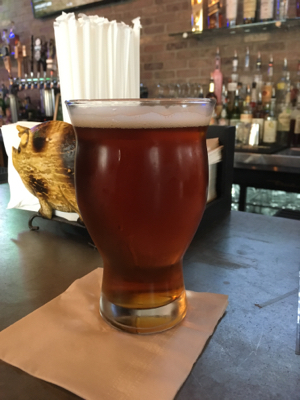 Apparently, someone at Stony Creek in Branford and someone at Black Hog in Oxford talked with Jamie (the "Bear" of Bear's) and together, they thought making a saison with pork dry rub would be a good idea.
It was not a good idea.
I can only assume those responsible were drunk as hell and dripping with meat sweat; communally lost in a haze of booze, pan drippings, and practical jokes. And that's fine. We've all been there.
But then someone at Stony Creek carried through on the idiotic idea of a pork dry rub saison and actually brewed the damn thing. Of course, this is the chance that Bear Jamie promised Black Hog and Stony Creek a deal too sweet to refuse, if only he could have yet another entity BEARing his moniker.

Black Hog/Stony Creek/Bear's says:
A Collaboration brew with our good friends at Black Hog Brewing of Oxford, CT in partnership with Bears BBQ of Hartford. A smooth and silky Red Saison spiced lighlty with Bears proprietary pork dry rub spice.
When I had it, it was called a "Rub Saison." Now they call it a "Red Saison." Neither actually exists in the real world, so who cares which one they use. I found nothing remotely saisony about this beer.
My tasting notes were: "Not good. So dry from spices and crap it makes you thirstier but I don't want to drink this. Stupid."
I think we're done with this one.
Overall Rating: D
Rating vs. Similar style: n/a

Italian Plum Gose
One draft, $6, 4% ABV
Oxygen Bar, Windsor Locks
This is the beer on this page that was actually pretty good. That said, Black Hog apparently thinks this beer shouldn't exist as they've wiped their website of it for the most part. It was part of their "Farmland Series" of beers.
Coincidentally, I had it at some weird hotel bar right next to the flagship Bear's restaurant at the Windsor/Windsor Locks line on route 75. Weirder still, I went to the weird hotel bar specifically to have this specific beer during that weird time in my life when I was going out of my tree chasing down Connecticut beers I had not had.
All for you.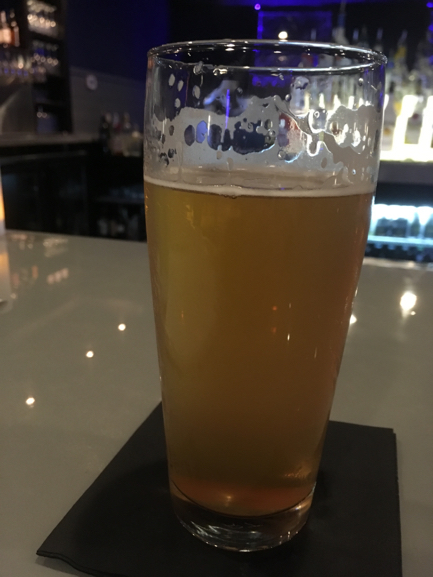 I had very low expectations for this beer for some reason. So I was pleasantly surprised when I found it to be well done. Refreshing amount of plum flavor counterbalanced by the salt and coriander of the style.
I think I was scared of it after having Black Hog's travesty that was their strawberry gose. Checking my tasting notes for this one:
Way way better than past efforts. (strawberry jesus christ)
Jesus Christ indeed. But they canned the strawberry one. Perhaps the plum variant will make a valiant return every summer when plums are in season. If it reappears, don't be afraid.
Overall Rating: B+
Rating vs. Similar style: B

Rosemary Dunkelweizen
One draft, $?, 6.2% ABV
Some bar, somewhere
Another "Farmland Series" beer from Black Hog. Another beer that needn't exist. In fact, I wish it didn't.
Dunkels are traditional dark German wheat beers with centuries of history. A good dunkel dunks on newer fanboy styles. And will outlast them after the nuclear apocalypse in 2019. Just you watch.
If you survive. #MAGA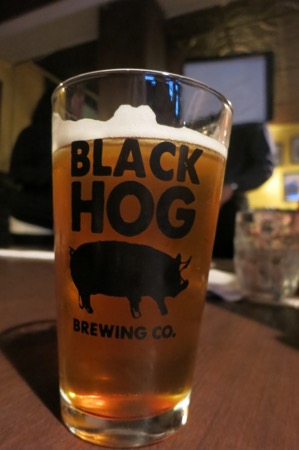 Black Hog says:
This Traditional German dark wheat ale has the great malt sweetness you are expecting from a Dunkelwiezen. The brewery grown rosemary adds depth to the hop aromatic and enhances the clove phenolic produced by using the German Hefeweizen yeast strain. This is what fall tastes like in a glass!
No. None of that makes sense. I mean, I guess it does, but it really doesn't. I like rosemary. When I make fried potatoes, my wife gives me the business because I use to much sometimes. So my disdain for this beer is not a result of a disdain for rosemary.
My disdain for this beer comes from the fact that they put rosemary in a sweet, robustly malted dunkel. As my friend Greg said to me yesterday when I mentioned I would be writing some Black Hog reviews, "That beer was a tragedy."
Also a tragedy? This:

I'm okay with experimentation and envelope pushing, especially as it relates to herbs and fruits in beer. Some breweries are masters with this stuff. Some are not. Some are finding their way. I'm the rare bird who has loved the gin barrel IPA's I've had with their blast of juniper.
But again, ICYMI, rosemary dunkels are probably just a bad idea to begin with.
Overall Rating: D-
Rating vs. Similar style: F
Black Hog Brewing Company
CTMQ's Reviews of Black Hog beers
CTMQ's Connecticut Beer Page
CTMQ's CT Breweries page