Behold! (Nelson Sauvin APA)
750 mL bottle, $8, 5% ABV
Purchased at the brewery, Haddam
Drank: 2/2015
*Note: Yes, I am aware that the "Behold!" is a catchphrase of one Mr. Martin Prince from The Simpsons and that's probably where this beer's name comes from. Also note that I am writing this note before publishing, so it's not like I'm using some lame "trick" and going back and pretending I knew something when I didn't. I just went a different direction with the "Behold!" here (very loosely) based upon the picture of my son in a superhero outfit. So there.
Update to the note: I'm dumb. Martin Prince is not Nelson Muntz but Nelson torments Martin who does say Behold! all the time and… thanks to @Obie820 on Twitter for pointing out my error.
Oh yeah, I've started adding the date I drank the beer, as has been requested by many readers.
……………..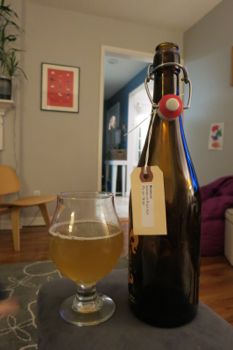 Pow! Bang! Smash!! … Behold! Our Steady Habit Heroes emerged from their humdrum day jobs at Tony's Package Store, donned their super brewers unitards and in a flash, produced one of their first beers: a Nelson Sauvin pale ale.
Behold!
Behold! ten other 2014-15 new Connecticut breweries – Behold the wonders that have poured forth from the brand new and relatively tiny Steady Habit, nestled in the Seven Sisters hills along the storied Connecticut River in Haddam.
Behold! Wallace Stevens' poetry:
O thin men of Haddam,
Why do you imagine golden birds?
Do you not see how the blackbird
Walks around the feet
Of the women about you?
Behold! The lofty bar that had been set by our heroes at NEBCO and Beer'd for perfect, citrusy New England style hoppy ales! And watch as Steady Habit leaps the nearby swing bridge to show that yes, indeed, they are immediately ready to roll with big boys of Connecticut!
Behold! As Steady Habit, with Goodspeed and exemplary skills has established itself as among the breweries making the best beer in the state!
Behold! The fact that I can get to Steady Habit in half the time it takes me to get to Beer'd, which is a shame because I do love my Beer'd but let's be realistic here as I have a family and a job and stuff and Stonington is just such a pain in the ass to get to and while I'll never quit on Beer'd, ever, logisitics and practicality win out sometimes, amIright people?
Behold! What Steady Habit says:
Behold……..NELSON!!! This beer is our all Nelson Sauvin hopped "American Pale Ale." We absolutely love the Nelson Sauvin hop variety here at Steady Habit and we thought it deserved to be showcased all by itself. We believed that a Pale Ale would be a great way to show off this hop's goods. The definition of "Behold" is to "see or observe," Behold! the power of Nelson!
Behold! My son, fast as The Flash, emboldened by his first trip to the life-giving confines of the Steady Habit brew space! Look closely, as he is so whiz-bang fast that he barely appears in this picture!
Behold! How many times I can lamely use that word on this page, but since Steady Habit officially named this with an exclamation point, I have no other choice but to do so.
But I can stop for a second. Look, seriously 10 other new 2015 Connecticut breweries, look inward. It seems we get about one great brewery a year now. 2012, Beer'd. 2014, OEC. 2015, Steady Habit. (And if you're not named Lasting Brass, forget about it being you in 2016.)
Although the guys in Haddam are small, and have had well-documented issues with supply, that's part of being great from the get-go. We already know Ed and Lasting Brass will have this issue in the future too. It's just how it goes. People are already doing the, "Shhh, don't tell people about Steady Habit" thing – which is quite the compliment to them.
Nelson is the favorite hop of a lot of my friends. Many claim NEBCO's Nelson DIPA Coriolis to be their favorite beer in the world. I refuse to play favorites, but what Steady Habit did here, toning it down with a 5% APA was nothing short of brilliant. The signature Nelson "winey-ness" shone through without it being so in your face. The sign of a good brewer is consistency and control. It's one thing to dump 5,000 pounds of a great hop in a tank. It's another to tease the flavor from less.
Steady Habit did that with Behold! And now we get to "behold" them scaling up and continuing to excel.
Overall Rating: A
Rating vs. Similar style: A
Steady Habit Brewing Company
Back to CTMQ's Reviews of Steady Habit beers
Back to CTMQ¹s Connecticut Beer Page
Back to CT Breweries page