Cold Creek Betty Blueberry Berliner Weisse
1 32. Oz crowler, $?, 3.8% ABV
Purchased at the brewery, Ellington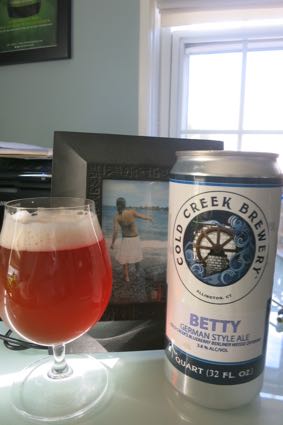 I'm writing this review as one of my random "challenges." That is, I got bored, looked at the clock, realized that I have about 20 minutes, asked Twitter to name a brewery, my man Shaun said, "curious to hear about a newbie. Maybe cold creek or still hill?"… and here we are.
I've yet to visit Still Hill, so I only had one option: Cold Creek.
(Apparently I'm not "Shaun's man" as much as I claim him to be "my man" since he apparently missed my previous Cold Creek reviews. WhatEVER, dude.)
As those who are actually tight with me know (unlike Shaun the Phish fan), I've been a fan of Cold Creek since I got over my unfounded pre-opening questions and checked them out first hand. Head brewer Sean Piel knows what he's doing, and I'm comfortable saying that if you're ever in Ellington, check them out.
Wait… that's no endorsement. After all, When the hell does anyone ever happen to just be up in Ellington? Do beer afficionados purchase overpriced wooden sheds at Kloter Farms on the regular?
I have no idea. The again, if Ungardend was a thing, and people rated overpriced sheds, Kloter Farms would most certainly be a destination.
… Never mind. Back on track. (This is my first beer review in a month, so I'm a bit rusty.)
Okay, so, Cold Creek. Berliner Weisse. Blueberry no less. That's a tall task if you ask me. Blueberry beers almost always suck, and even with kettle souring, one must have a deft hand and some definite skill to nail the style. Throw blueberries in the mix and I must admit, I was wary.
But know this: I wouldn't have sullied these pictures of my beautiful wife with a crappy beer. Betty is not a crappy beer. It's a betty, just like my wife.
Dating myself (which I sadly did for too many years), I actually used the term "betty" in normal conversation as a punk rock skateboarding teen. I'm still punk rock, but I no longer skate and I no longer refer to attractive women as "betties."
In case you think I'm crazy, let's check Urban Dictionary:

I married a betty.
And (un)lucky for her, I sort of care about beer. So much so, that I was curious as to how Cold Creek made this blueberry Berliner work. I had to ask Cold Creek:
Cold Creek says
So for this batch of Betty there's about 60lbs of wild blueberries and just about 25 pounds of store bought blueberries. I boiled them down and made a syrup but after I added it I noticed the nose had zero blueberry aroma at all, so I won't lie, I ordered 3 gallons of an all natural blueberry concentrated juice that got the aroma where I wanted it.
I love that Sean (Sean Piel, the cool guy who mans the ship at Cold Creek – not the aforementioned Shaun who doesn't read every word I write and listens to jam bands and therefore isn't punk rock and never called his fiancee a betty) seems to feel sort of guilty about using some "all natural blueberry concentrated juice" in this beer.
That right there should tell you that Cold Creek is a definite up-and-comer in the up-and-coming CT brewery scene. At the risk of sounding cliche, he cares. I truly believe that.
(And let's be clear: using all natural blueberry concentrate is absolutely, 100% fine. There is absolutely NOTHING wrong with doing so.)
Berliners are a bit of a trendy style right now, and that's fine. Once the kettle-souring process became sort of "known," many, many breweries have been doing them. Blueberries are, to me, a bit of risk as they are quite acidic and tart already. But somehow this beer pulled it off. I loved… the taste of it. It was pretty much as perfect as a blueberry Berliner could be.
But here's the thing: I asked Sean (again, the cool Sean who reads my stuff) about the actual fruit because ironically, the aroma was a bit much for me. I hate to say it, because I believe the derivation of the aroma 100%, but its smell reminded me of this:
My sister had these dolls. That's the original Blueberry Muffin who was tight with Strawberry Shortcake. They were girls sort of like how Shaun and I aren't boys.
But check this out… they made Blueberry Muffin a betty!
Whoa! Look at those eyes! That sexy sweep of her bangs! Total betty. I wonder what the Pieman thinks of her now.
To sum up: This beer is good – really good. Shaun will never suggest a review again. It is possible to make an excellent blueberry beer. My wife is a betty. I am wholly undeserving of her.
And I'm happy to have taken a month off from beer reviews… but even happier to be back.
Overall Rating: A-
Rating vs. Similar style: A-
Cold Creek Brewery
CTMQ's Cold Creek Reviews
Back to CTMQ's Connecticut Beer Page
Back to CT Breweries page