Big Bad Bunny Stout
1 glass of it, 7.7% ABV
Enjoyed at the brewery, Haddam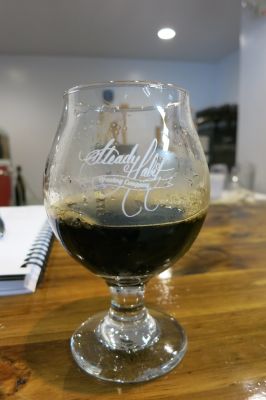 I am writing this hot on the heels of the inaugural CT Hops for Hope Brewfest. I am so proud of the organizers of the event and have been on Cloud Nine since it ended. We hit our goal of raising $30,000 for the Smith-Magenis Syndrome Research Foundation, everyone was safe and had fun. It was fantastic.
Several breweries brought their A-game to our event, including Steady Habit. At the last minute, Jon announced that he'd be bringing a log of his incredible Big Bad Bunny Stout and I tweeted, "One of the best sweet stouts I've ever had."
After the event, I spent some time reading various social media streams and sites where the fest was mentioned. With 23 breweries and probably 70+ beers available, it's clear that the BBBS was a standout amongst the crowd. Even on a warm and muggy day, in a time of hopped up hoppy ales, the BBBS and Steady Habit created a major buzz.
So while I can't really rank the beers or breweries who graciously poured at our little 100% charitable brewfest, I can rank Big Bad Bunnies. Note: "Bad" in this sense can mean any permutation of the word.
Big Bad Bunnies, Ranked*
*With apologies to Drunkspin's Will Gordon, who made the trek down from Cambridge to New Britain for our event. Will is the only beer writer I read on the regular and he's super nice in person. Thanks, Will!
10. All the adorable bunnies that way too many of my friends on Twitter have as pets – These bunnies are not "bad" in any sense. They are cute blobs of fur that pretty much do nothing but sit around and have cute pictures taken of themselves every day. Interestingly, two of the top three bunny friends are Leeanne Griffin and Emily Woodward.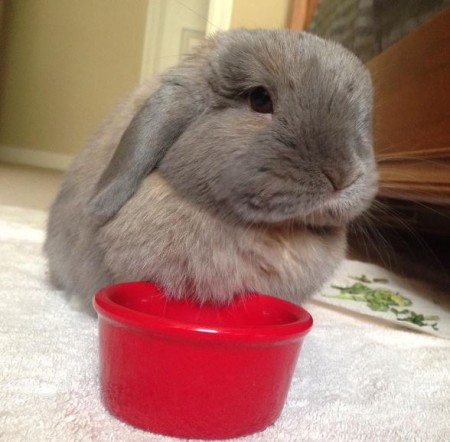 Why mention them? Because Leeanne wrote an excellent article about the brewfest for the Courant and Emily was a top sponsor of the event, via her Get Baked bakery in Windsor. GO. THERE. They also both bought tickets to the event. They are genuinely wonderful people, but I'm sorry to say, their bunnies are not bad.
At all.
9. Peter Cottontail/Peter Rabbit – It's weird that "Peter Cottontail" is part of our cultural lexicon. Why? Because in the original Thornton Burgess stories, the rabbit's name is Peter Rabbit. In 1910, for a few short pages, in one short chapter, of one little book… Peter Rabbit decides his name is boring and changes it to Peter Cottontail. He very quickly changes it back. (Well, the book is The Adventures of Peter Cottontail, I must confess.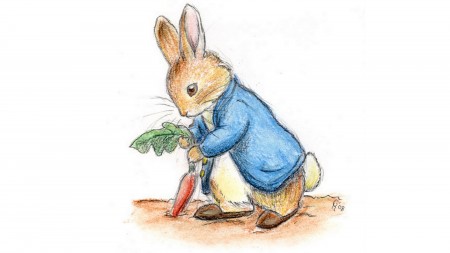 If you are familiar with Burgess's works, the man wrote a billion books and serials and such. That this tiny little bit in just one of those books was picked up on is pretty interesting to me. In 1950, Gene Autry recording "Here Comes Peter Cottontail" and the rest is history.
Now you're singing that song in your head, and you are thoroughly annoyed, and Peter Rabbit was a tinge "bad" for trying to be more street by changing his name, but not really all that bad.
[Sidenote: In Sandwich, MA on Cape Cod there's a whole Thornton Burgess complex of… stuff. Library, nature center, kitchen, trails… If you're near, just go for the jellies and marmalades and stuff. It's wonderful.]
8. The Easter Bunny – Although the Easter Bunny brings candy to all Christian kids, I think we can agree that he's a tiny bit "bad" for rotting children's teeth every spring.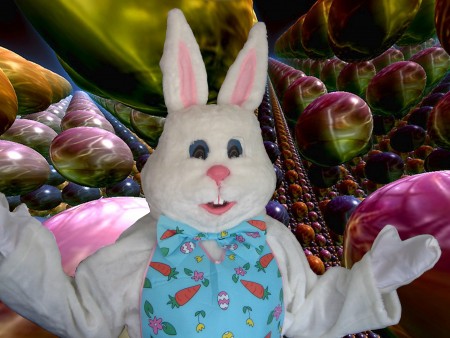 He's also "bad" for co-opting the Easter holiday from the Lord and Savior, Jesus Christ. I mean, that poor guy gave birth to himself to sacrifice himself to himself to save his creations from himself and then live with another of himself as well as a ghost of himself… and a magical bunny who merely doles out candy is stealing the show on the first Sunday after the first full moon after the vernal equinox, because that's that's when omnipotent Gods sacrifice themselves to themselves to save humans from themselves.
Anyway, "Thanks Easter Bunny, Bawk Bawk!"
7. The Myriad of Cracked-Out/Coked-Up/Meth-Head Rabbits – There are a bunch of these guys, and I think we can agree that they do our society no good. Where to begin?
How about with The Noid, the evil rabbit-eared gremlin who devoted to his life to ruining already horrible pizza. A total coke-head, The Noid was a big deal in the 80's when national pizza chains were actually tolerated. Those were sad times.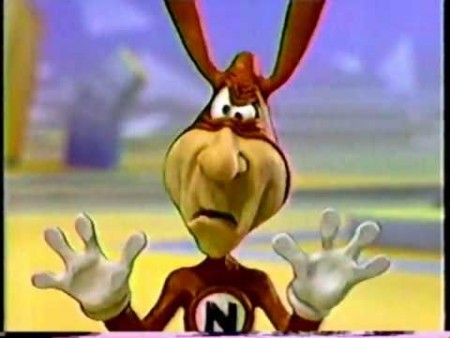 The Nestle Quik (Nesquik) Bunny was also a big deal during my youth, trying to convince me that the chocolate drink was delicious. It was not. He was also a cartoon that invaded people's homes and was a total dick about things.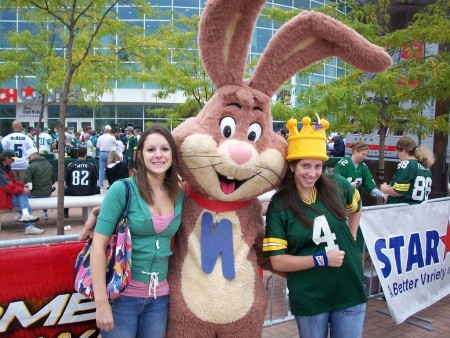 The Trix Rabbit was/is another crack-headed rabbit. I had forgotten that his whole deal was his inability to eat Trix, due to his being a, you know, a rabbit. And now that I've read up on the history of the Trix rabbit, I feel sort of bad for him. But Trix sucks, so who cares. (You should care why he's looking down on you though – read this.)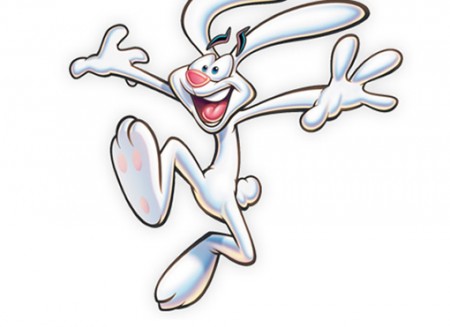 I also strongly urge you to read this story about the origination of the Trix rabbit. The letter from the executive about the "lowly artist" is straight up Mad Men stuff. It's amazing.
The White Rabbit – Not so much a coke/meth addict, but more of the experimental hallucinogen type of druggie. Whether he was leading sweet Alice into the Wonderland (of drugs) or being sung about by (drugged up) Grace Slick, The White Rabbit is a bad, bad, rabbit. Also responsible for the 2015 phrase, "down the rabbit hole" when people find themselves endlessly clicking clickbait articles online when they have better things to do.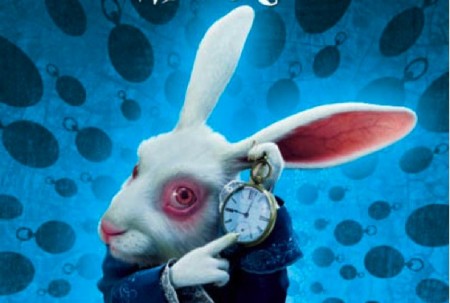 6. Br'er Rabbit – First thing first. "Br'er" is a syncope of "brother." And if you've forgotten, Br'er Rabbit is a trickster. In fact, although he's witty and clever, he's a total jerk.
Some scholar who spends her life writing about this stuff wrote, "While he can be a hero, his amoral nature and his lack of any positive restraint can make him into a villain as well."
So yeah, he's bad. After reading some Briar Patch stories to my son the other day, my wife exclaimed, "Br'er Rabbit is a dick." Good enough for #6 in my rankings.
5. Bunny Boy (Gummo, 1997) – This is a horrible movie about horrible people doing horrible things, directed by the horrible Harmony Korine for no other reason other than to start a conversation between normal sentient humans who know this is just a horrible movie and idiots who try to convince normal people that it is a work of brilliance.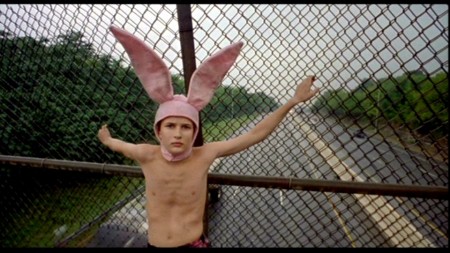 Bunny Boy doesn't feature much, but he's fairly memorable. He pees off a bridge and plays accordion and rides a skateboard and gets berated by some junkyard white trash kids and plays dead and finds a murdered cat and hooks up with some skanks in a pool.
He's vaguely sweet, but he exists in a truly bad Korine universe, so he slots in in the middle of our bad bunnies.
4. The Playboy Bunny – I know you thought this little guy would have been ranked higher. After all, he's a "bad" mammajamma, there's no denying it. Although he's still getting hot naked women after 60+ years, he has fallen off precipitously in recent decades.
Playboy is no longer a cultural touchstone and I don't even know why they are still in print. They don't, as far as I know, get famous women to pose for them anymore, and Hugh Hefner's creepy fake marriages have become too much for me to handle.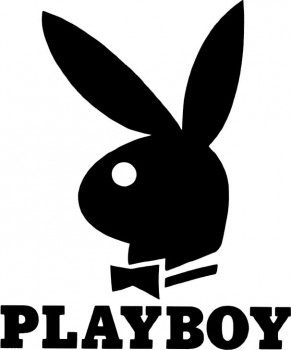 But the Bunny? Dude doesn't even turn his head… ever. He gets so much tail that he doesn't even need to. And that's baaaaaaaaad.
3. Super Tall Anthropomorphized Imaginary Rabbits – Lumping Harvey's Harvey and Donnie Darko's Frank together is a bit odd, I must admit. After all, Harvey (which most of you are too young to even know about) was a fairly harmless Super Tall Anthropomorphized Imaginary Rabbit of a (probably) schizophrenic guy and Frank was a fairly murderous Super Tall Anthropomorphized Imaginary Rabbit.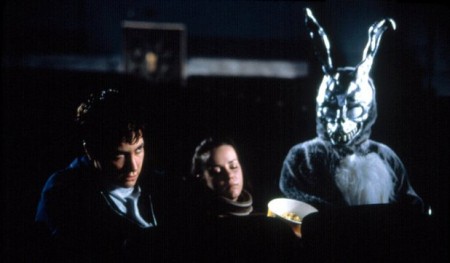 But since they are the same idea, and were both on film, here they are. Okay, let's ignore Harvey.
Frank was Donnie Darko's hallucination… OR WAS HE?!!? He did (or Donnie Darko on his orders did) terrible things, but they always seemed to have a "good" purpose. But he was creepy as hell and most definitely bad.
Screw Harvey, Frank in at #3.
2. Big Bad Bunny Stout –
Steady Habit Says:
We brewed this 7.7% Milk Stout to be enjoyed around the Easter holiday. It is inspired by the memories of my childhood at Easter time, eating chocolate covered marshmallow coconut bunnies. Here's to great childhood memories!
Jon at Steady Habit brewed this, like it says, in time for Easter 2015. It was a very small batch, so very few people even got to drink it. And back then, Steady Habit had just opened and was just a blip on the radar for most people.
I had it back then and was blown away. Jon, in his usual modest way, was like, "Yeah, I don't know. I just thought it would be cool to make a beer that reminded me of those candies I used to love when I was a kid. They had chocolate and coconut and marshmallow and, I don't know, I think the beer's alright. What do you think?"
Dude. What do I think?! I think it's ridiculous – and I'm usually pretty harsh on milk stouts. I just think they are such an easy style to cover up any flaws or inadequacies, but not in this case. The different sweet ingredients somehow don't detract from the fact that this is, in the end, a stout. A beer. Not even a dessert beer, but a straight up milk stout.
Yes, it's sweet, but the balance with the bittering aspects of the chocolate malts is tuned perfectly. And like I said (as if anyone has read all 1800 words thus far), this beer was arguably THE hit of the brewfest we did. Now I see people are lining up at the Haddam brewery to get as much of it as they can.
Just a fantastic beer, and one that will surely reach that rarified cult status of Connecticut beers that people wait in line for, trade for, and chase down if/when it's ever on tap.
1. Bugs Bunny – C'mon. You didn't think any other bunny would be here, did you? I hope not. Bugs was the baddest mother-shutyourmouth! in history. My man just didn't GAF. He was gay, transgendered, straight, sexy, dirty, evil, mean, sweet, and hilarious. As complex a character as has ever been on television.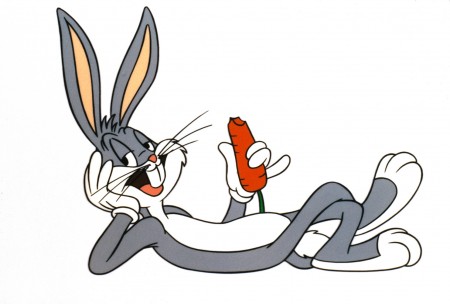 Oh yeah, he could fight when he had to fight and he could run when he needed to run. When his wit was his best weapon, he utilized it to devastating effect. And, when he took a rare beating, Bugs was indestructable.
Bugs was and is, hands down, the baddest bunny of all.
Overall Rating: A+
Rating vs. Similar style: A+
Steady Habit Brewing Company
Back to CTMQ's Reviews of Steady Habit beers
Back to CTMQ¹s Connecticut Beer Page
Back to CT Breweries page