Black Hog Brewing Company
Oxford
A 2018 write-up of a visit to Black Hog Brewing Company is here.
Note: This is now an archived page. At some point, perhaps even before you read this, all of my CT Beer Review pages will suffer this same, sad fate. After much reflection in late 2017, I decided that my beer reviews would come to an end. For more on that decision, go here.
Beer List:
Bears Rub/Red Saison, D
Disco Pig #1: Brett Brown Braggot, C
Disco Pig #2: Brett Golden Sour, C+
Disco Pig #4: Lime Maguey, D
Disco Pig #5: Kyuri Saki Biru, A
Disco Pig #8.1: BA Oud Bruin, A-
Easy Rye'Da, B-
Ginga Ninja, C-
Granola Brown, A-
Hog Water IPA, B- then A
Leaves a Mark Imperial Stout, B
Nitro Coffee Milk Stout, A
Piglet DIPA, C-
Plum Gose, B
Rosemary Dunkelweizen, D
Strawberry Gose, F++ then C
S.W.A.G., D then C now B
The Hop Collective Series, various grades

Out with the old Cavalry, bring in the new!
Cavalry ceased operation in May 2014, sold everything to the folks from Black Hog and three months later we had a new brewery in our fair state.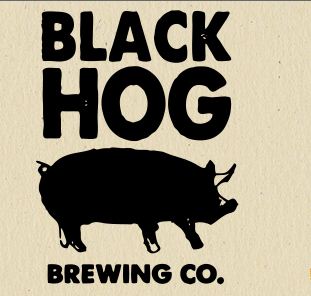 Black Hog didn't mess around. They brought in the head brewer from Portsmouth in New Hampshire. They gathered the industry minds behind the highly successful Caseus/Ordinary empire in New Haven. They brought on some great marketers and graphic designers. They signed on to a far-reaching and influential distributor.
And they brewed a ton of beer out of the gate.
In short, I'm not sure there were too many people lamenting the loss of Cavalry. Black Hog did a great job immediately making us all forget their overly-carbonated and poorly executed British-style beers.
Black Hog cans were distributed far and wide from the get-go. They also co-opted other hot trends – obviously from the owners' restaurant background. Like the whole farm-to-table thing and the snout to tail thing.
They are all over the "local hops" (and other botanicals) bandwagon and their logo is, of course, a hog ripe for the butchering (which is what they had at their grand opening, by the way). They know what they are doing as far as non-brewing stuff goes anyway.
They seem to be in it for the long haul and brew a variety of styles – including a series of "weird beers" called Disco Pig. The quality of their brews has been a bit inconsistent, but they get points for a) trying and b) doing their best to fight off the haze trend to a large degree. But what's interesting is looking at some of the grades above, they seem to try to fix some of the worst stuff.
And that's cool.

Black Hog Brewing Company
A visit to the brewery
CTMQ's page on CT Breweries and Brewpubs
CTMQ Reviews lots of CT Beer