New England Brewing Blanche
1 Bottle, low ABV, mysterious pricing
Given to me by my NEBCO Insider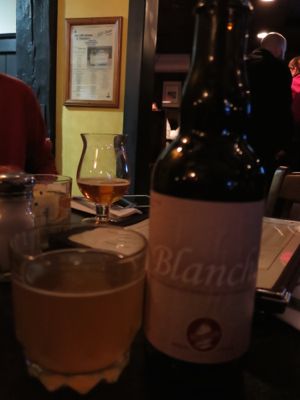 Dark and mysterious photo. Improper glassware. Nearly indecipherable label "art."
When you delve deeply into the underbelly of one-off, limited release, nay, surprise limited release NEBCO beers, you must take precautions. This beer, an almost unknown late 2014 release, is one such beer. Perhaps adding to its mystique is the fact that Blanche is but the first of a four-release series from our friends in Woodbridge.
The secret?
The four releases are (were?) set to be Blanche, Dorothy, Rose, and Sophia. That's right, the metal-loving brew-geniuses are creating a series of beers paying homage to "The Golden Girls." The issue with this idea is, now a year later in late 2015, that as of now, there is no Dorothy. Or Rose. Or Sophia.
Of course, NEBCO went through some crazy times in 2015; the whole Gandhi thing and a late summer/early fall shut-down for a(nother) much-needed expansion. But then again, I would assume this series was to be all barrel-aged beer… which would have nothing at all to do with any expansion issues. Matt and NEBCO are notoriously tight-lipped about releases, so I'm not even going to bother asking him.
I would expect the other three beers to actually happen though.
NEBCO says:
American style Brett beer. 100% fermented with Brettanomyces in white wine barrels.
Yeah, not your typical NEBCO beer. Those of us who are friends wth Matt know that he really wants to not only expand the range of styles his brewery makes and sells, but he also wants to expand your palate and range of styles. Seriously, he does. I swear. NEBCO nails porters and stouts, in addition to IPA's, PA's, DIPA's, etc, so why not play around with Brett beers and white wine barrel-aging?
Well, for one, maybe white-wine barrel aging a brett beer isn't the best idea. Blanche has to be one of NEBCO's lowest-rated offerings. But that brings up some interesting points about those idiotic rating sites.
How much positive bias does this beer enjoy on, say, Untappd just because it's a NEBCO beer? Like, if User A hated Blanche, did he give it 3 caps instead of 1 or 2 because it was from one of the best breweries in the region?
Or, more likely, how many User B types simply didn't rate the beer because they didn't want to give NEBCO a low cap-rating?
Then I'm sure there were User C's, who gave it a 4+ cap rating while disliking it… because "Hey, it's NEBCO and this beer must be great and my own taste/understanding must be weak."
Me? Blanche was not a great success. Very low carbonation, thin, fruity, applely… too winey. They took a wine-like beer to begin with, and aged it in a winey-white-wine barrel. A fellow furtive taster likened it to "apple juice that was left on the counter for a few weeks." The sour notes didn't add to the beer, but rather, just made a flat, thin beer taste… almost like spoiled flat, thin beer.
Okay, that's harsh. I didn't hate the beer by any means. But is that because I'm a NEBCO fanboy?! And let's be honest, "aged" beers named after "aged" women is brilliant! But is it really 'brilliant', or is that my friendship with Matt talking?!
I don't think they'll be trying to receate the Blanche. And perhaps the delay with the others in the series is due to their not being wholly pleased with the first release. Although, NEBCO's quality control is unparalleled and among the most finicky in the state. So maybe Blanche was exactly what they wanted it to be? The Brett was definitely present, as was the wine barreling. So who knows, maybe I'm the crazy one.
Am I really crazy? Or am I using self-effacing commentary to disassociate myself from a less than perfect NEBCO review because I generally love everything NEBCO?!"
Life is hard.
Overall Rating: C-
Rating vs. Similar style: n/a
New England Brewing Company
NEBCO's active Facebook page
Back to CTMQ's Reviews of NEB beers
Back to CTMQ's Connecticut Beer Page
Back to CT Breweries page