Bloomfield Roads and Stuff
The Worst Thing in Bloomfield
We all have our favorite highway engineering disasters. By my count, there are someting like 11,000 such disasters in our small state alone. But there's one in Bloomfield that has vexed me for years. Those of you who never have to drive through this should consider yourselves lucky.
Here it is:
The problem here is for those traveling West/South, happily going along two lanes. Oh look, a sharp left hand curve and – what's that? I must merge while navigating this sharp left-hand curve with crossing traffic and potential cars coming in from the right?
Makes sense. Always a fun time – what's crazy is that the state just fixed this up a year or two ago – and made NO changes to it. This is my least favorite thing in Bloomfield.
Fake Trivia: What's the Grossest Pond in Bloomfield?
This is very near the above satellite picture. And I think it's been more-or-less filled in.
Anyway…
Weird Olde-Timey RR Crossing at a Busy Intersection:
I'm sure these exist elsewhere in Connecticut, but I am unaware of them. I have witnessed the phenomenon here a few times over the years. This is behind Wintonbury Mall and the center of Bloomfield. It is a fairly heavily trafficked area.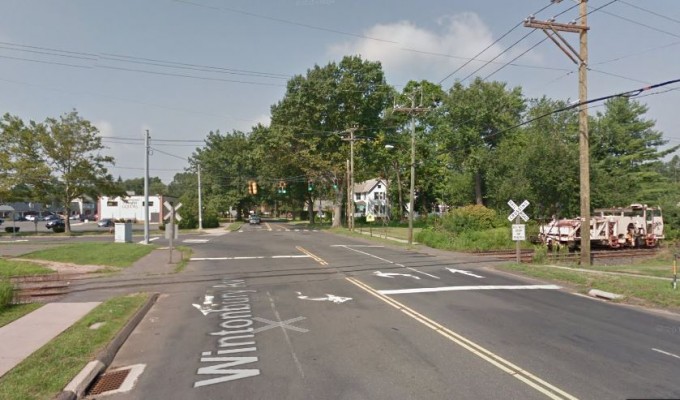 There are no gates or ding-ding-ding's or anything here. When a train rumbles through (and you can see some sort of train-thing on the right), a guy with an orange flag stands in the middle of the road and stops traffic. I don't know why I find it so weird, but I do.
My guess is that because this line ends just a mile or so north of here up at Day Hill Road, the town of Bloomfield removed the gates back in the say when probably no trains ever used the line. But they do now – fairly frequently too, as I get stuck at the gate up on Day Hill every week or so.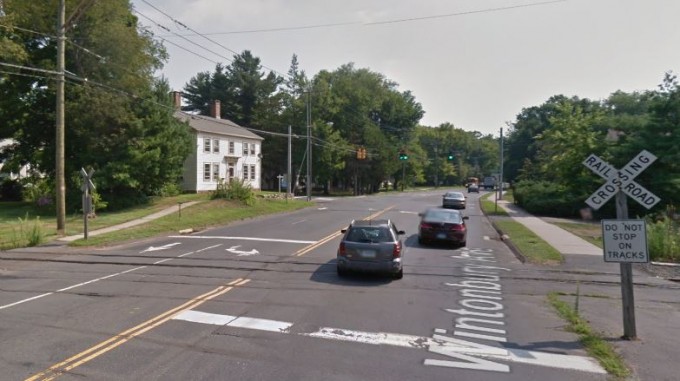 Okay, maybe it's not so weird.
Plain Ol' Terry
This has bothered me for years. Bloomfield has Terry Plains Road and on the other side of the Talcott Ridge, Simsbury has Terry's Plain Road. (I have a post all about Terry's Plain in Simsbury; trails, history, ferry, etc.)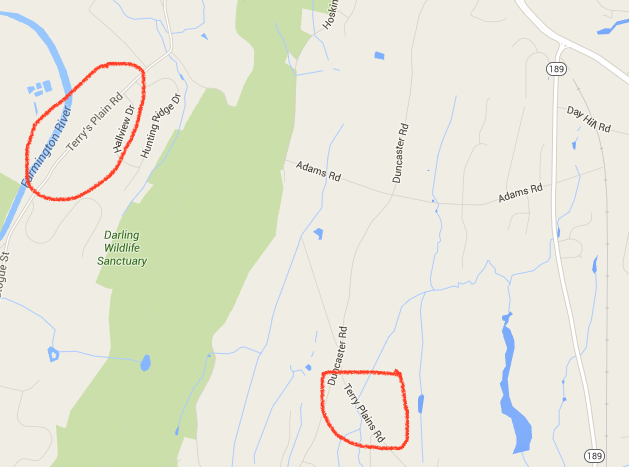 The area is named after a dude named John Terry. Therefore, Simsbury is correct. Especially since Terry's Plain is the plain in Simsbury near the river. Weak, Bloomfield, weak.
Real Bloomfield Trivia:
What is the name of this lake, where is it in Bloomfield, and why does it have its name? (On the surface, this seems like it's either impossible or super easy. Of course, Google makes most things easy these days.)
Answer in the comments!