Bloomfield's Churches
There are a LOT of churches in Bloomfield. I have no way of figuring, but I would guess that Bloomfield is one of the top Connecticut towns for churches per capita.
I'll start with one of the most beautiful seminaries around too, with St. Thomas's. My kid plays soccer here and I really just love looking at this building from different angles and stuff.
And there is a wide breadth of church flavors in town as well. From those firebrand basement Apostolic fun kinds to a stodgy Latter Day Saints Church. (Sidenote: if you ever want to see shirtless Mormon boys playing Ultimate near a busy road, check out the intersection of Mountain and Watkins Roads. They look like a non-caffeinated fun bunch of boys.)
But when it comes to churches in Bloomfield, one stands out among the rest: The First Cathedral over off of Blue Hills Avenue. Why?
Because it's HUGE. It is the largest church in Connecticut, nearly deserving of its own "real" CTMQ post. It probably also has the largest church parking lot in Connecticut (below) as well. (And just outside of that satellite picture are three other large churches – an Apostolic one across the street, a Bethel AME one kitty corner, and something called the Rehoboth Church of God right next to them. Like I said, Bloomfield likes their churches.)
Anyway, according to this "megachurch database," First Cathedral is the third biggest church in all of New England. (The other two being in Boston.) So there you go, Bloomfield… perhaps your top claim to fame?
Since I mentioned parking, I'm surprised to read that they charge a "small fee" for valet parking on their FAQ. And I was really surprised to see this in that same FAQ.

I love their… honesty?
As I was saying, "With 40 Acres of land, over 11,000 members and a 3,000 seat facility…" this is a big honkin' church. The building itself is what I wanted to focus on a bit – as getting into the politics of the pastor and his open opposition to same-sex marriage and his position as advisor to the Family Institute of Connecticut would just demail the conversation here.
Usually, we mostly care about old churches and their architecture and stained glass. But in the case of this place, they've created a building worthy of being in those same discussions.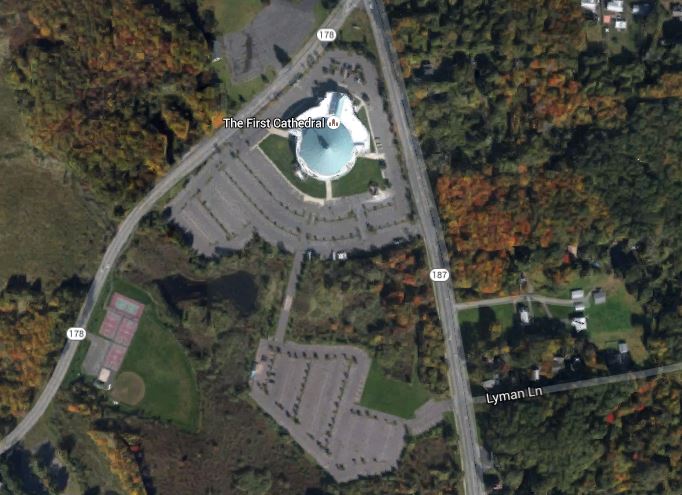 "The First Cathedral is full of symbolism. Church officials worked with architects and engineers to create an environment that is full of theological and biblical symbolism." Okay, then, let's hear about some of that.
The First Cathedral edifice is built in the shape of a dove, a reference to the Baptism of Jesus which is recorded in every canonized Gospel.
Okay, I can dig that.
The Doves' Feet are represented by the foundation of the Cathedral. The foundation of the Cathedral, being quite large and being located on former swampland, is a network of grade beams that equally disburse the weight of the building.
Not sure what that bit of structural engineering has to do with doves, but I'm neither Christian, nor a structural engineer. So what do I know?
The First Level represents earth… The Second Level with its two balconies represents Heaven. The Third Level is Represented in the Cupola, 8 sided, ordained with stained glass windows, symbolic of the throne room of Heaven where God is.
Now, this is a stretch, right? Am I crazy?
The immediate external wall of the Cathedral are covers with Dryvit, the dryvit wall installed in stages reminiscent of the extensive project, undertaken by Nehemiah, in the rebuilding of the city walls of Israel. Additionally the Sandstone Color of the building is a reminder of the Wilderness Experience of the Ancient Israelites before reaching their promised land.
Whoa. Slow down… now we're really off the rails. Putting up a non-load bearing building cladding system that provides exterior walls with an insulated, water-resistant, finished surface in an integrated composite material system reminds of us Nehemiah? Hm.
Okay, one more:
The Entrance way is a set of double doors, creating an energy saving lock. The double set of double doors are reminiscent of the main entry way into an ancient city, the doors were part of the cities defense system.
That's enough. All I was really trying to say here is that Bloomfield is home to Connecticut's largest church which is the third largest in New England.
Bloomfield Trivia wholly unrelated to religion:
This is Bloomfield's only waterfall. Where is it? Answer in the comments!