Bloomfield's Animals
Let's begin with a beautiful little bird I came across a few years ago at Bloomfield's Flood Control Area off of Woodland Avenue.
Every town in Connecticut has animals. Duh. And many towns have unique animals of one sort or another. Bloomfield, for its part, seems to favor rescuing and caring for animals.
Except for the place they where they kill them in a special way; the animal has to be alive and healthy and a Muslim has to perform the slaughter in the appropriate ritual manner, and the animal's throat must be cut by a sharp knife severing the carotid artery, jugular vein and windpipe in a single swipe. Blood must be drained out of the carcass.
We'll get to that in a bit.
Auer Farm
This is an "educational farm" with quite a rich history. You can visit – and I recommend that you do at one of their family events throughout the year. We took Damian back in 2009, but have visited several times since then over the years. My younger son Calvin goes every month with his school and its an invaluable part of his curriculum. And if you choose to hike the new Auerfarm State Scenic Reserve there, perhaps you'll cross paths with the massive turkey flock that calls this place home.
Fidelco Guide Dogs
Yes, the world-renowned organization that raises, trains, and places guide dogs for the blind is headquartered in Bloomfield. visited with Damian during a really cool open house in 2011. We got to hold a puppy and watch trained police dogs take down a perp.
The people there were super nice to us and even helped out with a cool donation to a fundraiser I did a few years ago. Great organization doing great things.
The Simon Foundation
Just a hop, skip, and jump away from Fidelco sits The Simon Foundation on a dead-end street. This is basically a no-kill alternative to the Humane Society facility in Newington. Two animal lovers started this place and it looks nice from the outside. (I tried to take my boys the other day, but Calvin was adamant about not going inside because he's allergic to dogs. Wimp.)
The foundation continued to grow as their home reached capacity, so they began searching for a piece of land that could accommodate the world-class rescue facility they had been dreaming of. After a two year search and months of planning,and hard work their dreams were finally realized with the opening of the Bloomfield facility. Animals who would have otherwise been abandoned, neglected, abused, or euthanized through no fault of their own, could now find new, loving, forever homes, or live out their lives in the comfort and care of The Simon Foundation, Inc.
If anyone cares, Bloomfield's animal control lock-up is here as well.
Scottish Highland Cattle
Just because I have a picture… The Wintonbury Land Trust recently aquired a parcel of land called Hawk Hill Preserve. Ultimately, the plan is to link a series of properties via a trail from downtown Bloomfield up to the Metacomet Ridge and beyond. I love this idea, as hiking from town centers to the hinterlands is always cool.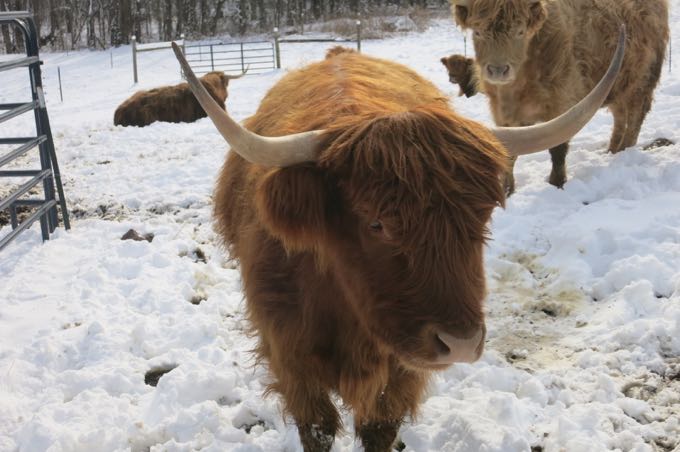 Anyway, the land trust leased this property to some cattle farmers who have a little herd of these hairy cows on Duncaster Road; a road which is so un-Bloomfieldian that you'd think you were in Canaan or something. There is a little trail here, but I'm waiting until the whole network is completed to really start exploring it.
Turtle Crossing
"Calvin, look at that sign!"
"Where"
"You missed it, it was a turtle crossing sign!"
"Papaaaaa! I always miss the turtle crossing signs!"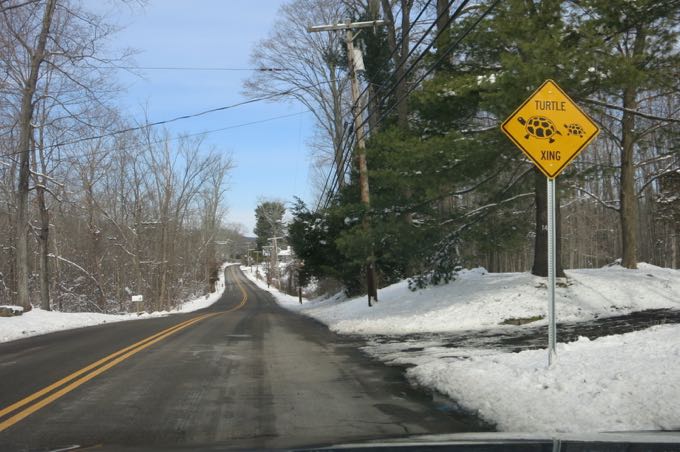 This was a real conversation. As if Calvin has had many occasions to see (or miss) turtle crossing signs in Connecticut. We've now seen them at three locations: Town Forest Road in Simsbury, Duncaster and Terry Plains Roads in Bloomfield.
We didn't see any turtles at either.
But the signs are cool.
Thanks for the warning
Parking at the Wintonbury Land Trust's Speer Preserve, one is confronted with this: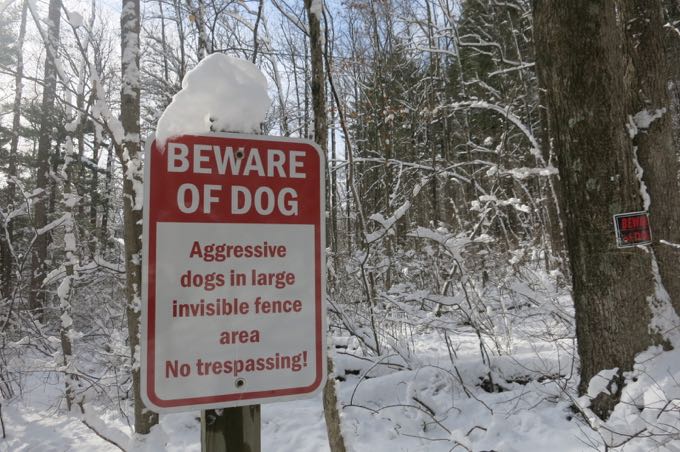 Okay then. Thanks for the warning. Why is it that those who live in the most far-flung places (relative to Bloomfield) feel the need for such aggressive security measures?
Note: We did not see or hear any dogs during our hike.
Saba Halal Live Poultry
I am not Muslim. In fact, I'm not anything religious. I'm also not much of a meat-eater. What I AM is fascinated with unique things around Connecticut.
The name of this business is a bit absurd, as they will chop up far more than just poultry:
Saba Live Poultry proudly sells and process many types of Chickens Fowls, Ducks, Guinnea Hens, Quails, Pigeons, Turkeys, Silkies (Chinese chickens), Rabbits, Lambs, Goats, Calves and more.
Of course, I'm sure there are other Halal butcheries around the state, but I'm not aware of them.
I'm only aware of this one, on Granby Street near the Home Depot and Thomas Hooker Brewery. Apparently, you can go there, look at a rabbit or a goat or whatever, say, "I want that one" and in short order you will receive some freshly slaughtered and butchered meat. And really, that's fantastic… if you're into that sort of thing.

To be halal certified the animal must be facing Mecca, have its throat cut while still alive and then ritually sacrificed by a Muslim who recites a prayer dedicating the slaughter to Allah. Because the animals must be slaughtered alive, stun guns are often not an option as they can kill an animal before the heart pumps out all the blood.
I've read this place is quite busy, and I imagine it is. There are large populations of West Indians, Jamaicans, and Central Americans near here. Once the Asians find out about it, it's all over. (Our Asian markets are sort of infamous for selling rancid meat and produce.)
I don't know, there's just something really interesting about being able to go to this place, ordering up some fresh goat meat, picking up some junk at Home Depot, a growler at Hooker, and then swinging by for my bloody goat chunks.
All within 15 minutes from my house.
As-Salaam-Alaikum
(Actually, I just made the mistake of watching a video of Halal butchery. And I think this is a pro-Halal site? I don't know, but I don't recommend you watch the video here.
Wa-Alaikum-Salaam
Bloomfield Trivia
This is in Bloomfield. What the heck is it?