Bloomfield's Mildly Interesting Stuff
If you're actually reading this, you are surely thinking, "Okay dude, enough with the Bloomfield." If it makes you feel better, I totally agree. Unfortunately for both of us, I have a whole bunch of little Bloomfieldian things I have gathered over the last few weeks that I simply must share with the world.
I will also mention that no way will I be devoting so much time to one town, all at one stretch, ever again. I kind of like it for my own OCD/organizational peccadillos, but I recognize that it's kind of silly too. You may be surprised to learn that I'm not "done" with Bloomfield by any stretch.
And that's sort of my point: Even a town like Bloomfield, a town most of you never really think about, has plenty of stuff worth checking out. All you have to do is check the Bloomfield tag on CTMQ to see all I've written about in the town.
And now, a completely random rundown of Bloomfield stuff that I find /r/mildlyinteresting (which is a nod to reddit for no particular reason.)
The Wilde Building
Currently the Cigna headquarters, this place deserves more than a passing mention in a throwaway blog post. I realize mid-century design isn't for everyone, but I happen to love it. And while the Wilde Building isn't best, I still rather enjoy it.
The building has gone through the wringer over the years. A chunk of it was razed in favor of a (now failed and closed I think) golf course. This building was created by a Who's Who team of creative minds. Designed by Gordon Bunshaft of Skidmore, Owings and Merrill, interior designer Florence Knoll, and sculptor Isamu Noguchi, the building was fortunately saved by preservationists in the 1980's – ironically a very dark period of architecture and design.
This is certainly one of my favorite buildings in Bloomfield. And since he has passed away, I can't blast Lawrence Cohen for this dopey op-ed he wrote about the Wilde Building in 2001.
And speaking of modern architecture…
The Bess & Paul Sigel Hebrew Academy of Greater Hartford
Whoa, look at this thing:

They say: "The modern architecture of the building and its synagogue with domed ceiling are reminiscent of the city of Jerusalem." Quite a stretch, but okay. This school has an impressive superlative attached to it – and you know I love my superlatives, no matter how niche. Are you ready for it?
The Bess & Paul Sigel Hebrew Academy of Greater Hartford is the oldest orthodox Jewish day school in the United States.
Awesome.
And speaking of unique architecture…
Octagon House
I'd never want to live in one, but I like octagon houses and I like that I pass one every day on Burr Road in Bloomfield. Here it is: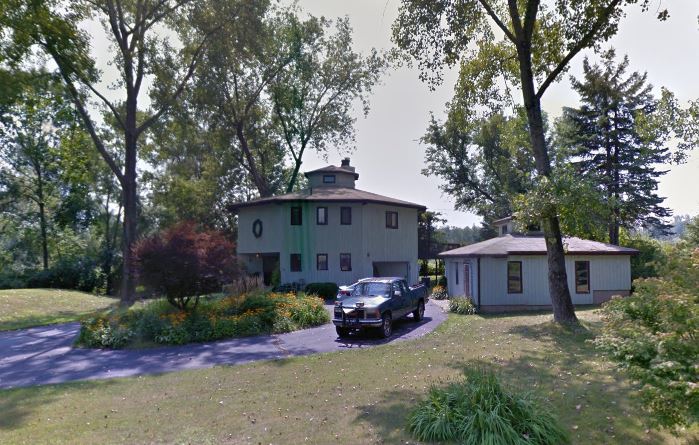 And speaking of unique architecture AND goofy superlatives…
Auer Farm Mushroom Barn
I know you historic mushroom barn fans wouldn't let me get away with not mentioning this. I'm happy to not have let you down. There's a lot going on with this humble, crumbling little building everyone sees on route 185 every day.
Are you sitting down? Good, because this could be the last hollow tile mushroom barn left in New England, if not in all of America!
Unfortunately, a nor'easter ripped its roof off and some preservationists are struggling to replace it and save the (maybe) last hollow tile mushroom barn left in THE WORLD.
Right there in Bloomfield. More here
And speaking of things being planted in Bloomfield…
My Favorite Front Yard
Okay, now I'm just getting weird. There's a front yard up towards the end of the dead-end Pent Road that I love. In fact, I've tried to emulate it a bit at my own house. I've failed, but at least I've been trying.
I just love their selection of plantings and the "Japanese garden" aesthetic.
And speaking of pretty things in Bloomfield…
Griffin Cascades
I just wanted to mention this fairly unknown little falls way up in the northern tip of the town. Located in the Wintonbury Land Trust's Merritt preserve, they were recently sort of messed up by a massive powerline project. But falls being falls, they keep falling. More here
And speaking of unknown outdoor spots in Bloomfield…
Mill Brook State Park
This "state park" Is unknown because it doesn't really exist. Which, of course, makes it all the more interesting to me (and a few other dudes I know.) In fact, when I started this way-too-deep look at Bloomfield, this fake state park was mentioned enough to warrant an investigation.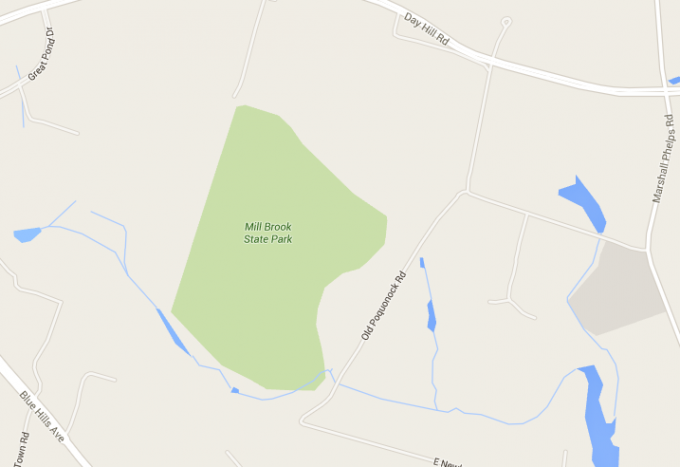 If you try to access it via Old Poquonock Road, you will be confronted with very clear "NO TRESPASSING" signs – and no clear way in anyway. There is a cute little "Windsor town line" sign on this little road too: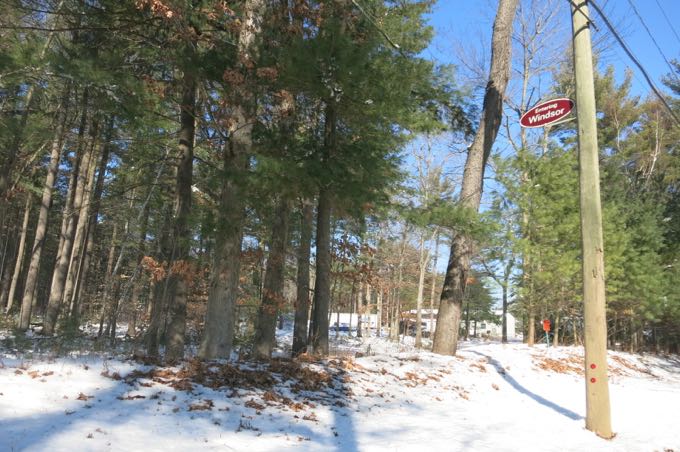 Want to try to get in via Mustad Road near the Pepperidge Farm giant bakery? That won't work so well either, as apparently the Bloomfield police used this part of the fake state park as a shooting range.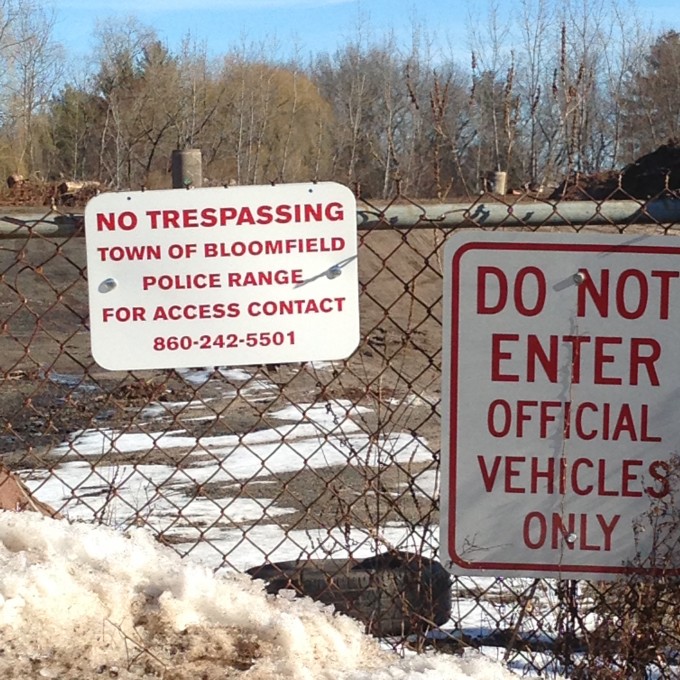 You'll have better luck approaching it via Old Iron Ore road off of Day Hill in Windsor. However, you'll run into one rather large problem: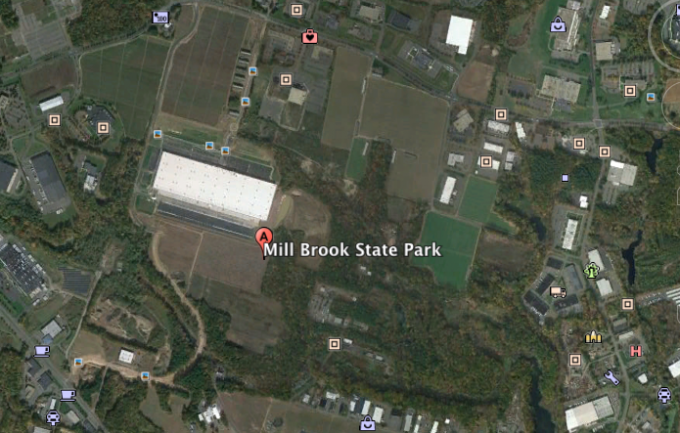 Yeah, see, the "state park" is now a giant Amazon distribution center. My fellow wanderers and I could find no documentation anywhere that there ever actually was any Mill Brook State Park. It seems to be an apocryphal quirk of Google Maps and nothing more. The only place it shows up is on Google Maps and all sorts of webcrawling aggregator bot sites that picked it up off of Google Maps. Fascinating stuff.
And speaking of places to hike that you shouldn't actually hike…
LaSallette Trail
"Shouldn't actually hike… yet."
I've read a lot about this idea and frankly, you can actually sort of do it today if you really want to. I am a huge champion of "urban" trails, especially if they connect downtown areas to some "wilder" spots. This trail does/will do exactly that. Interestingly, it is printed on the new (2015) New England Trail maps the CFPA put out. See here: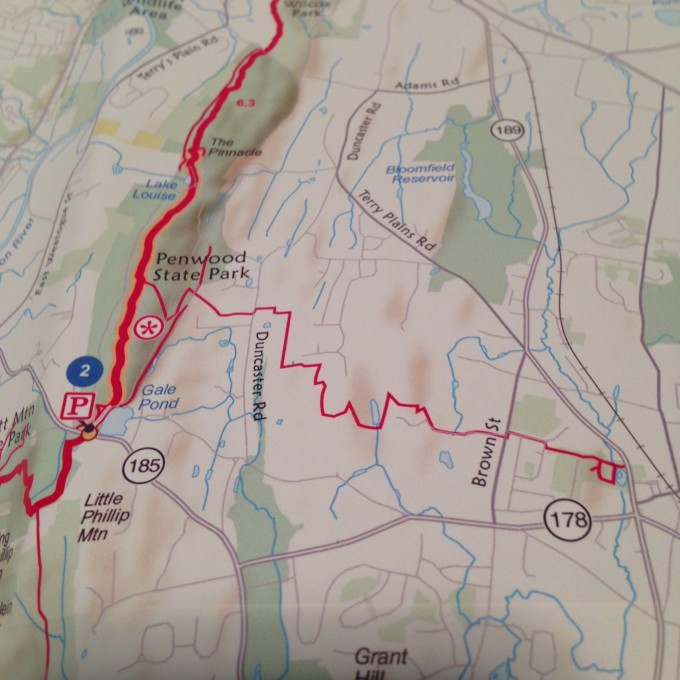 There are no blazes yet – at least for it's eastern half, but it goes pretty much like this:
Park at Filley Park… but I'd change that up a bit.
Park at Wintonbury Mall, enjoy lunch at Thai Palace, Ginza, or Carbone's Kitchen. (All are good.) Pick up some treats at the WAY underrated Pasticceria Italia too. Walk north towards Filley Park, hike through it, west, to the top of Mountain View Cemetery. Work your way through the neighborhood out to Brown Street. Cross Brown Street and go up the winding Sharon Road.
At the sharp left curve with woods on the right, pop into the woods and onto LaSallette Preserve property. There are real trails here that will take you NNW around the JCC to the Hawk Hill Preserve and out to Duncaster Road. Cross Duncaster and then west on Stone Hill Road. At the end, a trail will take you through Wintonbury Land Trust's Stout Fields.
From there, the LaSallette Trail takes you into Penwood State Park and to the Metacomet Trail. From there, you can head north to Mt. Monadnock and beyond, south to the Long Island Sound in Guilford, or, if you're patient, west via the not-yet-complete CFPA East-West Trail out across northern Connecticut to the Appalachian Trail.
As you can tell, I love this whole thing.
And speaking of the Metacomet in Bloomfield…
The Metacomet Trail
It winds through part of Talcott Mountain State Park in Bloomfield and then through Penwood State Park and up through the M.K. Wilcox town park. It's a great, great hike and I highly recommend it. Here are my pages about the trail in Bloomfield, more or less.
Metacomet Trail Through Talcott Mountain State Park
Metacomet Trail Through Penwood State Park
And speaking of Penwood State Park…
Me on TV in Penwood State Park
The story of how this happened is kind of funny, but I'll spare you. Suffice it to say that it was just me and a cameraman who had NO idea why he was filming me. He just told me to talk more or less. So I did.
I felt totally awkward, but it's something I love talking about, so I'm okay with it.
I especially love the guy introducing the piece. He was SO impressed.
And speaking of hiking through Penwood…
Overly Protective Bloomfield Signage
A reader asked me why in the world Bloomfield felt the need to put up an endless string of repurposed street signs, almost acting as protective fencing, along the Metacomet Trail in the Wilcox Park area nothing the Bloomfield town border on the way down to Tariffville?
I don't know the answer, nor have I seen them, but I do find that curious.
And speaking of fencing…
Farmington Valley Fencing Academy
Someday, I promise, I will go fencing. Right here in Bloomfield at the Farmington Valley Fencing Academy!
Bet you didn't see this one coming. It turns out that I have a fencing friend who fenced in college. Perhaps she will show me the light as to why fencing isn't stupid.
And speaking of stupid…
Barber Pond
It's actually not that stupid, but you can go bowhunting at Barber Pond Wildlife Area. Just the odd shape of it sort of scares me from a hunting perspective. And yes, astute readers, it is on the opposite side of the aformentioned Old Poquonock Road.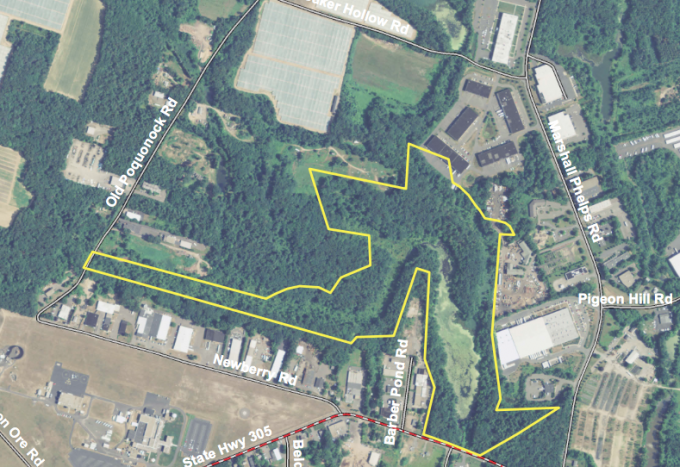 If you poke around fishing forums, you'll find that the fishing here is pretty abysmal. Knowing what type of businesses surround this place, I'm not surprised.
And speaking of fish…
Pepperidge Farm
I could wrangle a full post out of this, but I won't. There is a Pepperide Farm bakery and factory in Bloomfield. But what's cool about that fact is that there is also an outlet store there.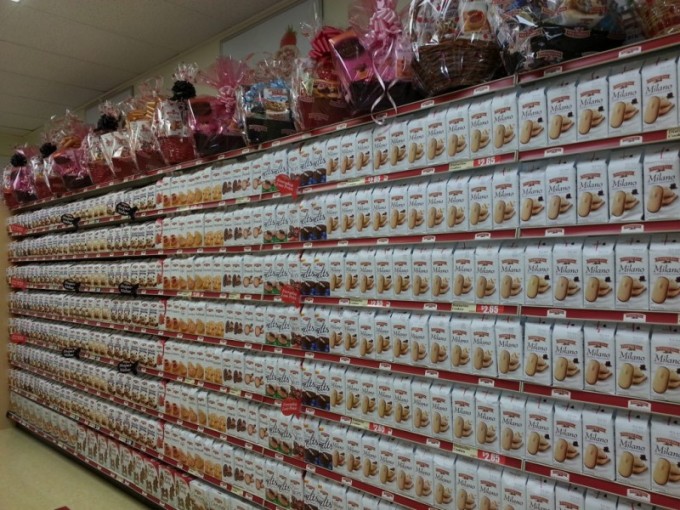 I used to drop in here on the regular, but I've slowed down. It's tough to control oneself when confronted with towers of short-dated Mint Milanos and Chessmen. The coolest thing here is all the weird/rare releases. Breads you've never heard of, weird format goldfish, giant cookies that were made for special events… stuff like that.
By the way, the founder of Pepperidge Farm, Margaret Rudkin, is buried in Mountain Grove Cemetery in Bridgeport. I visited the cemetery a few years ago because none other than PT Barnum and Tom Thumb are both buried there as well.
But as I was saying, I LOVE this place a lot.
And speaking of shopping…
Ocean State Job Lot
Oh man. Anyone who knows me knows that I'm sort of obsessed with OSJL. Not just any OSJL, but specifically Bloomfield's OSJL. It's probably my favorite place to shop.
If you think I'm joking, ask anyone close to me. I'm obsessed with how they do what they do; I love to figure out why that box of Rice Krispies is only $1.50 – oh, because it has Super Bowl promotions on it and the Super Bowl is over. Or packaging changed. Or some OSJL henchmen stole a truck of high-end pasta and is now dumping it for pennies a pound.
You would be AMAZED at what you can get at this clean, organized OSJL for cheap. Blown away. I load up on Bob's Redmill stuff here, Polar seltzers and sodas, "good" cereal and spices and condiments and Rice Works and ethnic foods and nuts and coffees and sandwich bags and thick socks to wear as slippers and…
OSJL, I love you.
And speaking of loving things…
Peppers Jamaican Bakery
The women here are angry and spiteful. And I love them. I want to give them hugs. I started this thing on CTMQ a while ago wherein I go to restaurants that specialized in certain ethnic cuisines. I've been getting the patties and other stuff at Peppers for years and they hate me for it. In fact, they hate everyone.
It never fails to crack me up. Don't believe me? Let's check Yelp! No, I didn't write any of these… and these weren't outliers.

and…

and…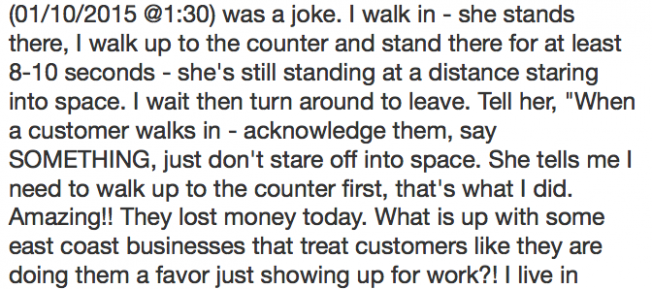 and…

You are probably confused as to why I love Peppers – and these Yelpers are not embellishing at all – and I can't really explain it. I think I just love the fact that they hate me for purchasing their cheap, filling food. Their anger is so absurd that it becomes funny.
I do plan on exploring some other local Jamaican joints with my friend Kristina… who happens to be the wife of the guy who owns Scott's Jamaican Bakery. Also, I did ask my friend (from Jamaica what's wrong with these Peppers women) and he even admitted to the situation in that interview.
And Speaking of confusing things in Bloomfield…
Some Questions
1. Is it "Co-PAH-co" or "Co-PAY-co" or "CO-pah-co?
2. What's up with the 3 large concrete Silos on Thistle Pond Drive right off of Brown Street?
3. Whatever happened to the emminent domain dispute over that family's dirtbike track in Bloomfield?
4. With that huge new Niagara bottled water plant coming to Bloomfield, how many dopey bottled water drinkers will pay $2 for 12 ounces of the same exact MDC reservoir water I drink from the tap in West Hartford?
And speaking of questions for you…
the last Bloomfield Trivia Question!
There is a statue in the middle of Bloomfield's small town green. What/Who does it depict?
Bonus: And why?
Answer in the comments!
And goodbye fair Bloomfield… until next time!