Back East BoMo Pilsner
Six-pack, $11?, 4.8% ABV
Purchased at the brewery, Bloomfield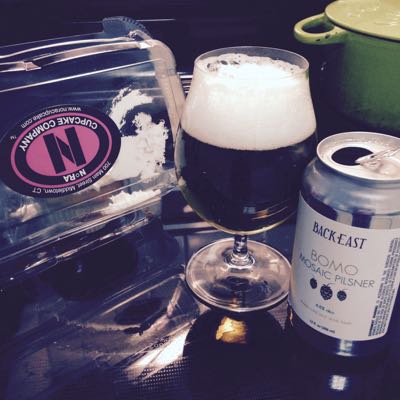 Please pardon this picture's stupid filter. Rest assured, this beer looked like a pilsner should look, I promise.
I have this unoriginal idea that beer goes in cycles. Of course we all know it does and right now, every brewery under the sun is putting out an IPA of some sort. Some breweries are getting bonkers and rushing out ridiculously "dry-hopped" starter yeast slushies that look like 3-day old sink water sludge. Heck, Connecticut's "session brewery" (DuVig) seems to have given up the dream and is now releasing a DIPA. Connecticut's premier "farmhouse" brewery has released a bunch of IPA's lately and is releasing a new IPA six-pack soon.
It's all about the IPA.
So what's the inevitable IPA-backlash? Pilsner, of course. All hail the Pils.
I've written a bunch of times that local brewing hero, Matt Westfall of NEBCO, claims his Elm City Pils as his favorite beer he brews. Pilsners are few and far between on the Connecticut brewing scene.
I think there are basically two reasons for this: The current market is all about the hops and the IPA's. Small brewers must listen to the current market. Also, pilsners take twice as long to make as IPA's and other ales. They must sit in the fermenters for a month or more, which means brewers can't make anything else using those fermenters for that time.
And time is money.
But here comes Back East with their BoMo Pilsner. Another shiny can with a stark, clean, appealing label. And you know what? Here's my own hypothesis on why this is such a strong entry into the market in 2016: Even old-timers are getting on board with the local brewing scene. I'd imagine this beer did really well in distribution, even to old man bars. Like, "hey old timer, why not try this new beer from Bloomfield? It's a pilsner like you like, but WAY fresher and probably a bit better than what you are used to." It's brilliant, really, as this beer should appeal to MORE people than a typical IPA.
I really believe that.
Back East says
BoMo is a Bohemian Pilsner brewed with Mosaic hops. Crisp and clean, with a crackery malt presence, this beer pours a bright straw color and finishes dry on the palate. The Mosaic hops shine through giving the beer a grapefruit and berry undertrone. BoMo was fermented with a Swiss lager strain and conditioned for 4 weeks after primary fermentation.
Smart. New brewer Stephen Andrews threw a bone to the IPA fanboys with the inclusion of the Mosaic hops. (BoMo = Bohemian Mosaic if you didn't gather that already. Seen in my picture above, I enjoyed a can with a NoRa cupcake in my kitchen in WeHa. NoRa is the marketed name of the absurdly tiny piece of land "north of Rapallo Street in Middletown, which includes basically 4 businesses who use it: Krust, NoRa Cupcakes, Eli's, and yes, Stubborn Beauty Brewing. WeHa is the made up twee name for my hometown of West Hartford. Sure it makes sense on Twitter, but goshdarnit, I still hate it two or three years after its creation and dissemination. My neighbor across the street is a WeHa PoPo. Just thought I'd add that.)
What was I saying? Oh yeah, this is a pils with Mosaic. And it tastes like – get ready for this hot take – a solid pils with Mosaic hops. It had that "new" Back East crisp clarity I've come to love in early 2016. It also didn't have any of that Czech pilsner skunky green glass grubbiness I hate. This was a simple, clean, straight up pils with an added little bitter zesty punch.
Who had NEBCO's "Hoppy Pils" a couple years ago? God, I loved that beer and really hope they do it again. But actually, they don't really need to as long as Back East continues making the BoMo Pils.
Do other countries play this portmanteau acronym game? Like, for totally random example pulled out of hat for no reason at all I swear, do people in Oslo, Norway call it, OsNo?
Hm, I wonder.
Overall Rating: A
Rating vs. Similar style: A
Back East Brewing
Back to CTMQ's Reviews of Back East's beers
Back to CTMQ's Connecticut Beer Page
Back to CT Breweries page