And by Brush I Mean Vaguely Nearby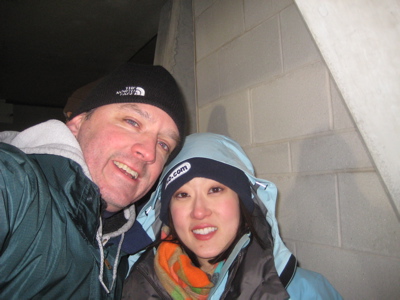 I could not care less about famous people. To me, they are just people. Heck, in some circles I'm considered famous. And that's just ridiculous.
I think autograph seekers beyond the age of 7 are idiots. What are you going to do with that scribble? Did you take a moment to try to engage your prey or did you just shove the pen and paper in their face and yell at them?
And don't even get me started on the whole "paparazzi" thing and the people who facilitate them. I think they are the lowest form of humans on the planet. Biebs should run them over.
Story One time at Murphy and Scarletti's in Farmington, my wife and I ran into Manute Bol RIP). My wife is 5'3" or so and Manute was like 9 feet tall. The comedic juxtaposition of then standing together was just too rich an opportunity to miss.
So I approached the man and said, "I hate to bother you, but would you please take a picture with my girlfriend?"
He replied in his dulcet Sudanese tone, "If you hate bothering people, why do you do it?"
I paused and smiled and said, "You know what? You're absolutely right. Enjoy your dinner."
(He proceeded to unfold his limbs like a giant walking stick emerging from a cocoon, put his arm around Hoang and we took the picture. A picture that was never given to us by our friend Missy Lotstein who took it with her camera. Still waiting, Missy.)
I tell this story as a way of conveying to you that I don't seek out conversations with famous people. If you run into Hoang, ask her about the Elijah Wood situation at LAX one time. I hate bothering people, even if they share the same awesome last name.
But, I have met some famous people throughout my life. Jim Calhoun, Lance Armstrong, um, Kevin Dineen, er… Karen Lee who isn't famous at all but she's on the local CBS affiliate and I have the picture on this page with her… okay, so this section on CTMQ won't be all that great.
Sorry.
……………………………………..