Three Hooker Brewing Private Labels
Dunkin' Goat Coffee Stout, Charmard Vineyard Cider, Burger fIPA
Those of you (erudite, attractive) people that read most of my beer stuff already know my feelings on Hooker Brewing. For whatever reason, I've had to defend my appreciation for Hooker against the banal blathering of some (uncultured, unattractive) people in the "Connecticut craft community.
Hooker is smart and Hooker is large. Hooker's business model is quite different from some current darlings-du-jour in the beer scene. Hooker is successful at what they do, and they do it pretty well. And I like the people who run the show over there too.
In Connecticut, Hooker is second in contract brewing to Two Roads (duh), but first in private labeling. By my count, they do six or seven of these beers. I've previously reviewed the Flippin' Bird Ale they do for the local chain of Sliders restaurants. Also, their Brewtus Maximus was originally a private label for the Max Restaurant Group, but has since become available to the unwashed masses.
(They've also partnered with Munson's Chocolates for their incredibly delicious "dessert beer," the Chocolate Truffle Stout.)
Other breweries have begun doing private labels as well (Shebeen, Thimble Island, Back East), but Hooker has made this part of their business plan way more than anyone else. And good for them.
A cynical view might be that many of these are just the same beer with different names, or even a Hooker production beer privately labeled. To me, even if that's the case (and it is, of course), I say "so what." At least I can say with 100% confidence that two of the three below are unique to the establishment/brand.
Let's get to 'em.

Burger FIPA
12 oz. plastic cup, $4.97, ?% ABV
Purchased at BurgerFi, Avon
"I never eat macroburgers, man. I only like craft burgers."
"Some of them are good, but there are so many craft burger places opening now, we're going to hit a craft burger bubble. I'm fine with macroburgers anyway."
"Ugh. They use adjuncts and have corn syrup in their buns and are evil corporations that make watered down crappy burgers that I have a hard time calling burgers!"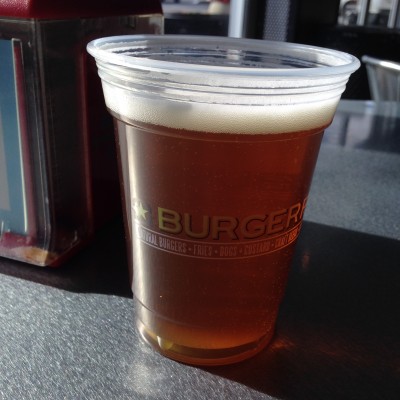 "Whoa, okay, but they are cheap and readily available."
"Sigh. Craftburgers are handcrafted and use local ingredients and some even use words like "organic" and "artisanal" so I know they are better quality burgers."
"Okay. But really, what makes BurgerFi different from MooYah or Five Guys or Jake's Wayback or Goldburgers or Max Burger or Plan B or Artisanal Burger Company or –"
"— The cooks at those places all have passion for their craft! They're not in it for the money, man! They make burgers because they love making burgers above all else! They only make burgers they'd want to eat!"
"Why doesn't the Avon BurgerFi have free WiFi?"
"That's a damn good question. Like, what does the "Fi" mean in their name if they don't even have free WiFi?"
"Glad we agree on something. Cause when I was enjoying my Burger FIPA, I was mad I had no WiFi. Then when I saw that the first picture on their website is of some dude Instagramming his stupid burger and giant onion rings, I got even madder."
"Yeah, okay. You got me. How was the beer?"
"Really good, actually. It is a nice, crisp IPA that hits all the notes most people want these days. Some citrus, some pine, some bitterness… I rather enjoyed it. Wasn't expecting much from a private label IPA, but it made me very happy."
"Cool. Who makes it?"
"Hooker Brewing in Bloomfield."
"Oh. Hooker. They're so 'meh'. They're too big for me to like anyway."
"I hate you."
The end.
Overall Rating: B+
Rating vs. Similar style: B+

Chamard Vineyards Cider
Sample cup, 5% ABV
At the brewery, Bloomfield
I am not big into hard cider. I know when I like one and when I don't. I don't know many players in the cider game and I can't say I'm all jazzed up about the few "soon to be open at some point in our lifetimes" Connecticut hard cideries I keep hearing and reading about.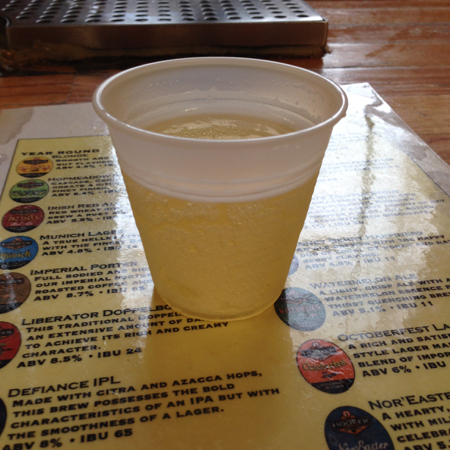 So when I was at Hooker one Saturday afternoon (to get a fill of their Bandwagon Grapefruit IPA which is great if only for its name), my friend Lisa at the brewery said, "here, try this. It's a cider."
I was like, "Come on now. What are you guys doing? If this is like your Watermelon ale or whatever, I'm going to be mad."
She told me to shut up and just try it – and I'm glad she did. A proper hit to my dome would have been justified, because damn, this stuff is great.
In order for Hooker to bottle this or distribute it, they'd have to get some totally different license of some sort, so I don't think that's ever going to happen. And really, no one associates Hooker with cider, so it may be a tough sell anyway. And while Chamard Vineyard is a lovely place, it's association with this product isn't really going to move it off the shelves.
But again, this is a perfect cider. Made from Charmard's grapes for Chamard to offer at their winery in Clinton (we've visited a few times), it was dry and tart with a hint of sweetness. Hooker absolutely nailed the carb on this too; light and effervescent, almost champagne-like. (And that was in a plastic cup; lord knows how the bubbles improve in PROPER GLASSWARE.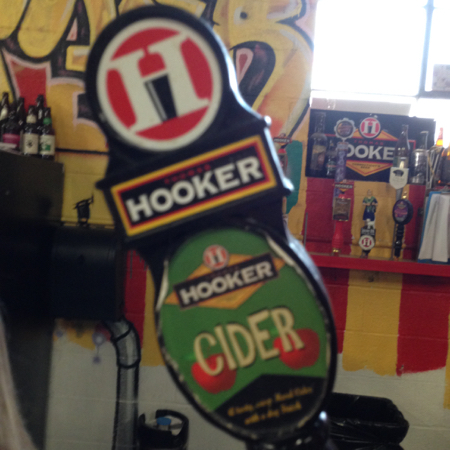 I tweeted out my excitement for this surprising find at Hooker, and several beer friends replied that yeah man, it IS really good. I didn't really think anyone else would have even had this stuff, but was happy to learn that a few had.
If Hooker and Charmard ever decide to distribute this stuff, I'd buy it. And let me tell you, I've never bought a non-BF Clyde's Hard Cider in my damn life.
Note: BF Clyde's hard cider (and everything else) is fantastic.
Overall Rating: A+
Rating vs. Similar style: A+

Dunkin' Goat Coffee Stout
Sample cup, 5% ABV
At the brewery, Bloomfield
With a name like "Hooker Dunkin' Goat" I'm sure you're expecting me to go beserker with some wacky story about that night in Mexico with the hooker, the goat, and a dunk tank full of tequila.
But you're not ready for that story quite yet. No one is. (Shout out to Miguel, ¿Como estas? Tu secreto está a salvo conmigo, hermano!)
Instead, you get a bunch of suppositions on my part regarding the future of Hooker and of Hartford.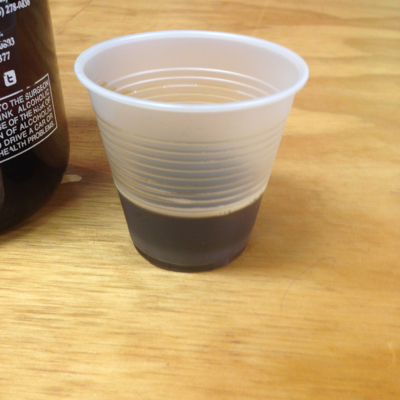 Hooker was once Troutbrook Brewing which had a cavernous building in Parkville in Hartford. Some ownership changes went down and Hooker moved to Bloomfield shortly thereafter. Hooker got pretty big, relatively. The Hartford Times Building in downtown Hartford became available and in 2014 or so, Hooker made a play for it. It would have made a beautiful brewpub if the state, via UConn, didn't decide that the West Hartford branch of our flagship university should go into that building instead.
Fine.
A year or so later, the politicos in Hartford dicked New Britain and basically stole their AA baseball team, the Rock Cats. Hartford has no money to pay for the stadium or anything like that, but whatever. The plan went forward. The plan sucked, of course, and despite WAY more warm and dry days in the fall and winter of 2015-16 than we've ever had in the history of the city, the stadium is now not only a boondoggle, but also won't be completed in time.
For some reason, Dunkin' Donuts has signed on as the title sponsor of this mess. And Hooker has said that they want to also sponsor it somehow – and have a very large presence in? next to? the stadium. In the early, stupidly exciting days of the stadium announcement, we got this artist's rendering: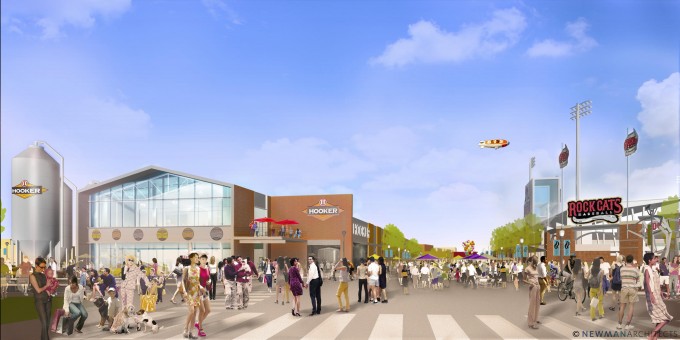 Yes, that's an entire brewery next to the stadium. (for beer-reference, this would be about 2 blocks from City Steam.) That blimp says "BLISS" for some reason. And while the signage says Rock Cats, this was made before marketing geniuses got involved and selected Yard Goats as the team name/mascot.
Yard. Goats.
Is this going to happen? I have no idea, but my guess is "No effing way." I'd be terrified of all the lawsuits and backroom chicanery involved with this whole stadium nonsense. But I'm not a businessman nor a politician, so my opinion means a whole lotta nothin'.
I just want what works best for Hooker, the city of Hartford and the AA baseball team be damned.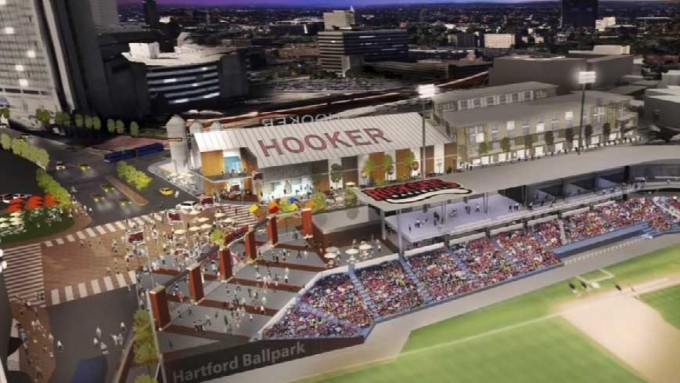 All that was to get to this point: Hooker made a coffee stout called Dunkin' Goat Coffee Stout. So clearly, they have a plan to at least be a sub-sponsor of some sort of this whole baseball thing. And while people don't equate drinking coffee stouts in August baseball heat next to bumper-to-bumper traffic on I-84, I see no problem with it.
Especially since this was a good coffee stout. It wasn't super creamy and "rich" or overly coffee'd at all. It was lighter and therefore easier to drink – perhaps because it will be available to the 75 or so AA Yard Goat fans at the stadium in the dead of summer.
Overall Rating: B
Rating vs. Similar style: B
Thomas Hooker Brewing Company
Back to CTMQ's Reviews of Hooker beers
Back to CTMQ's Connecticut Beer Page
Back to CT Breweries page