Burlington's "Other Trails"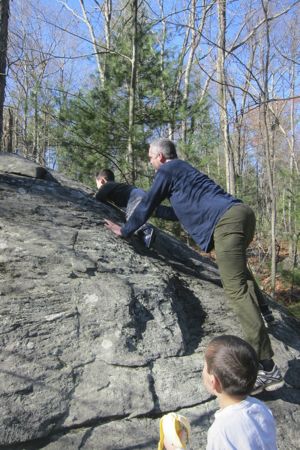 Imagine one of those commercials or lame sitcom scenes where a person at the register is the 1,000,000th customer or whatever and a bunch of balloons are dropping and sirens blaring in celebration.
Because that's you right now. You're the winner! Congratulations!
You, yes YOU, found this little page on Burlington's trail system – unceremoniously buried deep in the recesses of my hiking pages. So why are you a winner? Because you are somehow interested in poking around the woods of Burlington. And while that is a fantastic pursuit which I wholly encourage, you may also now avail yourself to the funniest town hiking guide in the state.
I present to you, the Burlington Rambler's Guide (pdf). Now, the "problem" with Burlington is the problem with all these hiking sections. See, The Rambler's Guide is a publication of the land trust. But 90% of the trails are all part of the Tunxis trail system which I meticulously explained in my CFPA section. There are a few little lookout trails (which are on Nature Conservancy land) in the Guide I plan on returning to check out (in 2014), but the only "real" property (which the Tunxis goes through too) separate from the Tunxis is Sessions Woods.
Which is a state-owned wildlife management area and not a land trust property.
So my job is to link all this stuff together here for you. I should probably mention that the BLT does have a completion award, although no one bothered to complete all the trails and contact them before me. As a result, I didn't get a patch or a completion certificate – but I got something far more valuable: a friendship with Paul Rochford at the BLT.
And a very nice t-shirt.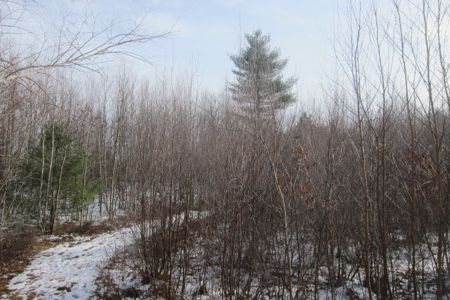 Cross-cut Trail, Sessions Woods
…………………………………………………….
My Burlington Hikes and Stuff:
Burlington Trail Master
Greer Road Red Trail (BLT)
Sessions Woods WMA
Taine Mountain Trails (Nature Conservancy)
Tunxis Mainline Trail
Tunxis Yellow Dot Trail
Tunxis Purple, Red, Orange, & Green Dot Trails
Tunxis Nature Center Connector Trail
Tory Den
Devil's Kitchen
…………………………………………………….
Burlington hiking/mapping resources:
Back to CTMQ's Other State/Town Owned Land, etc Trails