Shebeen Cannoli Beer Revisit
1 16 oz can, $2-something, 5% ABV
Purchased at the Crazy Bruce's, West Hartford
I try to revisit CT beers that make their way from brewery-only to canning or bottle lines. Especially if years have gone by since my initial taste. I figure if a beer "graduates" to mass production and warrants the expense and effort of canning, it's the least I can do.
Here is my original Cannoli review from June of 2013.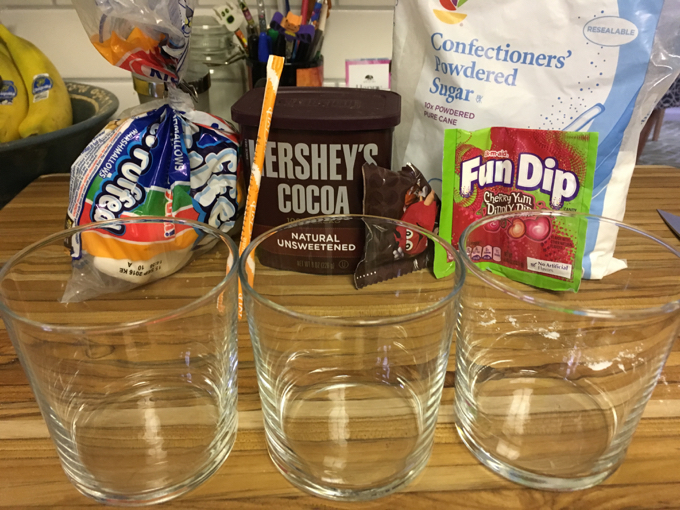 In the case of the infamous Cannoli Beer, there was no question I had to try it out. I'd always wondered why Shebeen would ever bottle/can this stuff, but I've gotten past that. Everyone puts a lime in their Coronas, and salts the rim of their margaritas, so what's the big whoop about selling a beer that asks the consumer to sugar the rim and shave some chocolate into the foam?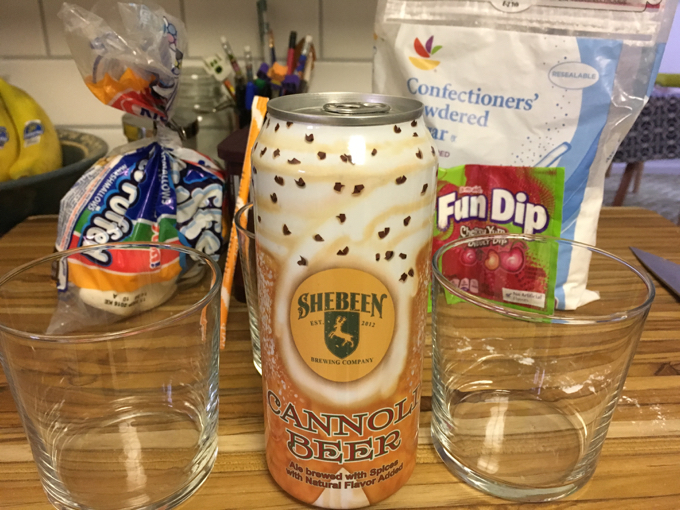 I approached my Cannoli as any rational adult would. I decided to try it three ways: straight up, "dolled up" as Shebeen suggests, and "Calvined up," as prescribed by my five-year-old.
Straight up
I had never in my life had a "straight up cannoli beer." Yes, I've lived 44 years and have somehow avoided this. It is time to change this toute de suite. I noticed that the beer poured much darker than I remembered it being at the brewery all those years ago. This makes sense, I guess, as I think it may have started out as just a "plain" ale to which one added the delicious accoutrements.
Now? Look at that bad boy. It already evoked "autumn" to me. Yummy, yummy autumn.
Except I hate "autumn" beers for the most part. Pumpkin spice, nutmeg, allspice, cinnamon – that whole class of spices has no business in beer as far as I'm concerned. This is purely a personal preference.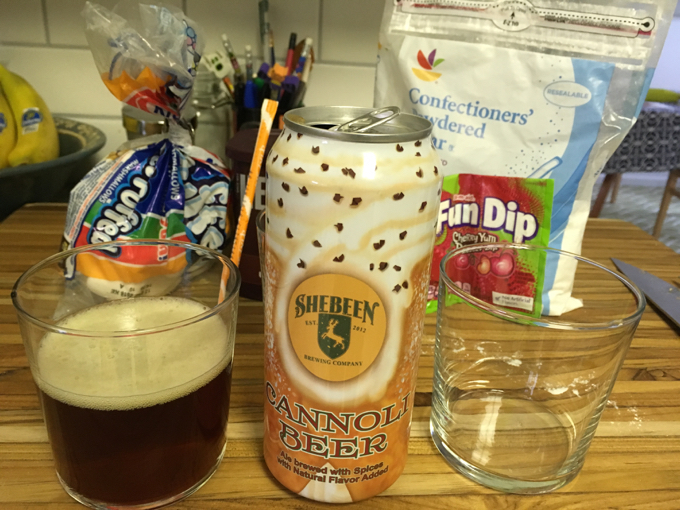 I'll cut the chase here: The Cannoli beer is infinitely better plain that it is with all the crap on and in it. I still can't wrap my head around the whole "dolled" up nonsense with this beer. I've tried.
As it is, the base beer is still sweet and has a rather heavy-handed dose of vanilla, nutmeg, cinnamon, and cream. I've no clue what they mean by "cream" in the beer, but whatever. I don't really care at this point. Definitely heavy on the nutmeg, that's for sure. It's not terrible by any means, especially if you love you some pumpkin/fall/winter warmer type beers. Just not my thing.
And speaking of not being my thing…
Dolled-Up
As you see, I used Hershey's Cocoa Powder and not the suggested "chocolate shavings." This was pretty idiotic on my part, since we have a giant bucket of Halloween candy still. So, perhaps, I screwed up the whole essence of the true Cannoli Beer experience.
If you feel that I have, and would like me to try again, you must supply the beer next time. I already spend more money on Shebeen beers than any of you as it is. In Shebeen's words, "… for fun, dip the rim of the glass in powdered sugar and sprinkle chocolate shavings on top to give it that real cannoli feel." Their website says, "Best served with powdered sugar and shaved chocolate. Heaven in a glass."
So here we are. More or less.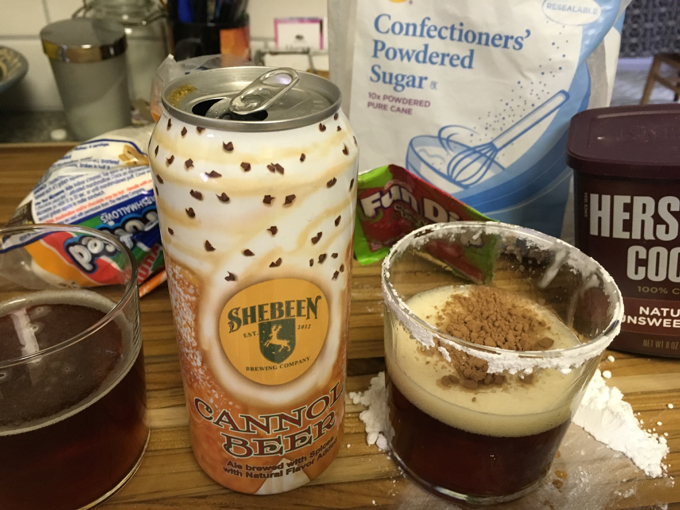 I tried. I really, really tried. I tried to appreciate what is palatable about this. I like chocolate. I like powdered sugar on lemon square bars. And I've come to appreciate what Shebeen is trying to do with the base beer here.
But… no. Seriously, no. This is the same travesty it was three years ago. It's as gross as it sounds and looks. For what it's worth, it's the powdered sugar that makes it undrinkable, not necessarily the chocolate additions.
Don't do this. And don't do this either:
Calvined-Up
Calvin is my five-year-old son. He's a good kid. But now I'm wondering if he secretly hates me. He saw me messing about with sugar and chocolate and wondered what I was doing. So I explained to him, "… for fun, dip the rim of the glass in powdered sugar and sprinkle chocolate shavings on top to give it that real cannoli feel."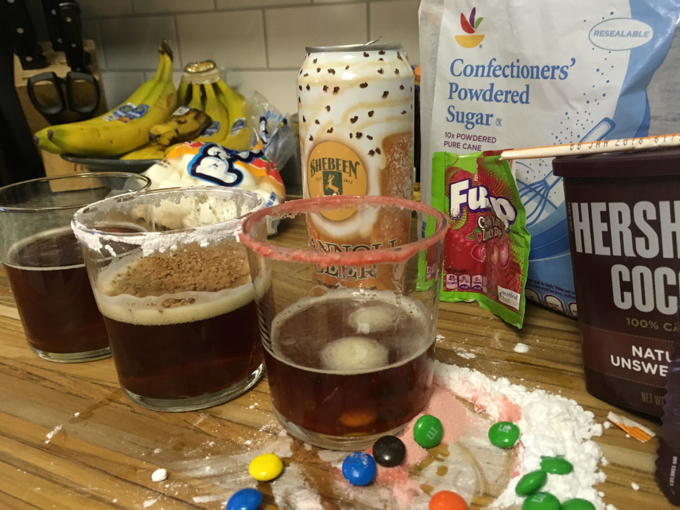 "I got you, Papa," he said. I know there's some Fun Dip in my Halloween stash!"
"Well, no, son. Not 'Fun Dip,' but rather, 'for fun, dip…" It was too late.
"And chocolate, I have some chocolate for you! Here are some M&M's!"
"Well, no, son…" It was hopeless.
"Powdered sugar? I guess I'll let you have a Pixie Stik. You can have the orange one."
"Well, no, son…" Screw it. I'm doomed.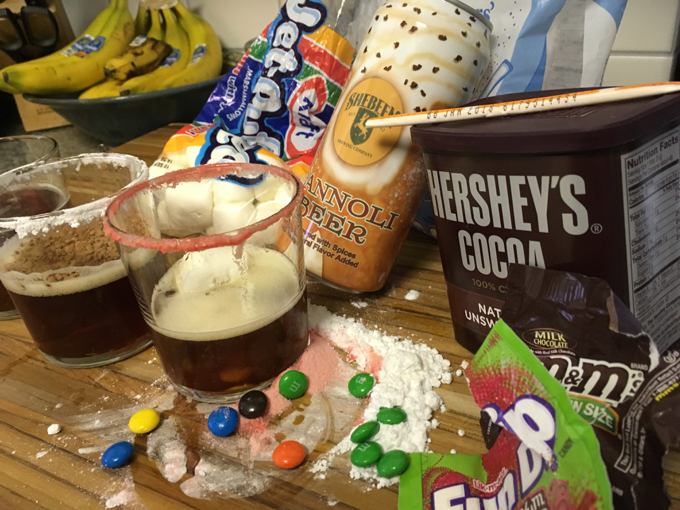 Calvin continued the mayhem, deciding a marshmallow and the actual Fun Dip stick would add to my enjoyment.
Yes, traditional western European sours are sometimes complemented by a fruit syrup of some sort. Yes, everyone puts limes in their Coronas and oranges in their Blue Moons. And we now have all sorts of kooky fruit additions to IPA's and Goses and everything else these days. I've been to brewpubs that offer a sugared rim for their fall or winter beers.
So here we are: Shebeen Cannoli Beer Calvined-Up:
So I can't pretend that what Shebeen is doing here is such a ridiculous outlier. In a way, they were ahead of a curve three years ago when they introduced this concoction. Sure, we all laughed back then, but in the intervening years, some of your favorite breweries have done things like add sugary breakfast cereals to the mash and who knows what OEC has been up to.
Still, in the end, the "proper" Cannoli Beer is a travesty. It's just way over-the-top for and remains undrinkable in this form. (I won't even touch the Calvined-Up version. Jesus Christ.)
And yet! And yet… I can understand that there is a market for this. The base beer is not my cup of tea, but it's no worse than a dozen other spiced beers I can think of off the top of my head. And if you want to add a bunch of sugar to it, rock on.
Just don't do it in my house.
Overall Rating of base beer: C+
Overall Rating of suggested serving Still an F
Overall Rating of Calvin-style Double F Minus
Base beer Rating vs. Similar style: B
Shebeen Brewing Company
Back to CTMQ's Reviews of Shebeen beers
Back to CTMQ's Connecticut Beer Page
Back to CT Breweries page