Half Full Celebrate Everything Belgian IPA
6-Pack, $11.99, 6% ABV
Purchased at Maximum Beverage, West Hartford
I've playfully goofed on Half Full for their, at times, overly positive enthusiasm. You could just chalk that up to me being a curmudgeon.
And you've have a solid point. After all, I'm the jerk who reminds people that alcohol is a depressant no matter how happy it makes you. Yeah, I don't get invited to many parties.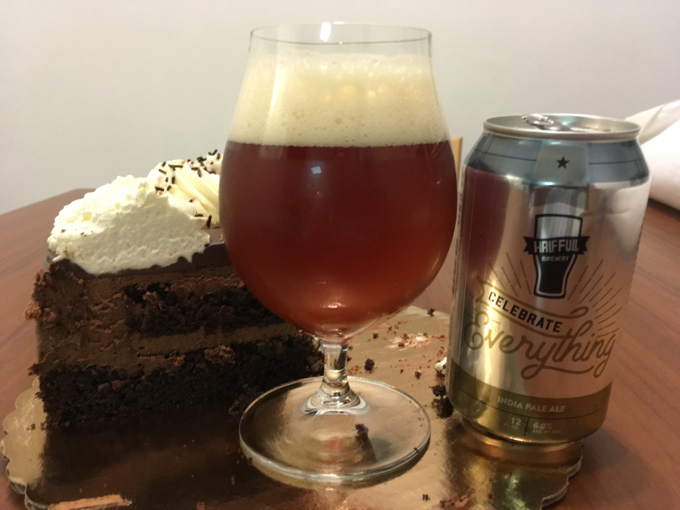 But today is a special day! It is a day to celebrate! For today is my birthday! (For real.) So now I'm not just a curmudgeon, but an old(er) curmudgeon! Hooray.
And I'm happy to tell you that this beer is worth celebrating. And in fact, I think every Half Full beer I had in 2016 has been pretty darn good. I can't pretend their standard line-up is something I seek out, but some of their more limited releases have been fantastic. Rise and Shine Coffee Porter was sublime and this beer is right up there with it.
Celebrate!
Let's celebrate Half Full's clever description of Celebrate Everything…
Half Full says:
A fresh take on a familiar style, this beer celebrates, well, everything. A juicy IPA with a Belgian twist, Celebrate Everything starts with a big hop nose and finishes with fruity Belgian yeast aromatics. In between you'll get a touch of sweetness and a hint of citrus. Celebrate Everything is bright, clean, and super drinkable. Enjoy!
I think this is kind of brilliant in a way. They get the necessary buzzword in there ("juicy IPA) but caveat it with "Belgian twist." And they aren't lying. The esters that come through in Celebrate Everything are as sweet and fruity as any Belgian. So yes, it is a "juicy IPA" – just not what "juicy" in the way that every damn brewery is trying to do these days.
Props.
But what really works here is that Celebrate Everything is still certainly an IPA and does somehow drink pretty bright and clean, despite the yeastiness of it all. That's a tough trick to pull off and they've nailed it here. Most Belgian IPA's are too much of one thing – too muddied with esters or too bitter with hops.
Let's celebrate some more! The best way I know how is to peek at the crowdsourced brilliance of Untappd; where we tap into the untapped collective of beer opinionators chasing non-existent badges!
Celebrate this person!

Their mistaking the Belgian yeast for "maltier" and "Belgian" for "American" is something we need to embrace! For as we know heading into 2017 BeerWorld, malt = bad. It's just a fact.
And let's celebrate this person as well!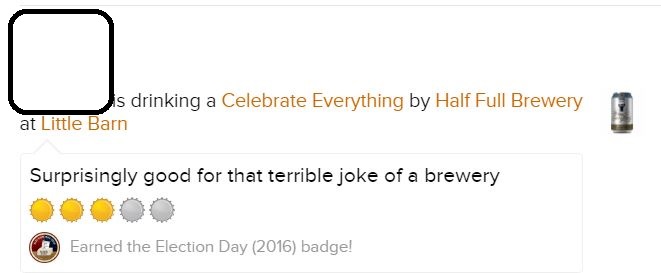 Because being a dick on untapped is what America is all about! This person has the right to state their opinion online in any way he or she wishes! Now that we've elected the Comments Section to the highest office of the land, these cherished moments must be celebrated as often as possible.
I think we can all agree on that.
And hopefully Half Full will continue this trend of high quality beers into the future. That would make this old man happy.
Overall Rating: A
Rating vs. Similar style: A+
Half Full Brewery
CTMQ's Reviews of Half Full's beers
CTMQ's Connecticut Beer Page
CT Breweries page