City Steam Chillin' Wheat Ale
1 12 oz bottle, $2? ?% ABV
Purchased at CBC, West Hartford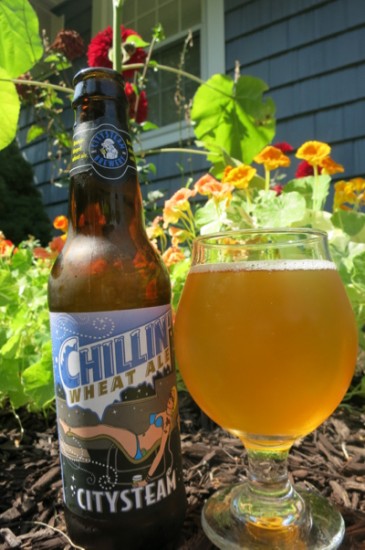 Because this beer is weak and forgettable in every possible way, I'm going to talk about two things that have nothing in the world to do with this beer. And one thing that kind of does.
We'll start with that one thing.
This bottle of beer was brewed at Stony Creek in Branford. That means that City Steam has contracted its bottled beers at Hooker in Bloomfield, Two Roads in Stratford, and Stony Creek – all in the few years I've been writing these dopey reviews. That's kind of crazy. I realize they most likely have one year contracts and are well within their rights to do RFP's each year, but what a hassle that must be.
Or, more likely, they just don't really care all that much and just want the cheapest option. We all know Two Roads has shown themselves to be one of the most capable contract brewers on the planet, and I'm sure that doesn't come cheap. We also know that City Steam brewmaster Ron Page has been friends with Two Roads brewmaster Phil Markowski for decades…
So it made sense to move the operation down there when Two Roads became operational. So why the move to Stony Creek? Who knows. After all, City Steam Brewery contract bottles aren't exactly a hot beer scene topic.
Right?
Anyway, City Steam says:
Orange tinged wheat ale.
Great. Whatever. Do you see those pretty orangey-yellow flowers behind the bottle in the giant picture above? Those are nasturtiums and I can't recommend you plant a flower more.
To wit: I grew them from seed in crappy soil. They grow almost as a ground cover and are very pretty. They flowered from June through November. And the best part? The entire plant is edible.
Yes, these are the pretty flowers that high-end fancy restaurants with beautiful plating use and the server says something like, "Here we have our farm raised platypus liver, gently braised over cherrywood smoked planks in the cool of the morning air. The pineapple infused vodka foam playfully holds the edible flowers, elevating this dish. Enjoy."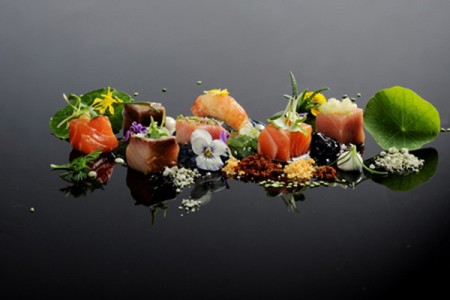 (The wonderful Alinea Project blog has a nice post featuring nasturtiums.)
The flowers have a pleasant bitter nuttiness to them, sort of like arugula, and the leaves offer a more citrusy punch. Hmmm, "bittering" and "citrus." Who wants to bet that Kent Falls will do a nasturtium beer in the future?
Anyway, go buy some nasturtium seeds for two bucks and plant them in some ugly bare patch and you'll be pleased. I promise. I never even watered them in a dry summer either.
Lastly, just wanted to bring your attention to my man Nick Gamma's recent comment on another beer review. If you're not familiar with Nick, he runs Hops and Branding and does some nice labels here in the CT. Which is cool and all, but back in the day (Or, ""Back in the day on the boulevard of Linden, we used to kick routines and the presence was fittin'…")
Damn, such a good song. Anyway, Nick designed a bunch of cover art and stuff for Def Jam and ran with some rather influential and important people in the 80's/90's NYC hip hop scene.
I like to pretend my friendship with cool people makes me cooler. (I was going to work in some lame narrative about "Chillin'" and Nick and Def Jam and this beer, but I'm not going to bother.)
This beer exists. It's a lame wheat ale. I think it may only exist from July-August 2015 though.
Have a good day.
Overall Rating: D+
Rating vs. Similar style: D
City Steam Brewery & Cafe
CTMQ's Reviews of City Steam's bottled beers
CTMQ's Connecticut Beer Page
CTMQ's CT Breweries page