City Steam Brewery (Bottles)
Hartford, Contract Brewed at various places
Note: This is now an archived page. At some point, perhaps even before you read this, all of my CT Beer Review pages will suffer this same, sad fate. After much reflection in late 2017, I decided that my beer reviews would come to an end. For more on that decision, go here.
Notes This page is about City Steam's bottled beer, not the brewpub or the draught beers. This contract moved from Hooker to Two Roads to Stony Creek and now in 2018, I'm not even sure they're bothering with them anymore.
Beer List:
Blonde on Blonde, B-, then B+
Chillin' Wheat Ale, D+
Creme de la Creme Ale, B
Innocence Ale, A-
Naughty Nurse, D
Naughty Nurse IPA, C-
Did you read that first note in bold just above? This page is your landing page to get to the bottled beers that City Steam contracts out for brewing and bottling. There will be (or are, depending upon when you read this) separate pages for the brewery itself (that's right here.) and their many draught beers.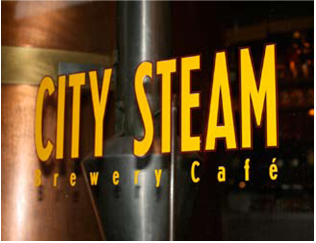 I know it's stupid, but I strive for consistency with my lists and since City Steam contracts their bottles to [a few different breweries], they simply must appear in a separate contract brewed section on my CT Beer list. I should note also that City Steam simply has to contract out the bottling because they do not have the capability, nor would it make any feasible sense to purchase the capability, to bottle beer.
So what they are doing makes perfect business sense. And in the case of City Steam at least, the populace is probably very happy they've done so. For the populace seems to love their two flagship ales: Blonde on Blonde and the Naughty Nurse.
City Steam has been around for as long as I've been around the Hartford area. They building is rather attractive and I've been there many times for dinner, for baby showers, for business lunches, for the comedy club, for beers after work when I used to work at State House Square… It's a good, solid restaurant that happens to have a decent brewery in it.
The history of City Steam is quite interesting and the unique way they are able to brew there is as well (hint: "City Steam"). So again, if you missed it, I have a fairly lengthy page about all of that here.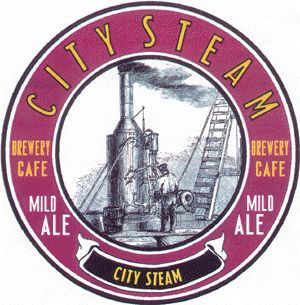 City Steam Brewery & Cafe
CTMQ's Connecticut Beer Page
Back to CT Breweries page