Coffee Breath Imperial Milk Stout
Procured by my man Jay, 8.6% ABV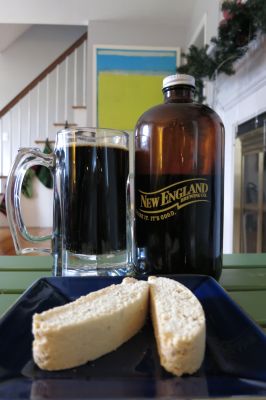 I enjoy coffee. I drink it every day. And while I certainly appreciate really good coffee, I pop the Folgers crystals in my $40 coffee maker every day and drink it on my way to work. And I'm talking those comedic massive barrels of Folgers we buy at BJ's. That's just who we roll at my house.
I enjoy coffee stouts too. And lately, we've had several excellent ones from Connecticut breweries.
Not content to have us enjoy stouts with coffee undertones, brewers have now gone a little crazy with the coffee in their beers. Some are aged on coffee beans and others have gone the next step which is to just dump some coffee into the boil. Or mash or whatever, I don't know.
And then there's the Coffee Breath. Which, and I may have the details wrong, started with a base of espresso and then they put some milk stout into that.
What? That's not true?
Oh. Because that wouldn't really be beer? It would be like a strong coffee with a hint of sweet and malty stout in it?
Oh. But…
NEBCO Says:
Imperial Coffee Milk Stout brewed with coffee from local roaster Bean & Leaf in New London, CT.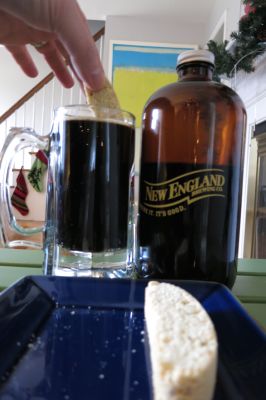 But… okay. My theory is not true, but man, NEBCO does not mess around with the coffee here. Two years ago I faulted their special cask of Coffee Imperial Stout Trooper for being too coffee-y. So they clearly read that and decided to troll me with the Coffee Breath.
So I'm trolling them with my pictures here.
Yes, it's true. This beer was so coffee'd up that I really did dip a biscotti into it. And I really did eat that biscotti. And it really tasted like biscotti is supposed to taste after dipping it into coffee.
By the way, did you know that "biscotti" is like graffiti in that is the plural form of biscotto? Not that anyone ever says, "look at that graffito!" Or, "I'll have a biscotto, thank you." The word originates from the medieval Latin word biscoctus, meaning "twice-cooked/baked." It defined oven baked goods that were baked twice, so they were very dry and could be stored for long periods of time. Such nonperishable food was particularly useful during journeys and wars, and twice baked breads were a staple food of the Roman Legions.
And they say war isn't good for anything. I love biscotti. Hell, I apparently love it so much that I eat it dipped into beer.
Okay, so here's my point. You all know how much I love NEBCO, but between the Coup Beans Coffee Oatmeal Stout and the Coffee IST and this, I just think they go a bit overboard with the coffee. The Coffee Breath was billed as a super duper coffee beer, so I can't front – but I also can't imagine I'd be in line for it again. It poured like coffee with zero carbonation. It smelled like coffee. It almost totally tasted like coffee! And yes, I'm sure it gave me coffee breath too.
I should note that as an "imperial" stout, at 8.6%, it was creative and very well crafted to "hide" the booze.
I love beer and I love coffee and I love coffee stouts. But this one went a little too far over the line for me.
Overall Rating: B-
Rating vs. Similar style: C-
New England Brewing Company
NEBCO's facebook page
Back to CTMQ's Reviews of NEBCO beers
Back to CTMQ's Connecticut Beer Page
Back to CT Breweries page