Kent Falls Brewing Coffeemaker IPA
750mL bottle, 5.6% ABV, $9.50
Purchased at CBC West Hartford
December 2015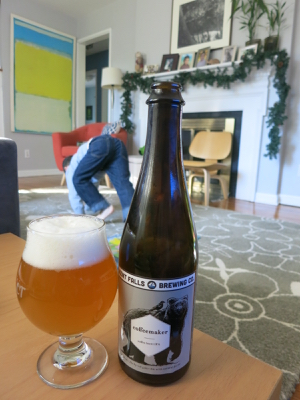 It's okay, I don't understand this beer either. I don't understand the label art or much of what the brewer, Derek Dellinger does with his free time. I don't understand why CBC in West Hartford charges a dollar more for these beers than other places or why McLadden's in West Hartford does the same – or why I bought this beer at both places and didn't even bat an eyelash.
Perhaps because we live in weird times.
The week leading up to Christmas 2015 saw temperatures in Connecticut approach 70 degrees. Crocuses have bloomed and dandelions began sprouting.
In New England.
In December.
"Affluenza" is a thing and a creationist brain surgeon who thinks the Egyptian pyramids were biblical grain silos was recently the leading GOP presidential candidate. He is currently being bested by a guy who is merely trolling the GOP and the media, but people actually think he's really running for president.
[2016 Update: that idiot troll won.]
And a guy named Derek in western Connecticut brewed an IPA… with Brettanomyces.
Then he added coffee.
And actually bottled it.
With a bird sitting on the bear's back on the label.
Kent Falls Says:
A coffee brett IPA brewed with our friends at Irving Farm Coffee Roasters.
Yeah. That makes sense… in a world with summer-like winter solstices in New England, everything makes sense I guess.
This beer melted my brain. I actually first ordered it for my wife at dinner, didn't tell her what was about to happen, and just watched. I think it was something like "delicious confusion." Coffee is supposed to taste like coffee. Coffee Stouts are supposed to taste like coffee. Standard looking ales are not.
But this does.
And it was good.
Really good.
Later, I picked up the bottle you see at the top. I told my son to walk around like a bear, so he did and I took the picture. I knew that Kent Falls' brewer Derek's blog was called "Bear-Flavored," but I didn't know why.
(Nor do I know why Trojan's new line of condoms is called "Bare-Skin" when everyone thinks of "Bear-skin" when they hear the radio ads.)
Delving into Derek's online world is highly recommended. I read his various musings for well over an hour last night. He's written for all sorts of publications and has a book coming out in 2016 called The Fermented Man. Because in 2014, Derek only ate and drank fermented foods and drinks. He didn't cheat. Seriously.
Want more? Good, because the brewer at Kent Falls has a separate website for The Fermented Man. And while I'm at it, it appears Derek designs various articles of clothing for purchase, outside of the Kent Falls realm.
Like this. This is dope: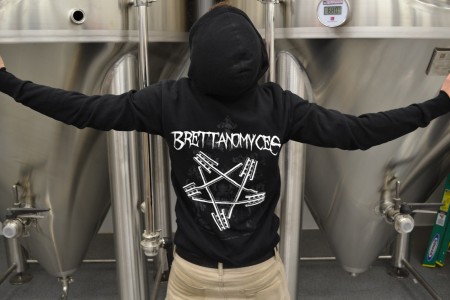 I will be first in (virtual) line to buy Derex's book. Hell, I want to be his best friend.
While we're reading links, shout out to BA Cave Dave for this.
And shout out to untappd Matt for fulfilling the prophecy.
I don't think Hill Farmstead has made – or would make – a Brett coffee IPA. I don't think I'd want them to, because I'm fairly certain it would make Farmstead look silly. Somehow, some way, this beer made Kent Falls look awesome. It was a lovely IPA, with the Brett… with the coffee.
And again, it worked. After my brain melted and reformed, I could thoroughly enjoy what was going on here. I'm not sure the coffee would work with a hop-bomby IPA, but with the Brett cutting in there, it works.
It really, actually, unbelievably, crazily works. Now I know, a bunch of you are like, "No freaking way." I was like that too.
Trust me.
But back to "Bear-flavored." Here's the "explanation," such at it is: "Here at Bear Flavored Ales, we care deeply about the price of bread in 16th century Germany, which is why we strictly adhere to the Bavarian tradition of Reinheitsgebeart. In accordance with this ancient edict, we brew our beer using only the four traditional ingredients: water, barley, hops and bears.
So there you go.
Makes perfect sense in this crazy mixed up world.
Overall Rating: A
Rating vs. Similar style: n/a
Kent Falls Brewing
Back to CTMQ's Reviews of Kent Falls beers
Back to CTMQ's Connecticut Beer Page
Back to CT Breweries page