New England Brewing's Comb Over BA Saison
Bomber, 6.5% ABV
Gifted by my man Jay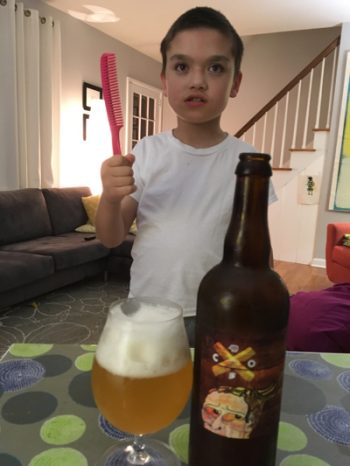 You know, one thing that's going to be different with the personnel changes at NEBCO going forward in 2017 is that I'd guess these limited release beers with a limited fanbase will be limited down to nonexistent.
I have no idea, really, but that's just my guess. And that's okay. I am 100% confident in the direction NEBCO is going/will go with Marty Juliano there now as Director of Business Development. To quote a friend of mine who knows a lot of insider stuff about the beer business:
…NEBCO hired Marty Juliano as Director of Business Development? That is HUGE HUGE HUGE. Marty is [one of the most well-respected guys] of the beer scene in CT. He's been with Sierra Nevada for 10 years, but before that he was one of the originators of craft beer in CT. His leaving SN and going to NEBCO sent some reverberations thru the business end of the industry today. Everyone is shocked. And it looks like NEBCO is getting serious about "business". Very interesting move. Most of the beer nerds think this means more beer/cans at the brewery and maybe a full taproom. I think it means they're going to start distributing to other states. How much more business can they handle there? You don't hire Marty Juliano to do can releases at the brewery.
Do you hire Marty Juliano to do limited one-offs like Comb Over? Again, I have no idea. I don't know Marty Juliano, but Marty Juliano seems like one of those names that you have to always type both Marty and Juliano.
We've already seen some subtle changes since Matt left NEBCO. Nothing negative, just… different. A peppier and larger social media presence. Moving a DIPA and an IPA from the Fat Ten-Er line-up to the big leagues (#2, now "Dose" and #8, now "The Ocho"). There was an actual event (a pig roast) at the brewery. More focus on the "money-maker" beers (IPA's, IPA's, and more IPA's.)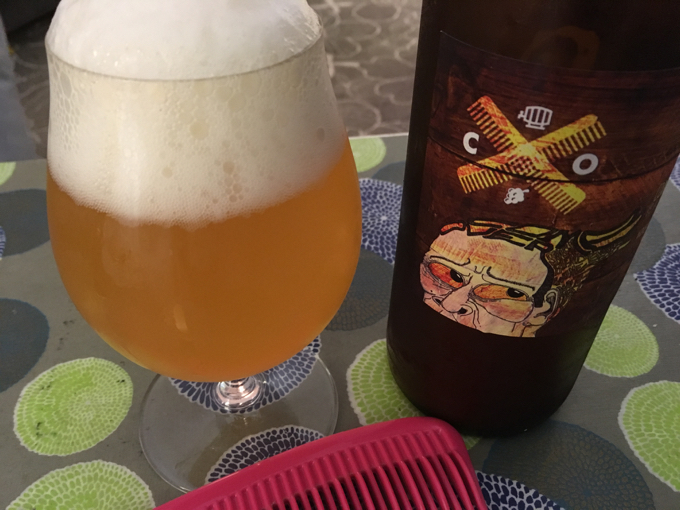 I'm excited for where NEBCO is going. They have always been awesome across the board, and I see no reason why that won't continue. (And I'd be remiss if I didn't mention how excited I am for Matt's new brewery in Hamden, Counter Weight Brewing – opening probably by February 2017!)
It's funny… the CT Beer "scene" will spend so much time and energy on nonsense (Trailblazer! Such and such IPA is too malty!) and completely whiff on the truly important (relative to CT brewing) important stuff like where NEBCO might be regionally in a year or two.
And hey, if the rumor that this is the first step to Sierra Nevada purchasing one of our favorite little breweries… then good for them. Let it rain.
Oh yeah, Comb Over. NEBCO says:
Blend of saisons aged with Brett in Chardonnay barrels.
Not exactly the style of beer one associates with NEBCO. And again, perhaps not exactly the style of beer NEBCO will be doing much of going forward. Who knows. Have I established that I don't know yet?
Comb Over had a few things going against it with me. Saisons aren't my favorite style. Brett doesn't impart my favorite flavor profile. And chardonnay isn't my favorite wine.
Oof.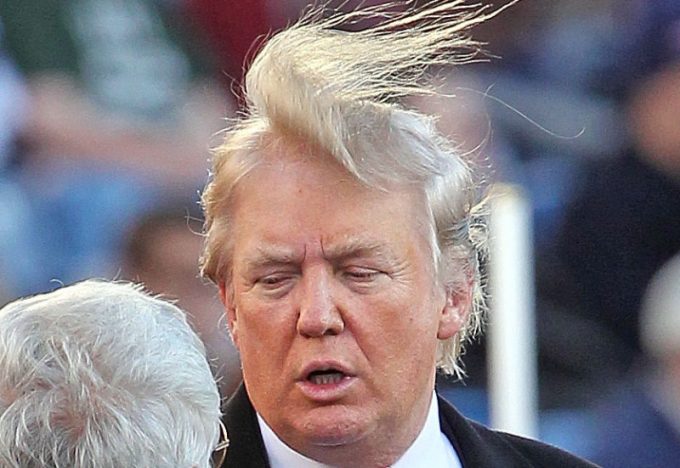 But it turns out that bringing the three together is actually pretty good! Comb Over was more winey than Bretty. The floofy-headed beer was very bright and bubbly and tart and winey – and underneath all of that there was the funk of the brett and the gunk of the saison yeasts which, when limited, is a good thing.
As the Comb Over warmed, it got better and better. The flavors popped after half a glass and it was clear that this was a well-thought out beer. The flavors from all the components are somehow teased out with each sip – Wine, Brett, Barrel, Saison yeasts… it's sort of amazing how that all works.
Anyway, if you have a Comb Over bottle, great. Just let it warm up a bit before you drink it, as I think it's just better that way.
And welcome to NEBCO, Marty Juliano.
Overall Rating: A
Rating vs. Similar style: A
New England Brewing Company
CTMQ Reviews of NEB Beers
CTMQ's Connecticut Beer Page
CT Breweries page