Shebeen Brewing Concord Grape Saison
1 22 oz bomber, 7% ABV $6.25
Purchased at CBC West Hartford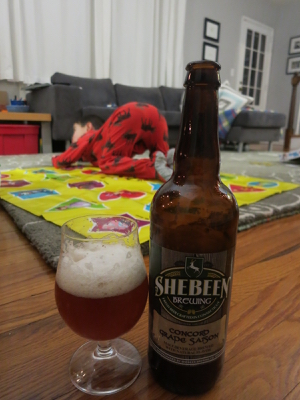 What do you people want me to say? This is a "Concord Grape Saison" after all, and in the most capable hands it would still be a… Concord Grape Saison.
Does the world need a grape beer?
Sure, why not? We have so much pumpkin beer that they are currently sitting on remainder shelves in March. We now have a choice of peanut-butter chocolate beers. Highly respected breweries are doing carrot cake beers, peppermint beers, and habanero pepper beers.
Not to mention everyone and their grandmother are brewing grapefruit beers and blood orange beers. It seems like more blood oranges are being sacrificed for beer than are actually eaten these days.
So why does a grape beer sound so… so… odd to me? Is it merely because it was brewed by the brewery that has a penchant for things like cucumber wasabi beers and cannoli beers? Perhaps, but I really do try to treat each and every beer from each and every Connecticut brewery as its own entity. The best breweries can release crap beer and the crap breweries can release fantastic beer.
I strive to approach each new beer impartially.
Shebeen is not the only brewery to have put out grape beer. Heck, the mighty Dogfish Head has their Sixty-One, an IPA with grape must. (And really, reading how the label for that beer was done is goofier than anything that has ever come out of Wolcott.
Blue Moon has one too – and there are others. And I'd bet that Small Town or Coney Island will put out an alcopop grape soda soon. And while I'm at it, everyone is aging various beers in wine barrels these days, right? Is that not a sort of grape beer too? After all, I loved Hooker's wine barrel aged saison. Which in a sense, is a similar concept, right?
But what about this particular grape beer?
Shebeen says:
This Belgian style saison is complex due to the natural Concord Grape Extract which makes this beer almost wine-like. This is a truly inspired Connecticut beer originally developed with grapes grown in Connecticut. Its tart and full of flavor but not overly sweet like other fruit beers.
That sounds… like something I could like! (Are there non-Belgian, style saisons?) I distinctly recall, way back before Shebeen was even open to the public, a friend of mine went to the brewery and tried some preview samples. He reportedly rather enjoyed the Concord Grape Saison. Another friend of mine just told me the other day that he once had a particular batch of the Concord Grape Saison that he found quite good.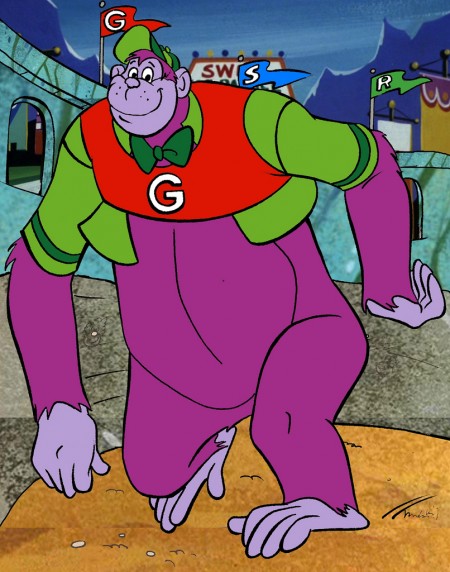 But then Shebeen happened. Who knows how many brewers they've had over their few years of existence anymore. Rebranding, mea culpas, pleas to the "community," etc., and here we are in 2016 with a (very probably) old bottle of this stuff. (Purely a guess, as it seems as though Shebeen has shifted focus away from stunt beers in favor of being a more normal brewery for the past six months or so.)
When I wrote "then Shebeen happened," what did I mean? I meant stuff like this, the untappd description:
Wine like in smell, taste and color. This one is complex and will have you wondering what is it. One of my personal favorites. It's not a traditional Saison and may not appeal to regular beer drinkers but worthy of try for the daring and true craft beer drinker.
So there you go – this beer is for the "true craft beer drinker." I like Bud Light Clamato Cheladas and Coronas on the beach, so I guess I'm out.
Anyway, the Concord Grape Saison.
It tastes like a beer with grape extract dumped into it. And if there was any question as to whether there was "grape stuff" in this beer, the quarter inch of grape sludge settled on the bottom of the bottle will certainly convince you. This is a true grape beer.
And it's just not very good. It's not a real saison by any stretch, but rather just a beer, perhaps with some saison yeast, with a bunch of grape extract dumped into it. I don't know any other way of describing it. I did drink most of it, because it's not like it's horrible or anything. There's just really no point to it.
I can see (and taste) how this could be an interesting and "good" beer though, and I can imagine it has had decent iterations at Shebeen. I just didn't happen to get that with my particular purchase.
Overall Rating: C-
Rating vs. Similar style: n/a
Shebeen Brewing Company
Back to CTMQ's Reviews of Shebeen beers
Back to CTMQ's Connecticut Beer Page
Back to CT Breweries page