Firefly Hollow Cone Flakes DIPA
4-pack of 12 oz cans, $9.99, 7.7% ABV
Purchased at Harvest Country Store, West Hartford
It hit to me today that I haven't reviewed a Firefly beer in a while. And then it hit me that I've never reviewed their Cone Flakes DIPA. And THEN I hit myself in the head for that oversight.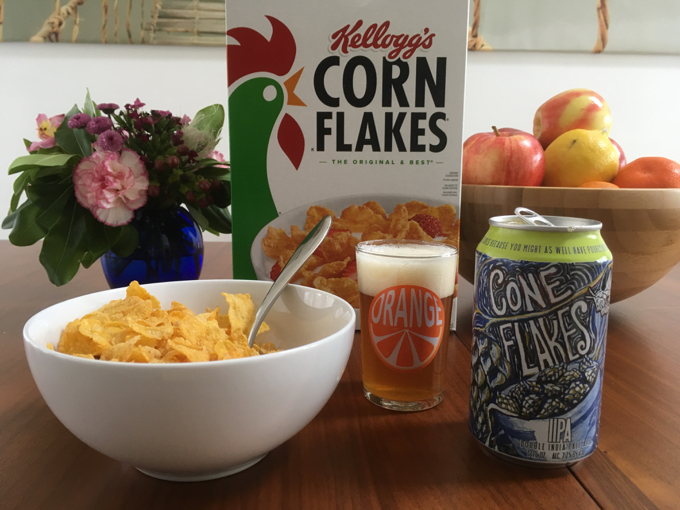 I very much like Firefly for many reasons; Cone Flakes is but one. The beer has been around almost as long as Firefly has been around. I remember having one very early experimental batch of it at the brewery in Bristol and thinking, "whoa. These guys need to chill out with the 43 hop varieties in this thing."
They settled on seven.
Note to the Sesame Street kids out there: having seven hop varieties in a beer isn't all that bonkers. You've been raised on "single-hopped" Citra juice and the like. And "single-hopped" Nelson beers which, psst, aren't actually single-hopped.
What's that? "Sesame Street kids?" I have no idea, I was just reading a Beer Advocate review of Cone Flakes and thought this guy sounded like he knew what he was talking about.
The real deal, not for the sesame street kids out there, for real men and women who drink genuine craft beer. Juicy, Deep, Full flavored hops, assertive yet smooth bitterness and a mighty malt profile to back it all up.
I agree with his description of Cone Flakes. It is bitter like an IPA should be bitter. If I had to nitpick it, it seems like none of the seven hops is giving this beer much of an enticing aroma for some weird reason. But it doesn't really detract from the overall enjoyment of Cone Flakes.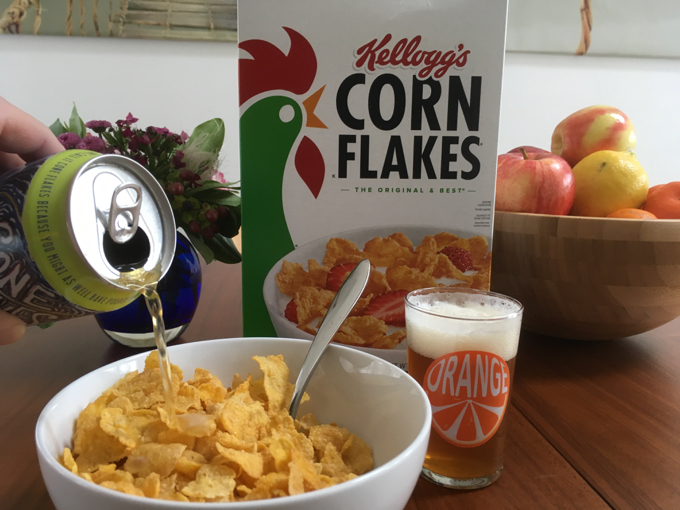 Well, unless you're a Sesame Street kid.
First had this at Eli Cannons and it was extremely bitter with little to no hop aroma, so I chalked it up to a bad batch. Finally went the brewery to pick up some fresh. Same thing, very bitter, slightly alcoholic, little hop aroma, medium hop flavor…ended up in the drain.
Really dude? In the drain? I can understand that maybe you were expecting a fruity "NEIPA" and didn't love Cone Flakes, but a drain pour? Sigh. To each their own though.
Firefly says:
Mosaic, Pallisades, Zeus, Galaxy, Nugget, Wakatu, and Ahatnum hops make this a big beer with a huge hop profile.
I dunno, man. To say this beer has "medium hop flavor" is… weird. In my opinion. Yes, it has medium "FRUITY hop flavor" at best. And I'm guessing that's what some people mean now by "hoppy." They mean "fruity" and that's why that guy called them "Sesame Street kids" and why I'm calling attention to that and not the fact that I poured Cone Flakes on my Corn Flakes.
Don't do that, by the way.
Cone Flakes is a solid "flagship DIPA" if such a thing exists. (And I think it does.) It's somewhat old school, like most of what Firefly – wonderfully and capably – does. It's in the G-Bot category. Like a stronger Sea Hag if you will. It's bitter, piney, hoppy, and sticks to your palate in a good way.
Pro Tip: J. Timothy's in Plainville has had a dedicated Cone Flakes line for about three years. Which is pretty darn cool.
Plus, hey, it's called "Cone Flakes." And you know I like wordplay.
Overall Rating: A
Rating vs. Similar style: A
Firefly Hollow Brewing Company
CTMQ's Reviews of Firefly beers
CTMQ¹s Connecticut Beer Page
CT Breweries page