I'm Coo-Coo For Cocoa Nibs
Connecticut Chocolate Trail
Years ago when I was shaping what CTMQ was to become and seeking out all the cultural and historic "trails" that I felt would be worthy and interesting to complete, I made the decision to exclude any purely commercial trails. Not that there are many, but the ones I am thinking of are just kind of stupid to "complete" in the way I do for the stuff on this site.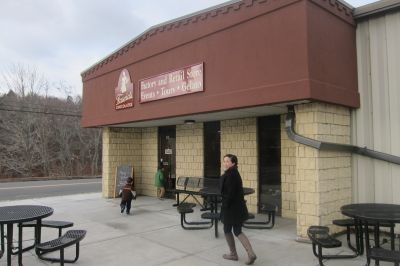 But then the state came out with this chocolate trail thing and while I have no idea how this "trail" came together, it's CHOCOLATE. (What I mean is I don't know if the chocolatiers paid to be part of this trail or not. I strongly suspect not.)
As ctvisit.com says, "there is a world of chocolate that can be found right here in Connecticut. Believe it or not, our state is home to many world-renowned chocolatiers and local chocolate artisans who create an experience that is decadent and rich in flavor."
So as I criss-cross the state chasing down slightly boring this and somewhat boring that, I've now another enticement to drag my wife along with me. And for that, I'm completely behind the Connecticut Chocolate Trail.
The Sweet Spots:
The CT Chocolate Trail is a fickle beast. It is constantly changing; shops close and new shops open. I'll continue to do my best to keep up with it.
Closed:
Belgique Chocolatier, Kent, Multiple Visits (Closed 2012)
CocoaShak, Cheshire, Multiple Visits (Closed 2014)
The Chocolate Lab, Greenwich, May 25, 2013 (Closed 2014)
Chocolate Rain, Norwalk – Never visited (Closed 2015)
H. Mangels Confectioner, Milford – Never visited (Closed 2015)
Hillside Sweet Shoppe, East Haddam, June 11, 2016 (Removed from Trail, 2016)
The Current Trail (Checked January 2017)
Bridgewater Chocolates Store, West Hartford, Multiple Visits
Chocolate Shell, Old Lyme
Deborah Ann's Sweet Shoppe, Ridgefield, August 27, 2012
Divine Treasures, Manchester, June 9, 2012
Fascia's, Waterbury, Multiple Visits
Grandma Josie's, Monroe
Isabelle et Vincent, Fairfield
Knipschildt Chocolatier/Café Chocopologie, Norwalk, June 13, 2009
Le Rouge Chocolates & Cakes by Aarti, Westport
Munson's Chocolates, Bolton, Multiple Visits
Mystic Sweets, Mystic
Sweet Cioccolata, Wallingford
Thompson Brands, Meriden
Thorncrest Farm and Milk House Chocolates, Goshen, March 16, 2014
Truffle Shots, Essex
Tschudin Chocolates & Confections, Middletown, January 9, 2015
The Village Chocolatier, Guilford