Shebeen's Connecticut United FC Pilsner
16 oz can, $2.49, 5.1% ABV
Purchased at Crazy Bruce's, West Hartford
Yo.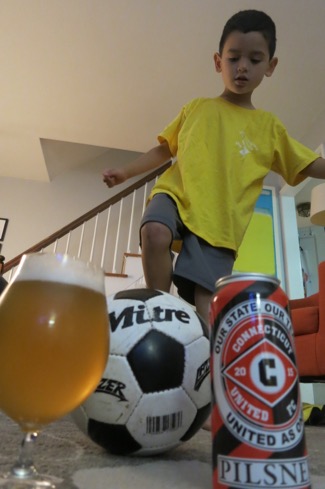 The US Men's National Soccer team lost to Trinidad and Tobago last night and, with improbable wins for Panama and Honduras, missed the 2018 World Cup finals in Russia.
Sad. (I imagine there are many central Americans having a good laugh about this turn of events. Since, y'know, our president has allowed them to hate us with venom on several levels. I wonder if Mexico and Costa Rica decided that losing to Panama and Honduras last night would be a fun thing to do, just to spite the US. Didn't hurt them at all; crushed the US.)
The problems with US Soccer run deep. The whole system is flawed and rather terrible. Witness our absence from the last two Olympic tournaments. And yes, missing the 2018 World Cup finals from our region is really, really pathetic.
If you haven't figured by now, I watch – and kinda love – this stuff. Heck, one of my favorite things on CTMQ that you've never seen is when I "toured" Connecticut during the 2006 World Cup and dressed my then baby up, and… oh never mind.
Shebeen also apparently likes soccer. They sponsored the local "professionalish" team and released a traditional pilsner along with the support. Cool idea!
The team is Connecticut United FC and they play in something called the American Soccer League. The ASL is not sanctioned by US Soccer for some reason and they are mad about it.
Oh, and one more thing – Connecticut United FC ceased to exist after a half season and disappeared off the face of the earth in late 2016. Players didn't show up for the games or something. Such is life in the bottom tiers of US Soccer.
So yeah, unfortunately Shebeen hitched their wagon to a soccer team that didn't exist mere months after the beer was introduced. These guys just can't catch a break.
Shebeen says:
Authentic polish pilsner with Styrian Aurora hops. Crisp, smooth and very drinkable.
Phew. Glad to know the brewery who makes and sells the beer thinks it's "drinkable!" And you know what? It IS drinkable! In fact, I found this pilsner quite good. It was released during a relative flurry of pilsners from across Connecticut. Almost all were good, and Shebeen's effort was no slouch. In fact, I'd put it up against almost any other "craft pilsner" in the state.
Shebeen also worked a deal with the ASL team from Lancaster, PA but I'm not sure that worked out either. They really want to hitch on to a soccer team with this beer for some reason. Connecticut DOES currently have a team in a league you've never heard of:
AC Connecticut FC is Newtown, Connecticut, playing in the Northeast Division of the Premier Development League, the fourth tier of the American soccer pyramid. They're amateurs, but whatever. (And really, the failed team played in New Britain with its huge Polish population, so the whole Polish pilsner thing made a lot of sense. Not sure an amateur fourth-tier team in Newtown will fit so well with the whole marketing idea.)
If you're curious, the US has the MLS (which sucks) and then below that there's the North American Soccer League (hello NY Cosmos!) and the United Soccer League (where several MLS B-teams languish) and then the National Independent Soccer League and the forthcoming United Soccer League III. Want more? below that is the National Premier League (shout out to the Brooklyn Italians) and the Premier Development League (see: AC Connecticut FC of Newtown) and then basically the college teams, high school teams, elite youth traveling teams, down to my kid's U-7 league here in West Hartford.
Yes, our town's league is sanctioned by US Soccer. As a coach, I had to go through a whole background check and everything.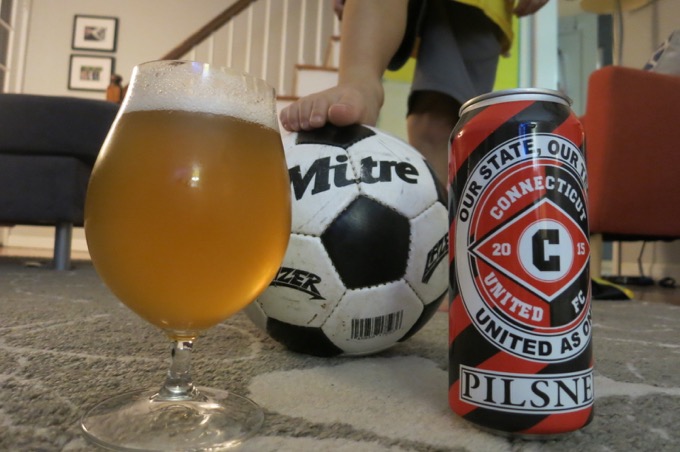 This system SUCKS. It's a pay-for-play system and it's hopelessly broken. Are you 8 years old and really good? Great! Pay $3,000 a year to make that elite traveling team! Oh, you are really good and don't have that money? Sorry, go play another sport.
There are many reasons why US Soccer is relatively terrible. Pay for play is but one, but it's the one that I'm going to be confronted with in a year (yes, Calvin is actually really good at 6 years old) so that one's top of mind.
There are also many reasons you think Shebeen is relatively terrible. This beer certainly shouldn't be one. If you like Euro lagers, I'm telling you, this one's pretty darn good. Well done, Shebeen.
Overall Rating: A-
Rating vs. Similar style: A
Shebeen Brewing Company
CTMQ's Reviews of Shebeen beers
CTMQ's Connecticut Beer Page
CTMQ's CT Breweries page