Connecticut Wine Trail Superlatives
December 2012
I will not say which place makes my favorite wine because it's all a matter of taste – and I'm not qualified to make an educated case for it anyway. If you haven't read my wrap-up of our wineries, go do that now. This page contains a few little "bests" and reasons you should visit these places all over the state. I purposely came up with categories that shouldn't change too much over time. Of course, you should visit all of our wineries just because it's the right thing to do.
…………………………………………………….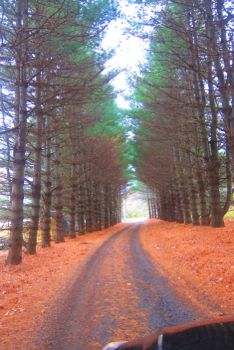 Top 3 Driveways
1. Taylor Brook Winery, Woodstock
2. McLaughlin Vineyards, Sandy Hook
3. Bethlehem Vineyards, Bethlehem
If you've been up to Taylor Brook, you know what I'm talking about. Having driven many miles on many tiny roads in the Pyrenees and the Alps, the driveway here is like a miniaturized version of them. And I love that. McLaughlin's, at the time of my visit, skirted along a beaver pond on a dirt road that felt like remote Maine to me. I had to revisit this page in 2014 after visiting Bethlehem Vineyards for the first time. The drive through the stand of pines to the house/tasting room is worth the trip out there alone.
…………………………………………………….
Top 3 for Food
1. Sharpe Hill Vineyard, Pomfret
2. Bishop's Orchards Winery, Guilford
3. Priam Vineyard, Colchester
Really no contest here, as only Sharpe Hill and Heritage Trail (closed) have legit restaurant operations. Dalice Elizabeth has some weird food option that I can't figure out. Sharpe Hill's restaurant is a destination for foodies. Bishops is located in a cool little farmer's market/grocery store and Priam happens to be very near Cato Corner Cheese, which makes everything around it ten times better.
…………………………………………………….
Top 3 To Bring the Kids*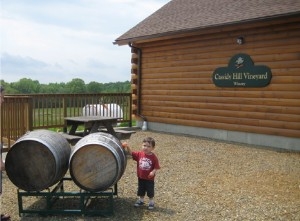 1. Jones Winery, Shelton
2. Miranda Vineyard, Goshen
3. Savino Vineyards, Woodbridge
Again, no contest. Jones has a little kids play area! (Their whole operation is about family.) Miranda gets a mention because they have always been the kindest towards Damian over the years – and have kept up with his progress. Savino took special care to hook us up with extra crackers and cheese to keep the boys busy.
*I'm sure this is controversial, as no one wants annoying little kids smashing around while sipping wine with the love of your life. I'd argue you on that (to a point) and am happy to report that in over 50 winery visits, I can only think of 2 or 3 times it was clear our child/children weren't exactly welcomed with open arms.
…………………………………………………….
Top 3 Drives To:
1. Hopkins Vineyard, Warren
2. Land of Nod Winery, East Canaan
3. Taylor Brook Winery, Woodstock
Washington and Warren, CT in October on the shores of Lake Waramaug? You can't beat that no matter which direction you're coming from. This cannot be argued. Nor the drive out 44 around Canaan to the Land of Nod or the "Holy cow, how did I end up in New Hampshire" feeling one gets while trying to find Taylor Brook. These drives never get old.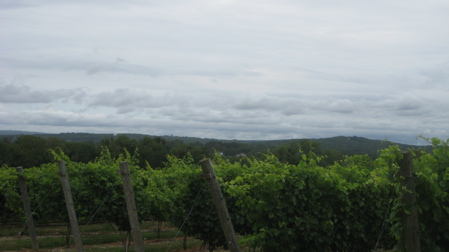 …………………………………………………….
Top 3 Views While Drinking
1. Sunset Meadow Vineyard, Goshen
2. Gouveia Vineyard, Wallingford
3. Saltwater Farms Vineyard, Stonington
Tough category here, as there are arguments for over half of our vineyards. I just happen to love a west-facing hillside at sunset, and Sunset Meadow and Gouveia both have that. Saltwater Farms is on an inlet on the Sound and, well, it's just pretty cool.
…………………………………………………….
Top 3 Tasting Rooms
1. Saltwater Farms Vineyard, Stonington
2. Cassidy Hill Vineyard, Coventry
3. Maugle Sierra Vineyards, Ledyard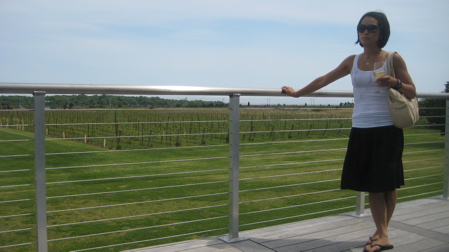 If you've read this far, you get the prize of learning that Saltwater Farms is my favorite overall winery. They say they grow Sauvignon Blanc grapes there. (No one else in the state claims this.) And it's pretty darn good. I love the modern-but-not-really building and tasting room. Cassidy Hill is just big and rustic and clean and Maugle has an underground wine cellar feeling to it that I've always enjoyed.
…………………………………………………….
Best 1-2-3 Winery Day: While there are many options, the choice for me here is easy. Jonathan Edwards, Stonington Vineyards and Saltwater Farms in Stonington/North Stonington. All within 10 minutes of each other and due to the supposedly unique terroir of the region, their wines are some of the best in the state. Bonus: I love Saltwater's building and views, J. Edwards imports grapes from their California estate and Stonington makes a very crisp and bright lemony white that is one of my favorites from the state.
Bigger bonus: Beer'd Brewing is nearby as well, and I'd rather go there over any winery any day of the week.
…………………………………………………….
CTMQ Visits all of CT's Wineries
Back to CTMQ's Ingest
Official Connecticut Wine Trial site