Charter Oak Brewing Courageous Special Ale
Bomber, $8.50++, 7.8% ABV
Purchased at CBC West Hartford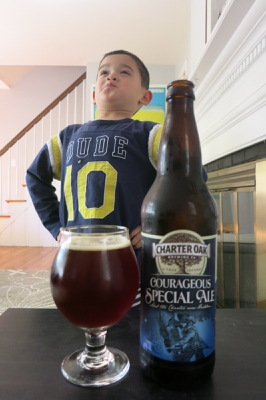 For some weird reason, the Charter Oak Brewing story has interested me from day one. It shouldn't, really, as it's not unique in any way. Charter Oak is just a guy (by all accounts, a rather nice guy) with some dough who wanted to start a brewery. And it should be noted that this was a little bit before every guy with some dough wanted to start a brewery.
(How awesome is this picture?)
But Charter Oak went the contract route (which is fine) and has existed as such since its inception. The part that "interests" me is that the Charter Oak guy has been saying since before day one that he's been trying to open a brick and mortar brewery in Connecticut.
Which, again, is fine. Mr. Charter Oak reiterated this point as recently as early 2016 on a "Welcome to Connecticut" podcast. Still looking at South Norwalk. In fact, he promised that this place would be up and running in 2016. (I'm writing this in mid-April 2016, so let's revisit this page in a year.)
2017 Revisit: Yeah, well, that didn't happen. NOW, Charter Oak says they're going to exist in Danbury.
I've never had reason to doubt Charter Oak's intentions. There was a time, a few years ago, when ever contract operation would say that they intended to have their own space someday soon. I disbelieved half of them, but Charter Oak has the business sense (and money, from what I understand), to get it done.
So… why hasn't it gotten done? After all, literally 30 breweries have managed to open in Connecticut in the interim.
I have no idea. I've written before that these contract-only operations must be having a rough time of it in the 2016 beer climate. Consumers, for whatever reason, pretend to really care about this stuff. Personally, I don't give a crap. I used to have a hang-up about those that marketed themselves as "local" and "hands-on" and all that stuff, but now? I don't give a crap about that either.
So what if Charter Oak is brewed at Paper City in Massachusetts and is owned by a guy in New Canaan who has been saying he wants to open a brewery/brewpub in SoNo Danbury for five years? Is the beer good?
I really think Two Roads went a long way to form my opinion on this whole thing. Once I wrapped my head around how much good-to-great beer they brew on contract, I realized I just didn't give a crap. And I still don't. And don't think I ever will again.
That is my "Courageous" stance and I'm sticking to it.
Charter Oak says:
This is a limited release American Strong Ale that is robust in character, taste, ABV, and shade. It will pour a rich deep brown with two fingers of tan foam and a wonderful, yet subtle piney aroma. This style is complex, yet well balanced and very drinkable; brewed with generous quantities of hops, and yet plenty of specialty malted barley. A Full month feel with plenty of flavor left on the pallet through the last drop in the pint glass. This is also the beginning of our single hops releases. The Courageous Strong Ale is hopped with generous quantities of Chinook. This 'unofficial' style is a fun one to brew and allowed us to be unconstrained with brewing creativity. It's a real sipper!
What the hell did I just read?
A whole lotta nothin'. Look, I pulled that description from Charter Oak's site. It's a commercial site and that is why I feel I can pick it apart. This is me being "Courageous" again.
"…that is robust in character, taste, ABV, and shade."
Shade? Like, are they saying it has a dark color?
"This style is complex, yet well balanced and very drinkable…"
Can we put a moratorium on sentences like this? I mean, sure, there are "simple' beers and purposely "unbalanced beers," but what brewer or brewery is gonna be like, "Hold up there! That one there is rather undrinkable. Just thought you should know."
(Of course, that would be awesome and I'd save a bunch of money.)
"A Full month feel with plenty of flavor left on the pallet through the last drop in the pint glass."
Okay, this is what I'm talking about. This is a commercial website, ostensibly created and maintained by professionals. (Unlike the one you're reading now.) The "month" thing is just a typo, fine, but goddamnit, the "pallet" thing drives me bonkers. Stop with the "pallet" mistake everyone!
Moreover, this is yet another throwaway sentence. I've never had a beer that loses flavor in 20 minutes, have you? Although… wait a minute… Perhaps Charter Oak is suggesting ("It's a real sipper!") that we savor this beer – one pint at a time, over the course of a month. Like, take a sip, put it back on the pallet. 30 sips in 30 days – and that yes, in fact, it is so good that it retains its flavor all-the-while!
Mea culpa, Charter Oak. I'm an idiot for questioning you. Well done.
Enough blather that no one cares about but me. This beer was a bit of a mish-mash. Not really an ESB or a porter or a strong ale, but rather a combination of the three. Which is probably a good "style," such as it is. But at the same time, it leaves me with a beer that doesn't know what it should be. A bit too Chinooked to be a porter, a bit too malty to be a strong ale, a bit too sweet to be an ESB.
It was alright. Hey, you know what's awesome? The movie adaptation of Rudyard Kipling's "Captain's Courageous." It's one of my favorite movies of all time and I'm not even Portuguese or a fisherman. This song has stuck with me my whole life and I've sung it to my sons many times.
You all should go watch this movie if you've never seen it. It's beautiful and funny and crass… and up there with "Bryan's Song" or whatever other movie you manly men are "Courageous" enough to admit crying at.
(See there, I ended that sentence with a preposition because I'm a dopey blogger.)
Overall Rating:, C
Rating vs. Similar style: C-
Charter Oak Brewery
Back to CTMQ's Reviews of Charter Oak beers
Back to CTMQ's Connecticut Beer Page
Back to CT Breweries page