We're Not Play-in' Around Anymore
CT Brewery Mark Madness Play-In Round
Note: If you want to read more about the breweries on this page, click the tags at the bottom. And thanks to the over-300 of you who voted!
When I started putting this whole thing together, I did my best to come up with regions that made sense. My first pass was actually not too far off of where I ended up – after I consulted with some people who are much smarter than I am.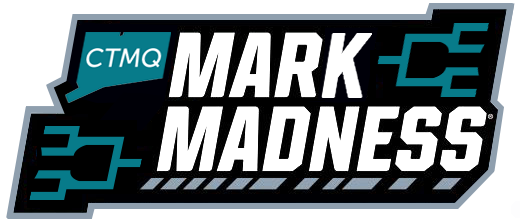 I originally had a couple brewpubs in the tournament, but then pulled them out. It was weird having two just to fill spaces and not have all of them. So there will be none. (City Steam is different since they distribute their contracted bottles – and SBC no longer bottles anything, so don't come at me with that one.)
Some more rejiggering… then Lost Elm Artisan Ales made their announcement that they had moved back to Connecticut literally the day I published the Intro page… and my weird wish to include Beaver Beer – all forced some last minute changes…
Future Region Play-In
…Which included having a play-in for a 5-seed. Which makes no sense in the real world, but since logos don't get tired the way basketball players do, I went with it. Both Charter Oak and New Park are nice enough logos, and both are in the brown family, but sending a tree logo home soon just seemed like the right thing to do. Sorry guys.
Well, Sorry New Park Brewing.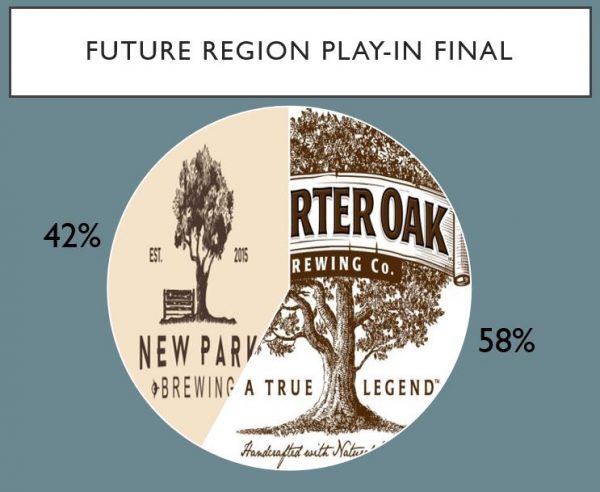 CTMQ's View: I had New Park here, and that's not just West Hartford homerism. You'll learn over the next month that I personally like cleaner logos. I appreciate the stippling artwork on Charter Oak's, but also find it a little distracting. And Charter's "Handcrafted with Natural Ingredients" is wholly unnecessary in my opinion. But it lives to see another day.
By the way, you all surely know the story of Connecticut's Charter Oak (Old CTMQ post on it here), and I find it mildly interesting that Charter Oak went with a version closer to the US quarter design whereas New Park's bears a resemblance to what the real Charter Oak really looked like.
Coastal Region Play-In
You may have wondered above, "Why did Steve want to include Beaver Beer, a clown contract label that seems to be kaput?" Simple: I wanted to use this opportunity to call them out again. Here's my old post about Beaver here. I just hate that their logo has a beaver in a cunnilingus position with the birch trees – and no, those artfully placed mountains in the background aren't an accident either. (Boobs, people… they're the boobs.)
Anyway, Aspetuck Brew Labs of Fairfield crushed the Beave.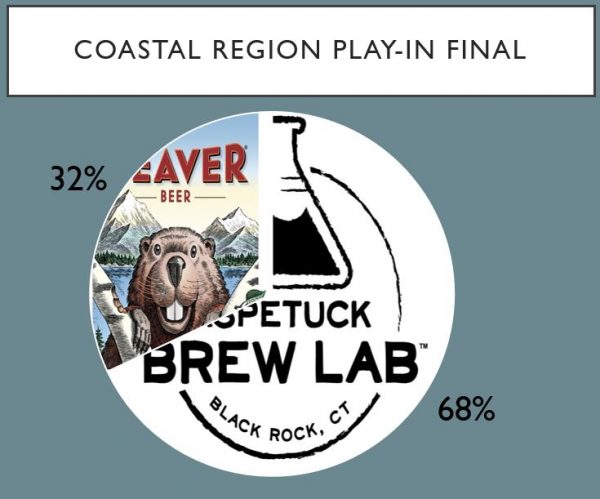 Marketing Expert Analysis: "Beaver's is offensive. It might be well made, but the message, from a branding perspective, is bad. They risk losing a large segment of potential customers with that logo."
Well, since I don't think they have any customers anymore, I'm not sure it matters.
East Region Play-In
Based on what I just wrote, please don't expect me to do some sort of "retired Hooker" joke. From what I understand, Hooker's rebranding is well underway and they have a new logo that was rolled out a month or so ago along with a shift towards "hotter" beer styles.
Blonde Hooker, City Steam's Blonde on Blonde Ale, Naughty Nurse… Beaver Beer… Man, I'm sort of glad to be getting rid of lots of this crap early. (Though City Steam's logo is fairly attractive to me.)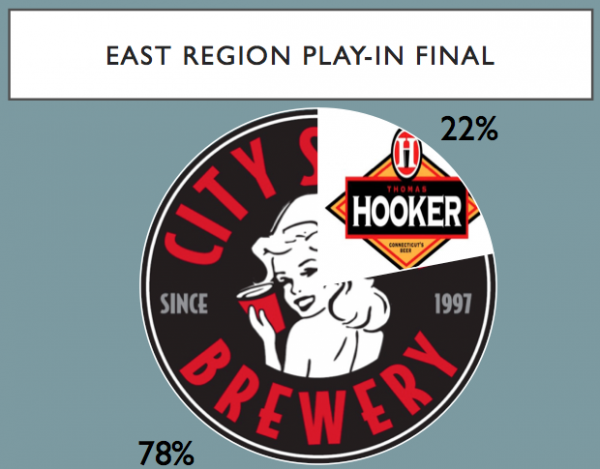 CTMQ's View: I took City Steam with the rest of you. (Take that Anchor Steam) The woman, presumably a "naughty nurse" even though the real naughty nurse is a dude, is cute and harmless and I like the spacing of the lettering.
West Region Play-In
Two closed breweries here, for some dumb reason.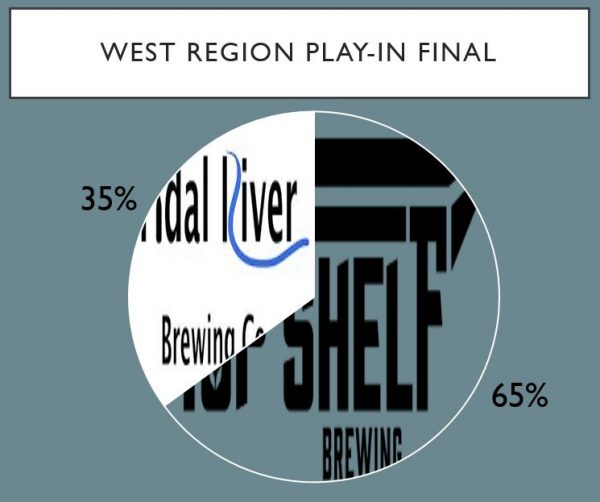 Marketing Expert Analysis: "Top Shelf. It's a shelf. It's on top. And it uses barley instead of hops. Tidal River uses a river. The i is a bottle. It's…blah."
Graphic Artist, Delaware: "Are these real? These can't be real. Real businesses use these?"
Well, not anymore.
Bracket of 64 seeds is now set and they will be released tomorrow (March 3rd)!