Psalm 23:4
CT Valley Brewing, South Windsor
October 2017
Of our small state's 50+ operational breweries, I think it's fair to say that CT Valley is one of the most polarizing. My approach to the brewery (and to this page), is to approach them as an entirely new and independent entity.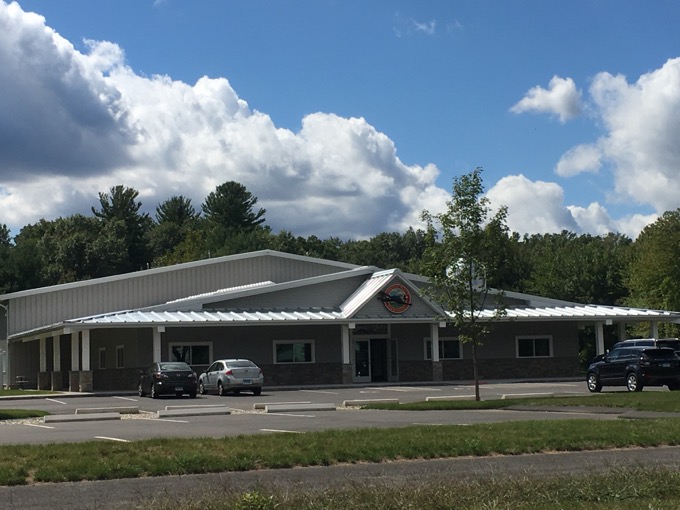 Which is exactly what they are. The owners have no history in the brewing industry and for the most part, they've done a good job building a brewery and a new brand.
And what a brewery they've built! It's huge! And welcoming and attractive. The walls are lined with dozens of high quality black and white photos of aviation history. This plays well with the brewery's logo and the theme that runs across more of their cans: the local history of various transportation industries that still play a role in Connecticut today.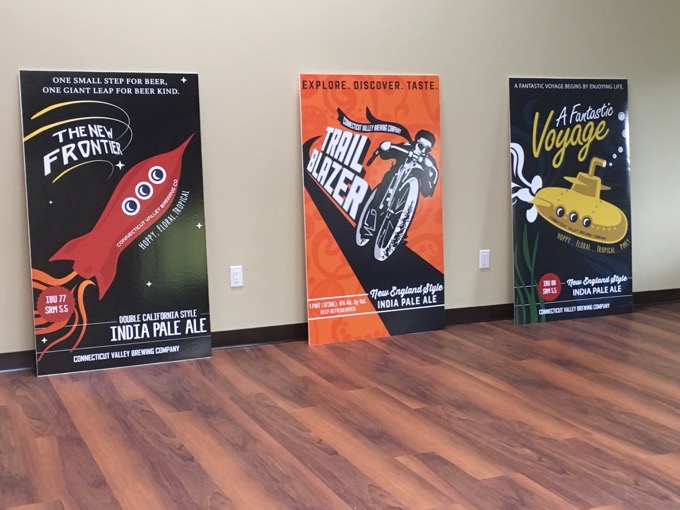 There are lawn games available just outside of the brewery and ample parking. When you build a brewery from the ground up – trying to think of others in Connecticut – Stony Creek? OEC? Broad Brook in late 2018? Is that it? – it certainly should be nice. And as far as visitors to CTVB are concerned, it is.
Unfortunately, that doesn't seem to be the case for distributors and grain delivery folks and the like. CTVB apparently forgot to include a loading dock in their architectural plans. When I first heard this (and I've heard it from all quarters), it didn't seem like a big deal to me.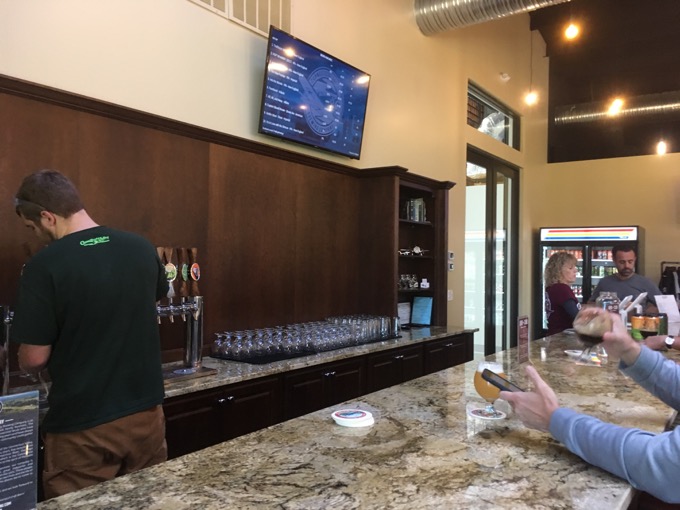 Which is why I'm not in the brewery business. A large(ish) scale brewery without a loading dock is a fairly large problem. I have no idea if that was the reason for the 18-month or so delay from the hoped-for opening date, but it certainly didn't help.
I'm sure they'll sort that out.
CTVB "opened" to the public in the summer of 2017 merely as a place for people to come in and buy their cans to go. This was sort of a smart way to carry them for a bit while the build-out and ramp-up went on behind the scenes.
This also allowed their Master Brewer to move from his previous position of Master Brewer for Pioneer Brewing Company which last contracted at Shebeen in Wolcott.
With the move to South Windsor, the Pioneer brand was discontinued. It's all about CT Valley now! A few beers made the move to the new brewery along with the brewer.
Speaking of styles, before opening, CTVB brewed and sold almost exclusively "NEIPA's" along with some other D/I/PA beers. A kolsch snuck in there at the wire, giving the portfolio a teeny bit of variety.
But in the taproom, hark!, some darkness flows. And not just through my heart. No, there has been an Alt! A brown! An imperial stout! And thank goodness, too, because a steady diet of CT Valley NE/D/IPA's is probably not good for a person.
It also gives validity to a 2015 quote from the brewer in the Hartford Courant, regarding having a variety of styles on tap: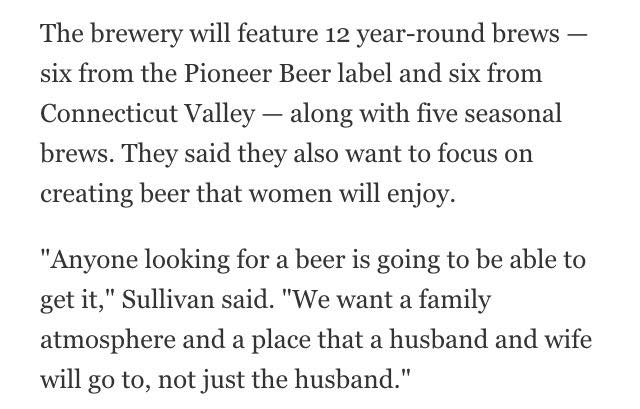 As mentioned, the Pioneer brand is no more, but it was nice to have some darker beers on tap and – wait, what? "Beers that women will enjoy?" What the heck does that mean?
I think it means they said something dumb. This was a while ago, and I'd guess that a lesson was learned. Although… y'know… when it happened – and this was way back in 2015 – it created a minor kerfuffle on facebook.
Of course, those comments were deleted long ago, but some of us remember CTVB replied saying that the comment was "taken out of context" or perhaps even wasn't said. I forget. Which makes it weird that the brewery originally found the article to be "fantastic."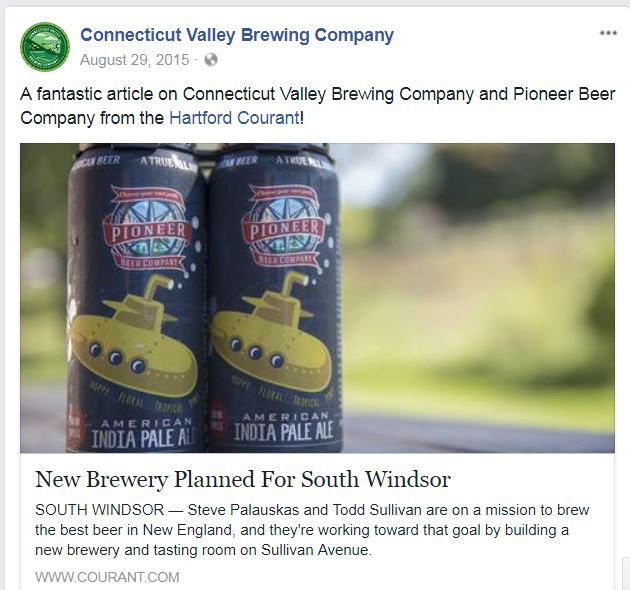 Whatever, ancient history.
There have been plenty of happy women customers during my visits, as well as happy women employees.
There have also been plenty of deleted facebook comments on the CTVB page. For some reason, this doesn't bother me as much as it does others. As I mentioned, the brewery – or more specifically, its beer – is polarizing to say the least. If I owned a business and people were writing negative comments all over my business's page, I'd think about deleting them too.
Although… if bunch of random people over the course of 18 months kept mentioning the same specific product quality issue(s) over and over and over, I would, at some point, heed what they were saying. There must be a point when that happens, right? Like, everyone can't be a troll… can they?
Short answer: No.
Again, the tap room is quite nice. The "5 ounce sample pours" are very generously poured and very fairly priced. Their dark lineup of beer is good, even when served at too-cold of a temperature. (IPA breweries do this often.)
A visit to CT Valley Brewing is a pleasant one. My complaints lie elsewhere. Namely, in the cans and on the cans.
I've had every single CTVB beer released before November 2017. All 12 of them. At least half of them have been terrible. Three were undrinkable. It takes an especially bad run of beers for me to mention this on the "brewery visit" page. You can read about all that stuff more in depth in my reviews of the CTVB beers.
Some history for those unaware: when the Master Brewer was brewing under the Pioneer brand, there were accusations of some hinky nonsense on Untappd. (Yes, I was one of the accusers.) That has not been happening at all with CT Valley. But that certainly left a bad taste in some people's mouths.
(Keep in mind that "some people" represents a very, very tiny subset of a subset. We're talking a few hundred people at most.)
And many of the beers simply leave a bad taste in people mouths. The nu-style IPA's from CT Valley are often rushed to market (to say the least). Green. (Like, sometimes literally green.) The beer burns. Incredibly acidic with needle-like carbonation and no head at all. Just this burning hop syrup goo that no professional brewer should ever sell to the public. CTVB beers have spawned memes – again, among "some people" – as well as derogatory hashtags and facebook pile-ons.
The same brewer, making the same beers, has had these issues for years. Yet I'll read, "Oh, I hope they 'dial it in' at the new place." C'mon. Again, CTVB's brewer has been brewing professionally for longer than most non-Master brewers in the state! Connecticut "NEIPA" consumers are some of the most patient and forgiving people on earth.
Zero foam/head is not forgivable. Burning throats is not forgivable. Green sludge at the bottom of $4.25 cans of beer is not forgivable. Period.
And you want to know what else isn't forgivable? Something has been bothering me for quite a while. Something that has carried over from the Pioneer brand to the CTVB brand. I wavered on how to bring this stuff up. I asked for advice from several people. And I want to be wrong. I want the brewery to make me feel stupid.
Several of the CTVB cans state that a portion of that can's sales "goes to charity." Sounds great. But going back two years, people wondered what the flagship Trailblazer IPA "charity" actually is.
Let me be clear: I did not reach out to CTVB. I thought about it. If I was a real journalist I certainly would have. Sorry. But again, if someone can show me where I'm off base, I'll make sure the world knows.
The Trailblazer can says that a portion of the sales goes to, "Charity bike riders across CT." Who is that? How does that work? What does that even mean? This has been on these cans for two years.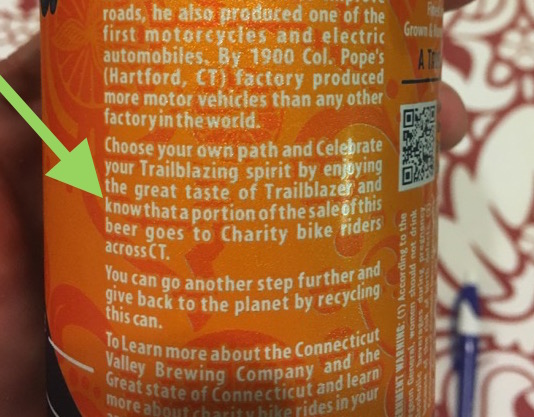 Other cans name specific charities: CT Forest & Parks Association, Save the Sound, CT Air & Space Center, CT Valley Rail Road. All very worthy recipients!
It is very possible that CTVB plans to give the "portion" of can sales to those organizations at some point. I love charity and give much of my money and time to it annually. I know many people like to wait until late December to make their donations.
Maybe I spoke with the wrong people? Because the organizations I spoke with were not familiar with CT Valley Brewing and their generosity. And again, maybe the plan was to roll up "a portion" at the end of the first year of CTVB's operations. But damnit, this thing really irks me.
After I reached out to the CFPA, they immediately contacted the brewery and a donation check appeared. Which… good! I think it's important to note that the Save the Sound, "Charity Bike Riders", and the CT Air & Space Center charities have been listed for nearly two years on cans. That sort of diminishes the "waiting until some time to donate" thing if they've yet to receive any checks.
I really did waver on mentioning the charity stuff, but a friend in the industry – a very well respected person – said, "it's sort of your moral obligation." I'm not sure I'd couch it in those terms, but yeah, something like that. And if someone can tell me who the "charity bike riders" are so I can reach out to them, that would be great.
Some people love the "hoppy" CTVB beers. I had a good Trailblazer once back in the early Shebeen contracting days. I've had a couple decent IPA's from the CT Valley days. But here's the thing: My can of "Hop Whammy" or "New Frontier" or whatever might be very good. But yours? Yours might take the chrome off a bumper.
There hasn't been consistency with these beers for years. Drinking expensive beers shouldn't be a roll of the dice.
And neither should publishing free blogs about breweries either. I don't like feeling awful for publishing stuff on the site. It's supposed to be fun. Writing this page, like drinking acidic sludgy beer, was not.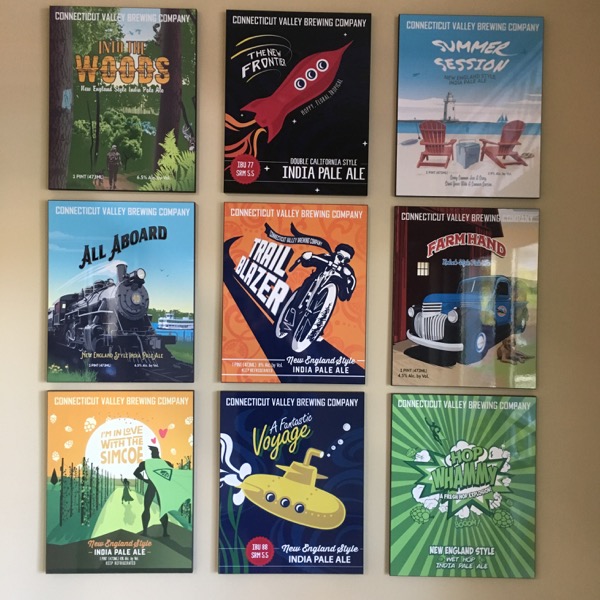 CT Valley Brewing
CTMQ's page on CT Breweries and Brewpubs