Black Pond's D-Burg IPA
Growlette, 6% ABV, $8
Purchased at the Brewery, Danielson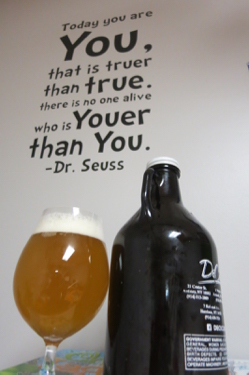 The Quiet Corner of Connecticut is… pretty quiet. There are towns up there that many of you have never even heard of, let alone visited. Heck, most people probably think Danielson is an actual town in Connecticut.
It's not.
Danielson is merely part of Killingly. Granted, it's the important part, much like Willimantic (Windham) and Winsted (Winchester)… but not the proper town name part.
As a result, plucky little Black Pond Brews in Danielson Killingly doesn't get the buzz many other local breweries do. They maintain an interesting and quirky Instagram feed and they show up at a few brewfests here and there, but let's be honest – they aren't top of mind for most Connectiut beer scenesters.
And I'm guilty myself; Black Pond has been open for a couple years and this is my very first review of their beer. Despite the fact that I get around our state as much as anyone, I hadn't really checked out the small brewery until the fall of 2016.
But I'm glad I did. If I wasn't more than a decade older than owners Mike and Cory, I think we'd hang. I like them. I like the fact that they like Tool and Radiohead. I like their nods to local history and geography with their beer names. I like that they seem pretty funny and don't kowtow to "the scene" too much.
But what about their beer? And the D-Burg IPA in particular?
Black Pond says:
Nugget, Cascade, Columbus, Chinook, Falconer's Flight. A perfect blend for your go-to IPA from BPB.
If I'm to judge a brewery by its "flagship IPA" (even if that flagship IPA isn't available every weekend), Black Pond is pretty great. I had a sample of it at the brewery and it was good, but once I got my 32 ounces home and was able to enjoy it in a proper glass at a little warmer temperature, the D-Burg burst with flavor and aroma.
I'm about to drop some blasphemy on you, so sit down: Black Pond's D-Burg IPA is very similar to Sea Hag. And looking at that hop bill above, you can sort of see that this isn't so crazy. The classic IPA bitterness is there. The classic pine notes (that so many people dismiss nowadays, including the dingdong in that review just above). The floral and fruity aromas.
I'll admit it: I was a bit surprised by the D-Burg. I know Black Pond has said that they want this to be their flagship IPA and though my opinion means nothing, I suggest that they do.
Fantastic straight up, true to style, tasty, on-point IPA Black Ponders. This beer alone gives me good reason to drive east out to Killingson… err, Danielly. Whatever. I'll be back.
Overall Rating: A
Rating vs. Similar style: A
Black Pond Brews
CTMQ Reviews of Black Pond Brews' Beers
CTMQ Reviews lots of CT Beer
CTMQ's page on CT Breweries and Brewpubs