Demiana
1 12 oz bottle, $2.89++, 5.9% ABV
Purchased at Crazy Bruce's, West Hartford
Drank 9/2014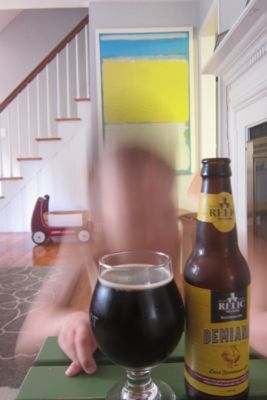 This is an odd name for a beer, but that's nothing new in today's world. Relic often has cool names and labels, and Mark the owner/brewer often likes to do series of beers with related names.
That doesn't mean that I understand those series or really what they are supposed to mean, but that's neither here nor there. After all, half of my "beer reviews" are merely random nonsense cobbled together, tenuously grasping at some weak word association or image that popped into my head at the time I decided to write a page.
Demiana is no different. My son's name is Damian. That's close enough to Demiana. That blurry image is actually him. Theme: done.
For once I won't harp on what a "dark saison" is, because I still don't really know. This isn't a Relic thing, and yes, saisons are a broad category… but dark saison could really be anything. And the Demiana certainly is its own thing.
Relic says:
The dark saison is crisp and balanced with notes of chocolate roast and raisin, a blend of authentic yeasts adds a layer of delicious spice.
That's pretty accurate. Many of us were very curious to taste the first contracted Relic bottle to come out of Hooker. Would it retain that signature Relic taste?
C'mon. Of course it did – from what I've heard, Mark toted his own yeast strain up to Hooker to make the Demiana. So yes, that Relic yeast was present in the flavor profile, but it was somewhat tempered by the "dark" aspects of this saison.
I got more raisin and spiciness than chocolate and leather, which made for a somewhat strange brew. Not "bad" or anything, but the interplay of the dried fruit and saison yeast twang; with that hint of malty chocolate was a bit of a mismatch for me. In the end, Demiana is certainly a Relic beer.
And "Demiana" is certainly a Relic beer name. Mark has done a ton of traveling and has a whole back story about the name "Relic" and the relics he's seen from all parts of the globe. I dig that stuff. I have no idea if he's been to Egypt, but I'm pretty sure he named this beer after St. Demiana. And the Mark part of this story is real, I swear.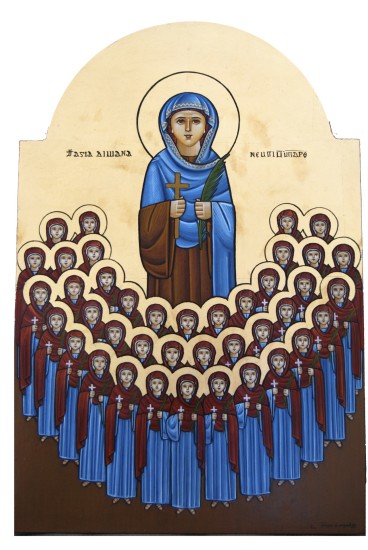 Near the end of the third century, there lived a Christian man named Mark. He was the governor of el-Borollos, el-Zaafaran, and Wadi al-Saysaban districts in the Northern delta of the Nile River in Egypt. Mark had an only child named Demiana; her beauty and virtuous character were legendary, and her father loved her dearly. Demiana's mother reposed in the Lord when she was a young child, and her father did his utmost to raise her a virtuous Christian.
Demiana loved to pray and read the holy books in the seclusion of her room – Okay, let me stop here. Now you know this story is bullcrap. She was hot, her pops was a famous politico, keeping it real in el-Zaafaran, and she "loved" to pray and real holy books? C'mon now.
Anyway, when she was 15, her father wanted her to marry one of his noble friends, however, she refused. She said she had devoted herself as a bride of Christ and intended to live in celibacy and serve the Lord.
Her story drones on and on; she remained a virgin and hung out in her isolated palace with 40 other virgins (that's them with her in the picture). Her dad was persecuted and she stuck true and became a saint and some flavor of Christians hold St. Demiana in very high regard. The Coptics I think. Whatever.
You can read the whole story here. So… yeah. Really no tie-in to my son Damian at all. Some people like to think "The Omen's" fictional Damien" somehow means something to my actual human Damian… Eh, who am I kidding. that picture at the top? My son is a vampire and can't be photographed. Damian is not a Christian and does not even know "who Jesus was or what prayin' is… How can he be saaaaaved? From the eternal graaaaave?"
Ahem.
I'll stop singing obscure Who songs and wrap this up by simply saying that this beer was good but confused and that it's really cool that Relic is getting a bigger distribution imprint with the contracting up at Hooker.
Overall Rating: B-
Rating vs. Similar style: n/a
Relic Brewing
Back to CTMQ's Reviews of Relic Beers
Back to CTMQ's Connecticut Beer Page
Back to CT Breweries page