Firefly Dire Chinchilla Imperial Ale
One bomber, $?, 9.8% ABV
Purchased at the brewery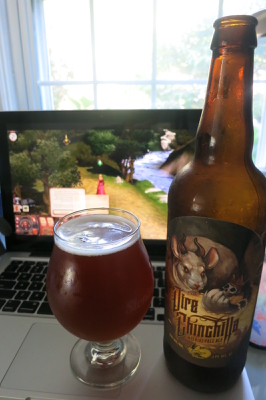 I may be a nerd in many ways, but I've never been a gaming nerd. Let alone an online gamer nerd. I've never in my life played any of "those games" that attract devotion an loyalty (and dollars) beyond pretty much anything these days.
So when I picked up this bottle of Dire Chinchilla, I didn't get the reference. It made no sense to me.
So I did what I do and learned that "dire chinchillas" are nemeses in some nerdy nerdfest called "The Sims Medieval". I really didn't want to know any more than that, but you may. So here you are. Nerd.
Dire Chinchillas are a creature in the Sims Medieval that often create problems with the population of your kingdom. They are based on the real-world rodent, and popular pet, the Chinchilla, given the "dire" title. According to Dungeons and Dragons source books, this template category of beast makes them larger, faster, more agile, smarter, and gives the more constitutional fortitude, as the more familiar Dire Wolves. They are twice as hard to kill as regular Chinchillas, which apparently makes them very formidable.
Yeah, okay.
Confused? Me too.
Regardless, I can appreciate when breweries come up with these absurdly fanciful descriptions for their beers:
Firefly Says
Don't let the fact that chinchillas are cute furry creatures allow you to let down your guard. The Dire Chinchilla is no normal rodent. They are larger, faster, and certainly more imposing.

Don't let the fact that Chinchillas are cute furry creatures, allow you to let down your guard. The Dire Chinchilla is no normal beast. They are larger, faster and certainly more imposing.

Our Dire Chinchilla Imperial Pale Ale is quite the same. While traditional Pale Ales are quaffable, ours is a more formidable opponent. It's an intense Imperial Pale Ale with a full, rounded and complex malt profile. Mildly herbal hop tones and a balanced bitterness compliment the flavor and transition to a long semi-sweet finish

Be careful, she's angry.
Okay. I still don't know what's going on here. But I'm all for creativity and I'm sure this made sense to Dana and the Firefly crew the night they were partoking, um, partaking in their usual Friday night Funtimes. And hey, just to show I care, I even took the picture at the top with a screenshot of Sims Medieval. Whateverthefuhh that is.
Here's a better view of the label: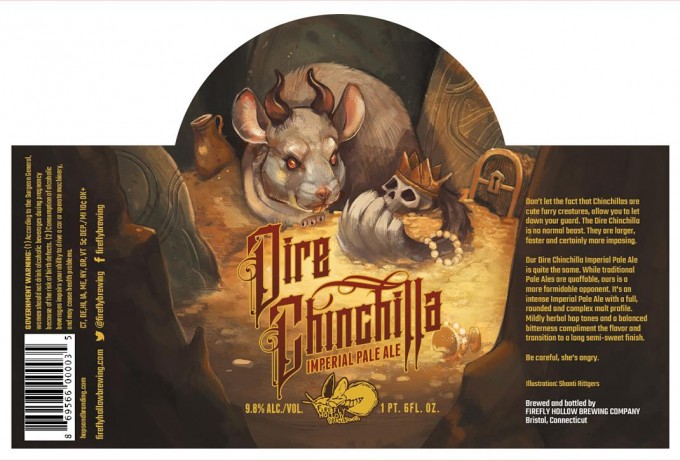 Curious, I decided to learn a bit more about the artist. I like art. The artist here is Shanti Rittgers, who seems to be a rather successful artist. I have no idea how/why she ended up drawing Dire Chinchillas for a Firefly label, but I'm glad she did. While her style isn't what I usually gravitate towards, I certainly appreciate it and recognize talent. Check out her site.
And while starving artists will typically take any commission, Shanti doesn't seem to be starving for work, so the fact that she did a cover for The Humanist makes me like her even more.
As far as the Dire Chinchilla itself, I would guess that the beer confuses some drinkers as much as thinking about the derivation of its name has done for me. It is not an IPA. It's not what you'd expect from a pale ale. It's not an DIPA. It's an "imperial pale ale" or "Imperial American ale," and it is chock full of malty American sweetness. Which I happen to like to a controlled degree, because I'm 43 and not 23.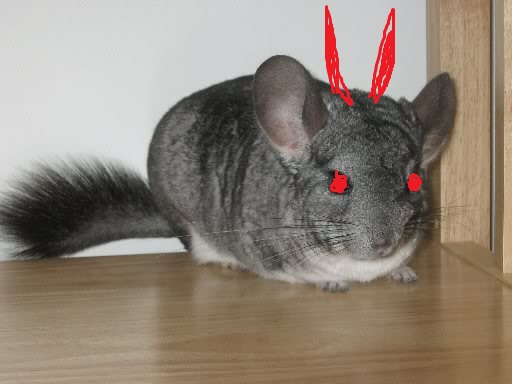 And it's good. Its booziness warms you up right quick, and perhaps it's a tad too caramel sweet for me, but it's not cloying like a barleywine might be. This is the beer you'd want while in Scotland on some 40-degree foggy day. Yes. Exactly that.
[Inhale]
And if it was the year 1400 and you were in Scotland on that same foggy day, and giant evil chinchillas somehow got from the Andes to the Highlands were trying to keep you from Clan MacGregor's treasures, you'd definitely want to sit and think about your next move with this beer.
[Exhale]
Overall Rating: B
Rating vs. Similar style: B
Firefly Hollow Brewing Company
Back to CTMQ's Reviews of Firefly beers
Back to CTMQ¹s Connecticut Beer Page
Back to CT Breweries page