Lasting Brass Dirty Water No. 2 (Chocolate & Strawberries)
Gifted by the brewer, 6.3% ABV
: (
I'm sad.
: (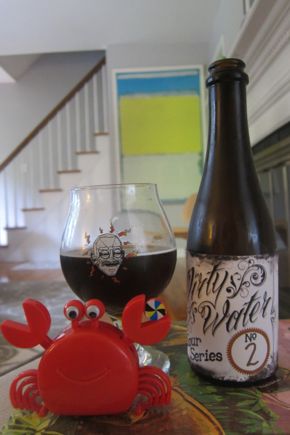 There are billions of people alive right now, a few hundred million of whom live in this very country… and 3 million of whom live in Connecticut. And of those 3 million, how many got to drink this beer?
40 unique Untappd check-ins for it… so maybe, like, 100? Tops? A-boo-hoo-oo.
Why am I so sad? I'm sad because this beer is so good and so complex – yet completely approachable, appealing to all types of palates – that I think it would make "beer haters" change their mind.
Yes. This one beer could do that.
And yet, only a handful of Nutmeggers have ever had it. For my part, I brought a big giant bottle of it to a UConn tailgate and doled it out to 5 people. (Shout out to my homies Jay, Melissa, Aron, Kevin and Dan.) And I shared my smaller bottle with my wife (I'll call her… Super Hottie Hot Hot since she's never read a beer page on CTMQ in her life and won't exactly start with this one).
And here's the thing – those five palates, from super respectable crafty palates, to normal person palate (that would be me), to Super Hottie Hot Hot Just Give Me a Damn Corona With a Lime Because I'm So Sick And Tired Of All This "Craft Beer" Nonsense You And Your Friends Are So Freaking Annoying About palate (aforementioned wife) – all loved this beer.
And It's officially a sour! I'm fairly certain there aren't too many sours that have appealed to such disparate tastes. FOR REAL, YO.
But seriously, look at this:
Lasting Brass Says:
Think sour chocolate covered strawberries!!!!!
Geeze Lasting Brass Ed, chill out with the !!!!!'s. (!)
: )
Ed's not even an excitable guy. If you were to overhear a conversation between us, you'd be like, "What's up with these two? Did someone die?" (Meanwhile, we'd be muttering wry and dry quips at your expense, but you won't know that so it'll be okay.)
; )
Actually, that's totally not true. Ed is way too nice to do such a thing. Watch out for me though. Seriously!!!!!!
Alright, so there you are – YOU! Right now! Reading this page and you're thinking, "Really, dude???!?!? A sour with chocolate and strawberries? I'm sorry, that sounds pretty gross."
And you're right! It DOES!!!!!!!!!!!!!!! I think I even told Ed that when he talked about it during its fermentation process. I probably said something like, "Dude." And he probably responded with something like, "Yeah." And I'm willing to bet I followed up with, "Hm." To which Ed surely came back with, "I know."
And then there you go again, wondering who died making us speak in quiet guttural utterances and there I am again, staring my cold-eyed stare, right through you.
Flash-forward a couple months and the release of this beer. I'll let my friend Aron sum it up from the tailgate at the Rent: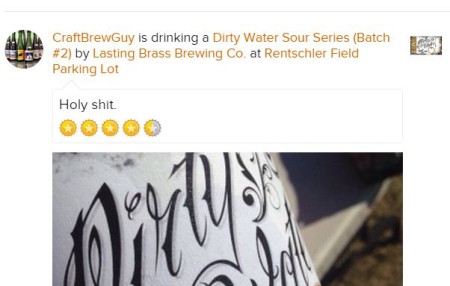 This beer has it all. Yes, it is a sour, but not like any sour you've ever had. I have no idea what Ed used for chocolate, but it's there, at the end of the swallow… dark cocoa, slightly bitter -yet chocolaty sweet – and lingering. He explained to me once how he imparted the strawberries with the wild yeast for the beer, but I didn't retain that. It sounded really cool and smart though.
The strawberries are on the nose and all through the taste as well, bringing both a tartness and a berry sweetness, to cut the sour and the slight bitterness of the chocolate.
This beer is frankly amazing. If you like Hooker's Watermelon Ale or Two Roads' Road Jam, you'll love this beer for the strawberry. If you're all about rich chocolate stouts, you'll love this beer. If you drive out to OEC on the regular for their sours, you'll love this beer. If you don't fall into any of the above categories, you'll still love this beer.
Perfectly balanced, perfectly executed. Just a beautiful beer – and one that I'm sure is a bit of a pain in the butt to make, but goshdarnit, I really hope Ed makes this again if and when Lasting Brass becomes "real."
The thought of which makes me go "!!!!!!!!!!!!!!!"
Overall Rating: A+
Rating vs. Similar style: n/a
Lasting Brass Brewing Company
Back to CTMQ's Reviews of Lasting Brass beers
Back to CTMQ¹s Connecticut Beer Page
Back to CT Breweries page