Dirty Water Sour Series (Batch #SMS) V2
Gifted by the brewer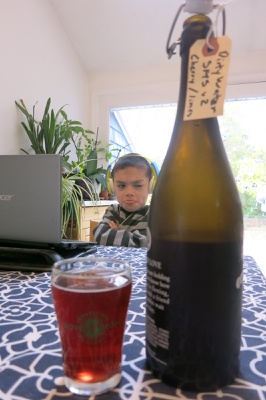 I could write and even longer than usual review of this stunningly delicious beer. For it is a very personal beer, made by a personal friend, for a very important and personal reason.
But alas, I will try my best not to blab too much.
As many of you know, some friends of mine put together one of the best brewfests in the region in the summer of 2015 – CT Hops for Hope. LOOOOONNNGGG story short, I have great friends. Like, seriously, some of the best. One night they were hanging out and Ed, Mr. Lasting Brass, offhandedly mentioned that maybe they could put together some sort of small charity event for "the thing that Steve works with on behalf of his son with that rare genetic syndrome thing."
They were all probably slightly inebriated when they agreed to that idea. Eight months later, a full-blown brewfest with some of our area's best breweries pouring some of their best stuff happened. And the effort raised over $32,000 for the Smith-Magenis Syndrome Research Foundation!
That dollar figure still blows me away. It's crazy. Just… incredibly humbling. (Challenge: Go search around the 70 other brewfests in Connecticut and find me one that gave more money to a non-profit. We had about 400 people at ours. Check out the ones with over one-thousand. Go ahead, school me. I was chatting recently with a brewery owner about brewfests and he was blunt: "They all say they are for charity, but they take massive cuts. You guys didn't do that and that means a lot." Thank you, Mr. Anonymous Brewery Guy.)
Another thing that was cool about CT Hops for Hope was that we were able to bring in some of the more sought-after local breweries. This included Lasting Brass, which wasn't yet an official licensed brewery. Though if you follow this "scene," you know darn well that people are as excited for Lasting Brass beer as they are for any of the heavy hitters.
And that excitement is well-founded.
Anyway, Ed had somewhat of an advantage over some of the other commercial breweries in that he could afford to make one or two single batch beers just for the brewfest. (And fest-goers had the advantage of being able to say they got to drink them.)
Ed ended up bringing two of these experimental sours: a blueberry/lemon one and this, the cherry/lime one. The cherry/lime was effectively used to help sell tickets:
Lasting Brass said
In celebration of the cthops4hopes festival selling out prior to the event date we decided to bring another log of something sour. this is the same base golden sour beer as V1 brewed 9/14 but this one is aged on a mixture of sweet and tart cherries with lime zest
Again, Lasting Brass brewed two special beers ONLY for the brewfest that benefited the SMS Research Foundation. Their official names were "Dirty Water Sour Series (Batch SMS)." This, my friends is cool. Impossibly cool.
Fortunately, the beer didn't disappoint… as that would have been a little awkward. In fact, universal opinion after the brewfest was that the Lasting Brass sours were in the top handful of beers available that day – and there were a lot of great beers on offer.
Lasting Brass has "released" (not really) five sours and all five have been A-level, 5-star, 5-cap efforts. I happen to love the lime/cherry combination and while I'm sure it's been done before; I've never seen nor heard of such a thing. (Locally, think Kent Falls' Lime Zest Gose mixed with Back East's Cherry Beliner – two excellent beers that you were very lucky to have, if you had them. And I hope you did, because I like you.)
Ed's sour base beer is perfect, and the addition of the tart fruit and citrus with a touch of sweet cherry was phenomenal. And yes, I got a whole dang free delicious bottle of it for myself. But what the hell, man, I've got the kid with Smith-Magenis Syndrome, so you know what, I deserve it.
(But not without a heartfelt thank you to Ed and his efforts regarding CT Hops for Hope. And while I'm at it, another huge thank you to the organizers and to all of you who came out that wonderful Sunday in August 2015. Much love.)
Overall Rating: A+
Rating vs. Similar style: A+
Lasting Brass Brewing Company
Back to CTMQ's Reviews of Lasting Brass beers
Back to CTMQ¹s Connecticut Beer Page
Back to CT Breweries page