Driscoll Hop Yard Fresh Hop Rye IPA
Gifted by the brewer, 6.8% ABV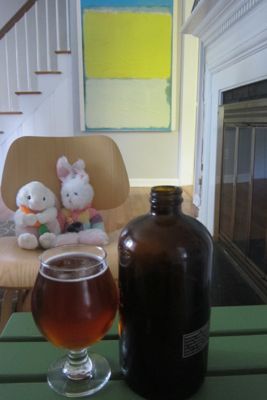 "The CTMQ guy is so lame and transparent. He's obviously personal friends with the Lasting Brass guy and like all friends of homebrewers, he just thinks his homebrewing friend is just the bestest."
"Nah. I think Steve's pretty straight. He's open about who he's friends with when he writes. He's made no secret about any of that stuff."
"So you're telling me that a homebrewer, some guy in Waterebury, is making some of the best beer in the region? How does that make sense? And why isn't he opening a 'real' brewery?"
"Yes to all of that. This is hardly just the CTMQ guy's opinion, y'know. There is a relatively small circle of knowledgeable 'beer people' in Connecticut – far more knowledgeable than the Steve CTMQ guy – who agree that Lasting Brass makes some ridiculously good beer.
And also, I don't know how you didn't hear the news last week that Ed Lasting Brass guy has made his very first tentative moves to open a brick and mortar brewery in Watertown."
"Oh. Dang. Cool. But still, every CTMQ review of Lasting Brass is glowing. Like, NEBCO/Beer'd glowing… Farmstead/Trillium glowing! That's impossible, sorry."
"Is that true? I don't know, man. I'm not, like, a CTMQ scholar or anything. That dude's pages are way too pedantic and verbose for me. Too many big words and they are too long. I'm thinking he needs to rock some more light-hearted persiflage."
"Let's see. Go to that site and let's look at the most recent Lasting Brass review."
"God, this site sucks on my phone. Can't this dude redesign his site to be responsive? Cripes, it's 2015."
"Werrrd."
"Okay, here it is. Another Lasting Brass beer only Ed's friends had that I'm sure is the greatest ever. Something called Driscoll Hop Yard Fresh Hop Rye IPA."
Lasting Brass Says:
In collaboration with our friends from Driscoll Hop Yard we bring you a Fresh Hop Rye India Pale Ale. This beer has an abundance of Rye Malt and super fresh Cascade hops to blast your palette. The hops were so fresh we picked them right off the plants as we were adding them to the kettle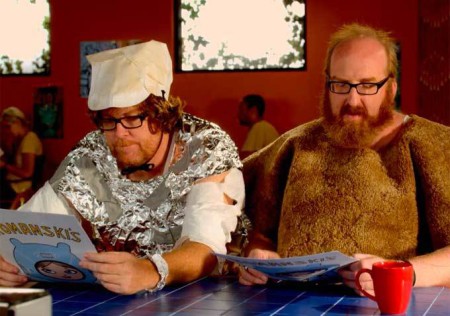 "Oh my god, they wrote 'palette' instead of palate!"
"But that's the crap you say you hate the CTMQ guy for pointing out. Now you're doing it."
"I guess reading CTMQ has done that to me. It has made me a smarter person. And I think I'm more handsome now too."
"Werrrrd."
"Anyway, what's he say about this rye IPA?"
"He didn't like it very much."
"Say whaaaat?!"
"Yeah. Rye's just not his thing. And this beer was wicked spicy with the rye. He goes on to say that the wet and dry-hopping also sort of made this beer a bit unbalanced and the hop oils gave it a sort of greasy mouthfeel, which didn't work well with what should be a crisp and rye-spiced beer."
"Liar. The CTMQ guy never uses 'mouthfeel' as a descriptor. Let me see that review –
– Holy cow, I can't believe it. He really said 'mouthfeel.' And he really said that this beer wasn't perfect. What kind of friend says that about another friend's beer?! What a dic-"
"Hold on. You didn't like him for loving every Lasting Brass beer, and now you don't like him for not loving every Lasting Brass Beer?"
"Werrrd"
"You know what, maybe we're what's wrong in the craft beer world? Look at us, with our food-flecked neckbeards and thick-rimmed glasses sitting at this bar, slaves to the glow of Untappd, just waiting to get our beer-boners on for the next tapping of Fuzzy Baby Ducks. We suck. I hate us."
"Yeah. Me too. Let's try ordering some beers from other breweries. Not a DIPA. Let's expand our palates and develop our own opinions about beer, rather than pretending we only love whalez (bro), and thinking the whalezier the whalez, the cooler we are."
"You mean, like, maybe have a porter once in our lives? Or – gasp- a solid pils or blonde?"
"Yeah man, let's do it. And let's take a lesson from this CTMQ guy – let's be honest with ourselves and on Untappd! I feel liberated already!"
"Hey, y'know what? I don't like Sip of Sunshine. I sit here and drink it with you because I'm supposed to. But It's just too sweet for me, and it always give me a headache."
"Wow, I didn't see that one coming. Okay, my turn… I hate sours, I've never actually ever had Heady Topper or Ducks, I asked the guy at Crazy Bruce's if they had an Hill Farmstead last week, and all I know of Beer'd is that the guy there is a Beard Brother."
…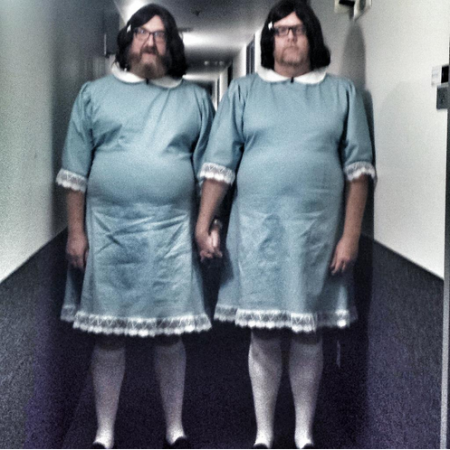 The two young men stared into each other's eyes, silently. With their beer secrets spilled, they both knew they each had one more secret between them. No words were necessary. A hand moved to the thigh of the other man. One last tentative sip of beer for each of them. The world seemed to fall off an edge around them and disappear. Nothing else mattered to either at this point – not late boil fresh hop additions, not IBU's or unique check-ins. All that mattered was feeling the other man's full and yearning lips upon his own; two neckbeards becoming one.
And it was beautiful.
Fini
Postscript:
The two men continued their relationship and ultimately got married in a beautiful ceremony on the beach. They served Corona at their wedding because both learned they "just loved a nice Corona with a lime at the beach." They invited Steve, the CTMQ guy to their wedding, crediting his honestly about his friend's Driscoll Hop Yard Fresh Hop Rye IPA review for allowing them to finally be honest with each other.
At the wedding, Steve told both, "But really, Lasting Brass IS awesome and his beers ARE great. It was really just that one beer I didn't like so much for whatever reason… probably because I simply don't really like super rye beers, y'know? But whatever, I'm glad I helped you out. Do you know anyone who can redesign the site with a whole new responsive template that can support ads but retain my need for it to be a website and not really a blog and…
Oh never mind. Give me a Corona. With a lime."
Overall Rating: C+
Rating vs. Similar style: C
Lasting Brass Brewing Company
Back to CTMQ's Reviews of Lasting Brass beers
Back to CTMQ¹s Connecticut Beer Page
Back to CT Breweries page