Kent Falls Brewing Equinox (Batch 1)
1 Bottle, 4.8% ABV, $9.50
Purchased at CBC, West Hartford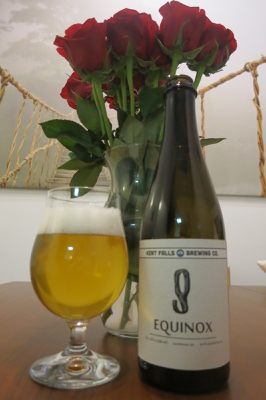 The Dutchman Reeb Otto Beer had gotten used to his name at a young age. It was a constant source of amusement for the drunken louts of his hometown of Ere in the Netherlands. Even after he moved to Epe and then on to Ee, people just thought "Beer" was a funny last name.
Moving to the US didn't help much. At least there, he went by Otto.
He moved to Connecticut and lived in a decent enough house on Lake Oxoboxo (CTMQ Visit here).
Otto got married, had a daughter named Eve, and had an enjoyable life.
That is, until, May 10, 2015. As Otto wrote the date, 5/10/2015, it was too much. Lake Oxoboxo roiled and swayed; the skies turned dark and a gaping maw opened up at Otto's feet. Creatures scurried about: "Was it a rat, I saw?" was one of Otto's last thoughts before waking in an unfamiliar room.
The room contained the necessary comforts, and the only oddity immediately noticeable was that one wall contained a huge mirror. Nothing but a mirror. This gave room the effect of being twice as large as it was, of course, but it also made Otto uneasy; he felt as if he was being watched.
There were a few CD's: Abba and A-ha. He settled upon 2112 from Rush.
The calendar noted the date – September 21st – a full four months from the day Otto last remembered. He opened the fridge, saw it was full of nothing but Kent Falls beer. Something called Equinox.
He drank, trying to remember how he ended up in this strange mirrored room. He began to relax with this excellent farmhouse ale, and closed his eyes.
Pieces of memories began to flutter back… A hospital setting. Doctors and nurses. And more Kent Falls Equinox.
Flashes of light. Snippets of conversations… arguments…
"Nurse, I spy gypsies, run!" – Where was Otto? He saw himself from above claiming, "Sir, I demand, I am a maid named Iris," and "Sir, I'm Iris!"
Why was he claiming to be Iris? Otto saw another Equinox in his hand. "Yo! Bottoms up, U.S. Motto, boy!" came the refrain from the ether.
He drank. This was an odd beer, both in his dream state memories and in the mirror room chair. Equinox hops have a fairly unique and divisive flavor profile. They are vegetal; some say they bring green peppers to the table. Otto had had some Equinox IPA's before, and they weren't to his liking. But this Kent Falls effort was a saison; purposely vegetal in nature, he thought. And it worked a bit better with the farmhouse style.
He got up from the chair and turned on the TV. This movie was playing:
He tasted the beer again. No lemons, no melon. So many beers these days were coming strong with citrus and melon flavors; this was a nice change. But Otto still liked those flavors and opened the fridge, exclaiming, "I saw desserts; I'd no lemons, alas no melon. Distressed was I."
Why was he talking aloud, so strangely, to himself? He read the beer's label:
This farmhouse ale is brewed with Equinox hops to mark the changing of the seasons and the embrace of perfect balance.
"Perfect balance?" "Changing of the seasons?" Is that why the room's calendars were all set to September 21st?
A list of tenets was posted on the fridge. They read:
A) Never odd or even.
B) Must sell at tallest sum.
C) Pull up if I pull up.
This was followed by "Tenet C is a basis, a basic tenet." There were roses on the table, with another bottle of Equinox. He couldn't smell the roses for some reason, and recalled something his Pa told him once: "Now saw ye no mosses or foam, or aroma of roses. So money was won."
Otto's Pa was always talking about flowers because, as they said, "Pa's a sap." But the roses made Otto think he was in a hospital. A mental hospital? Last time he found himself in one, he remembered being told, "Red Roses run no risk, sir, on nurses order." He was having visions, many of them nonsensical. He thought of his friend Ivy and how she always calmed him and told him things like, "Repel evil as a live leper.
No, is Ivy's order a red rosy vision?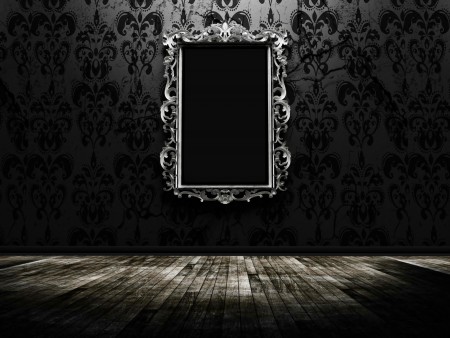 Was Otto in an evil place? But there were roses. The movie started again on the TV, this time playing backwards… or was it forward this time? A bright light followed by what felt like a stroke jabbed at Otto's brain. Unconnected thoughts jammed into his conscious like ice picks:
"Stephen, my hat! Ah, what a hymn, eh, pets?"
Otto, losing control of his mind and body, smashed the mirrored wall. Like Skeletor. (Seriously, watch this.) It revealed a cave! Were there bats here? "Eva, can I stab bats in a cave?" Who the hell was Eva?
Fevered and bloodied, Otto removed his clothes. Having lost all rational control, he grabbed a black marker and painted his body. Now, it was time to escape. Crawling into the cave, he exclaimed aloud, "I roamed under it as a tired, nude Maori."
A booming voice rattled his skull: " No, it is opposition." Huh? "Name now one man," the disembodied voice boomed.
Otto thought… um, Boston? (Boston?) "Not so, Boston." Whuh?
There was light ahead. Natural light. Sunlight. Otto tumbled through the opening to find himself on a farm. Two men in dirty t-shirts and dirtier jeans stared at him. Otto was terrified, but happy to out in the world again.
One man introduced himself as Barry. The other, Derek. "Where am I?" asked Otto.
"Kent Falls Brewery in Connecticut. Where did you come from?"
"I don't know. What's today's date?"
"5/10/2015."
"Oh. It's not the equinox?"
"What do you know about Equinox? I just wrote about it, here," said Derek.
"Oh, I've had the Equinox saison. It's really good, though I think its unique hop flavors made it a bit too vegetal for me. I don't know, it was just a little weird."
"No, what's weird is that I haven't made the Equinox saison yet, dude," replied Derek.
"But.. but…" Otto was at a loss for words. Nothing made sense forward or backwards. "Ah, poop, ha," he lamented nervously.
Barry smiled, gave Otto a beer without a label and said, "Yo! Bottoms up, U.S. Motto, boy!" and winked. The beer was Equinox.
Kent Falls is a magical and scary place.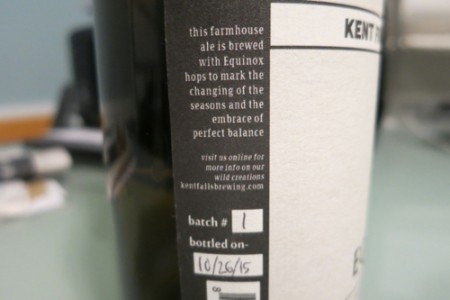 Overall Rating: B+
Rating vs. Similar style: n/a
Kent Falls Brewing
Back to CTMQ's Reviews of Kent Falls beers
Back to CTMQ's Connecticut Beer Page
Back to CT Breweries page