Kent Falls Farmer's Table
500 ml, $6.50, 3.8% ABV
Purchased at Craft Beer Cellar, West Hartford
May 2015
I'm getting fairly serious about writing a book.
A real book, with a real publisher, that details real adventures and experiences from my life as a dad and the one who does all the CMTQ stuff. I've no idea if this will ever come to fruition, but I'm pretending it will for now.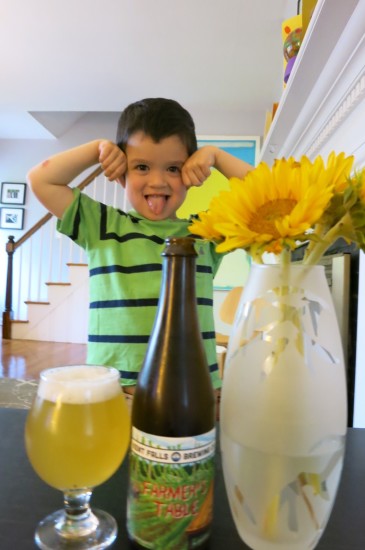 As part of my preparation, I've been devouring a lot of travelogues. Specifically gritty and funny ones, often focusing on something I don't really care all that much about. (My reasons are legitimate, just go with me here.)
I've always enjoyed (most of) Anthony Bourdain's TV work and followed his escapades from The Food Network to The Travel Channel to CNN. Most of his best stuff had nothing to do with food, and I like that dynamic.
His first book, Kitchen Confidential was good. I read it many years ago and enjoyed it. His later A Cook's Tour is what got him on TV and it's a fantastic book. I'm rereading it now.
I'm bringing this up for one reason. As Bourdain travels the world and gets to the root of various cuisines, there is always a common element: The Farmer's Table. Or some reasonable facsimile thereof. Whether it's a street corner in Hanoi, an upside-down rowboat in Porto, or a hundred-year-old butcher's table in San Sebastian, there is always a central spot for food gatherers and preparers upon which to place their wares.
Kent Falls Brewing adheres to this ethic, living up to their raison d'etre as a true farmhouse brewery. So when they talk about their Farmer's Table beer thusly:
Table beers are about gatherings. From the fields. From the houses. From different parts of the community. A dry, low alcohol beer with bright flavors fit for long meals and shared conversations. A farmer's table is unlike any other; where harvests are brought in from the field and the fruits of hard labor are shared with family, friends and strangers alike. It is in this spirit that we named our table beer Farmer's Table.
… They aren't just bloviating. That humble little table featured in the label art? That's the actual table from the owner's family farm. And that's cool. That's a story – one that I'm happy to keep learning about as Kent Falls slowly creeps up the Connecticut Breweries Worth Learning More About list.
It helps that their first few releases have been very good representations of the their styles: Saison, "farmhouse," table beer. So called "simple" styles, which in truth, are very easy to muck up.
Kent Falls says:
A dry hopped table beer. Snappy bitterness from ample hop additions and layers of our farmhouse yeast character.
The modest alcohol content of Farmer's Table allows the bright and expressive flavors of American hops to sing alongside our house yeast in a consistently quenching manner. Paired with goat or funky cheeses, roasted meats, or spicy vegetables (or why not all three!), this beer will clean up and refresh your pallet with each sip.

Oh dear. There's that "pallet"/"palate" screw up again. It plagues the craft beer world. I guess because they actually deal with both pallets and palates, I don't know. But it's epidemic.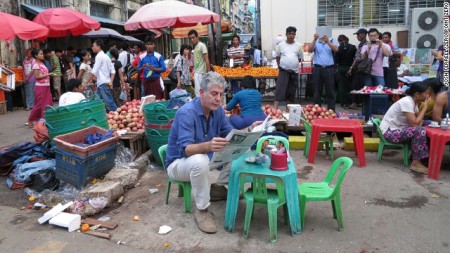 No matter, I'm here to tell you that this is one of those beers with an overly romantic backstory that is actually good. Oftentimes, those long and winding explanations seem to be a cover for a crappily brewed beer. Not so in this case.
Clean, classic, slightly yeasty, slightly hoppy, tightly carbonated… redolent of Belgian harvests of days gone by. It's clear that Kent Falls not only knows what they are doing with this family of brew style, they know why they are doing it. How many breweries can we truly say that about?
At under 4% ABV, this "simple" table beer is has enough aroma and taste to satisfy anyone looking for something lighter this summer. The beer itself is a little thin, but that's sort of the point here, so I'm not noting that as a negative.
We're a long way off from Kent Falls having a high-production canning line, but man, if they ever get to that point, I'd have some new go-to's for my summer table gatherings.
Overall Rating: A-
Rating vs. Similar style: A
Kent Falls Brewing
Back to CTMQ's Reviews of Kent Falls beers
Back to CTMQ's Connecticut Beer Page
Back to CT Breweries page