CT Valley Brewing's Farmhand "Kölsch"
16 oz can, $3.75 maybe?, 4.5% ABV
Purchased at the brewery, South Windsor
October 2017
When CT Valley began pumping out beers in the summer of 2017, consumers were right to wonder if they'd ever brew anything other than beers in the so-called New England IPA family.
Just before opening their taproom, CTVB released this can; the Farmhand "Kolsch Style Pale Ale" and consumers thought, "Oh! Finally! A classic style from these guys!"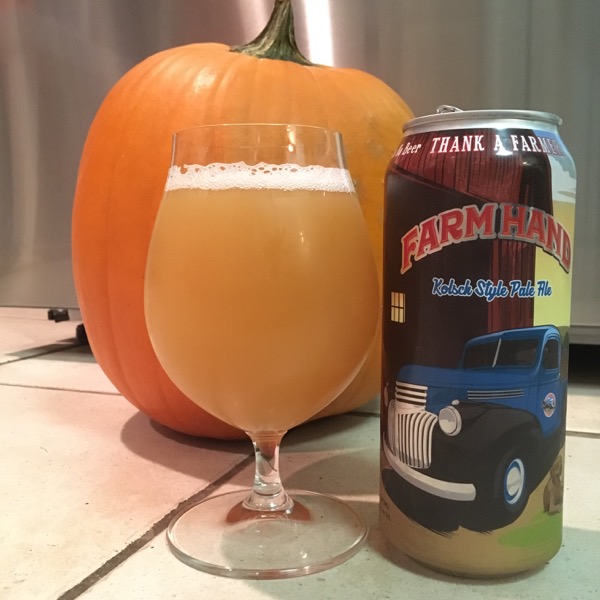 Except… nope. For this beer isn't a kolsch at all. It's a "kolsch style pale ale." Now, CTVB isn't the only brewer to use this moniker. Hell, Ballast Point does the same. So let's not front on that.
In this day and age with "white stouts" and the oft-seen use of "unfiltered" as a buzzword (Psst – literally 99.9% of the CT craft beers you drink are "unfiltered"), we've come to accept that words don't mean much anymore.
But… still. "Kölsch" means something. It has a definition. Right?
First only brewed in Köln, Germany, now many American brewpubs and a hand full of breweries have created their own version of this obscure style. Light to medium in body with a very pale color, hop bitterness is medium to slightly assertive. A somewhat vinous (grape-y from malts) and dry flavor make up the rest.
Now, granted, the IPA description has been tossed into the trashbin of history. But do we need to do the same with kolsch? I'd say no. Let's focus on, perhaps, the definining characteristic of a kolsch, from the BCJP:
This beer should appear light gold, verging on a sun-bleached straw color. It should have very high clarity…
Let's take a look at this beer in the light: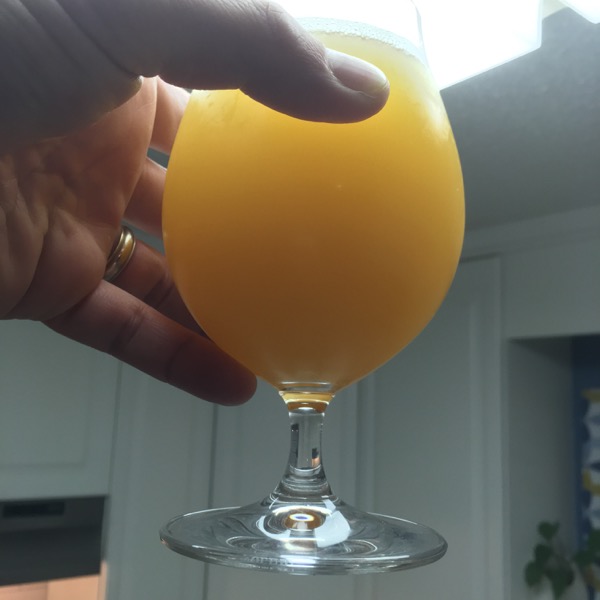 It looks like… every other "New England-y" ale from CTVB. Not quite as opaque, but certainly not remotely transparent. Call me old school, but that's just wrong.
CTVB Says:
Our version of a German Kölsch. Unfiltered, crisp, and balanced, Farmhand finishes dry with a very subtle spice from the traditional style hops.
Gah! With the "unfiltered" thing again.
Anyway, yeah. Okay. The "very subtle spice" was too subtle for my poor palate to parse. But it did finish fairly dry and tastes far enough afield of the typical acidic resin burn of CTVB canned beers, that it is deserving of a special mention. Props to them for at least trying something different.
The problem with doing that is that it confused the CTVB fans. You know, the consumers who only know the sharp burn and wincing bite of the more typical CTVB beer. They were… shall we say… confused.
In fairness to this person, why would he expect anything else? (I'm pleased to report that CTVB does have a few solid dark beers on tap at the brewery.)
And we all learn sometime, right?
The Farmhand can prattles on about "giving back to farmers" and how they ship their spent grains to them for their livestock to eat. Very noble of them. Tons of breweries quietly do this, but it's always good to educate the consumer.
The beer was okay as a, um, very non-pale pale ale. It's about as kolschy as you'd expect from CTVB (in other words, not kolschy at all), but at least my can was devoid of solids and was definitely drier than the brewery's other offerings.
So… yay?

Overall Rating B, if I ignore the "kolsch" thing
Rating vs. Similar style: F, if I acknowledge it
CT Valley Brewing Company
CTMQ's CTVB beer reviews
CTMQ's Connecticut Beer Page
CTMQ's CT Breweries page