Farmington River Blonde Ale
1 12 oz bottle, $2, ?% ABV
Whole Foods, West Hartford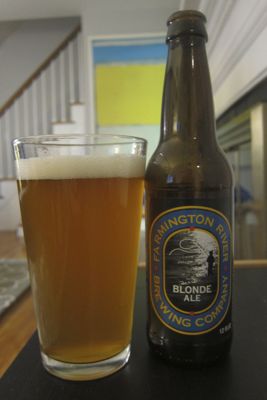 I don't want to write this review. You will never drink this beer. I will never drink it again. You don't give a crap what I think about it.
But here we are.
When I redid CTMQ's layout, a bunch of posts got sort of stuck in limbo. Old beer half-reviews made up the bulk of these posts, so I feel compelled to write them all. I'm insane.
I don't even think Farmington River Brewing is still brewing. They began in the mid-90's as an honest-to-goodness brick and mortar brewery in Bloomfield. Then the world fell apart and boring breweries all over the country closed up shop.
Farmington River went the contract route and had been brewing up in Massachusetts at Mercury/Ipswich for a good long while.
This relationship worked well when Farmington River was only competing with Troutbrook/Hooker, Hartford Better Beer, and… and yeah.
Then the world got right again and here we are in late 2015 with a brewery on every corner. This does not work for boring contract labels like Farmington River. I'd go so far as to say that most in Connecticut are struggling.
Farmington River says:
A well-rounded, golden-colored ale with a beautiful balance of malt and the citrusy floral taste of cascade hops.
You know what? You have to give this label some props here. This was probably the description from way back. Way before "citrusy" and "floral" made sense in the world of beer. Yeah, nowadays we have DIPAs that look like orange juice and taste like pineapple juice with flowers, but just a few years ago, the thought of that disgusted many drinkers.
I found this from 2009. It's kind of interesting that he says, "Man, CAN the citrusy sh-t. People don't drink beer to get Vitamin C nor a fruity-ester aroma nor a citrusy slime in their mouth. They drink beer to taste the beer."
When he says "CAN," he means "get rid of." (This bore itself out in other posts of his. And besides, this was back when canning "good" beer was anathema.) I wonder what that dude drinks now? Because if he lives in New England, he's hard pressed to find an IPA, DIPA, or pale ale that doesn't have a citrus profile anymore. As for the "fruity-esters," yeah, we have entire breweries devoted to that flafor now. In Connecticut!
My point isn't to bust on that guy at all. EVERYONE would have said that in 2009. But props to Farmington River Brewing for putting it out there and behind a tad ahead of the citrus profole train.
That said, this beer sucked.
Overall Rating: D+
Rating vs. Similar style: D
Back to CTMQ's Connecticut Beer Page
Back to CT Breweries page